Actresses of Game of Thrones series
Right after the culmination of 8th season of Game of Thrones
Emilia Clarke
got a tattoo with three dragons on her wrist, to honor her character, Daenerys Targaryen, the Mother of Dragons. In her blog she posted: «Be sure this mamma ain't NEVER forgetting her babies».
Her other beautiful costars of Game of Thrones
Maisie Williams
and
Sophie Turner
got matching peach-colored tattoos of «07.08.09», in memory of that fateful date when girls were cast on the show together.
Sophie also has her personal ink depicting a head of a direwolf on her hand, a symbol of House Stark, which her character belongs to, while Maisie got «No One» tattooed on her back to commemorate her role of Aria Stark.
The cast of Avengers
«Five of the original six Avengers got a tattoo», - told
Robert Downey Jr.
in an interview, commenting his new ink on a wrist. The sixth was their tattoo master, who got it instead of
Mark Ruffalo
who opted out of the procedure.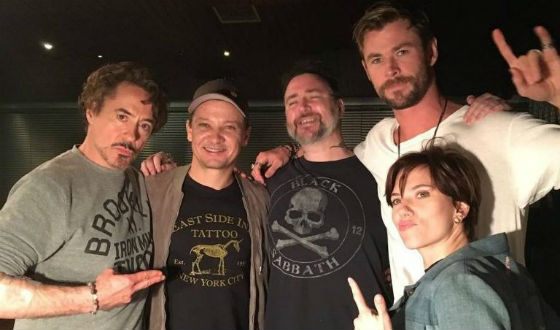 This idea originally belonged to
Scarlet Johansson
, who spontaneously made such tattoo with another Avenger
Chris Evans
in New York. Actors enjoyed this idea so much that they immediately flew to Los Angeles grabbing their faithful tattoo master along with themselves, where Robert and
Jeremy Renner
also got their ink in honor of their roles in Avengers.
Later on actors literally bullied
Chris Hemsworth
into submission so he got his tattoo as well.
Actresses of Mamma Mia!
Amanda Seyfried
and her fellow costars from Mamma Mia! musical Ashley Lilley and Rachel McDowall got the word «minge» tattooed on their feet, to commemorate their friendship and the movie they appeared together.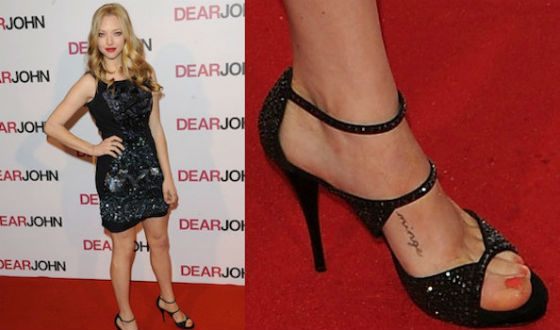 This word was said numerous time by their fellow actor
Colin Firth
, yet only after they finished working on movie actresses learned that in UK this word means «vagina». However in USA «minge» doesn't mean anything at all.
The cast of 13 Reasons Why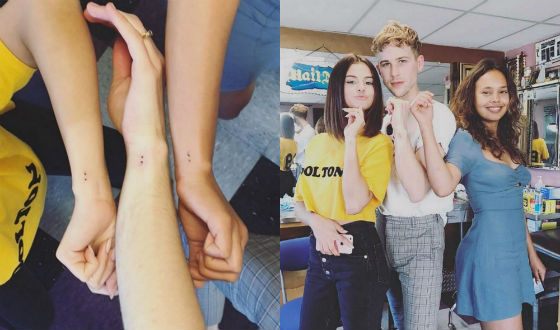 Selena Gomez
, executive producer of 12 Reasons Why by Netflix, along with show's stars Alisha Boe and Tommy Dorfman, honored the screen adaptation of bestselling book with matching small tattoos on their wrists. Selena admitted that it is eight ink on her body.
Brian Cranston, Aaron Paul and Breaking Bad
During the celebration at a bar after the very last that of shooting his blockbuster Breaking Bad series, Brian Cranston gave in to the proposal of one of their art department team members, who also happened to be a tattoo master. Cranston admits: «I wanted something … something that would give me private personal pleasure, like when I pass by and catch a glimpse of a picture of my mom, or my old manager. People who are gone now. And it seemed appropriate». «Breaking Bad changed my life», - added actor and decided to permanently put show's logo on his right ring finger.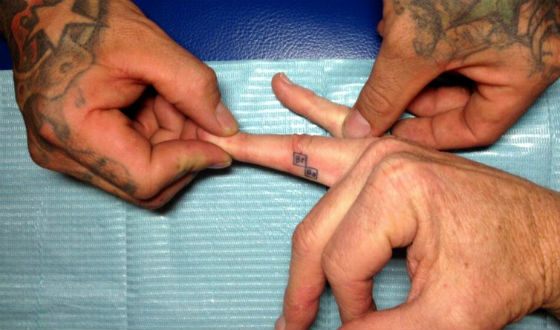 Brian's co-star in the series, Aaron Paul, also received memorial reminder of the time he spent on Breaking Bad filming set. Paul got «No Half Measures» tattooed on his inner biceps – one of his favorite quotes from the show.
The Lord of the Rings cast
Closely-knit cast of epic fantasy movie trilogy The Lord of the Rings got word «nine», written on Tolkien's Elven language Quenya, inked on various parts of their bodies.
Orlando Bloom
,
Elijah Wood
, Dominic Monaghan, Billy Boyd,
Viggo Mortensen
,
Ian McKellen
, Sean Astin and Sean Bean all got the memorial tattoos as a reminder for them belonging to the Brotherhood of the Ring.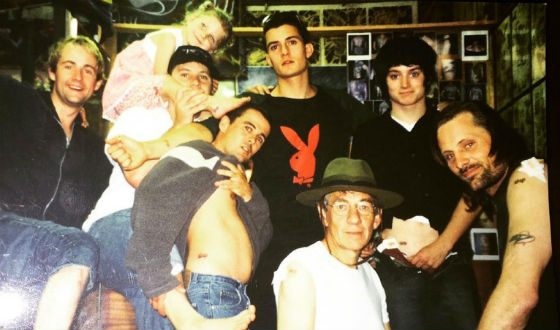 «It was one of those beautiful moments, where we all felt like we had been through this war, this battle, together in a lot of different ways», - as Monaghan told in one of his interviews. Only actor that refused to get a tattoo was John Rhys-Davies, who portrayed dwarf Gimli.
Actress of the movie Mad Max: Fury Road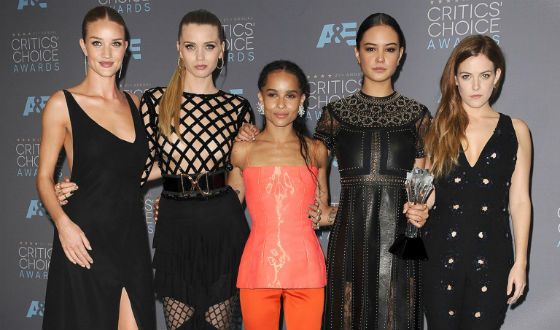 Angles of Victoria's Secret brand Rosie Huntington-Whiteley, Abbey Lee Kershaw,
Zoë Kravitz
, Courtney Eaton and Riley Keough, who appeared in Mad Max: Fury Road alongside
Tom Hardy
and portrayed the wives of dystopian tyrant Immortan Joe, all received matching sets of tattoos in honor of their work on the movie. All women got the same ink – three little dots and a triangle.
The cast of Suicide Squad
Stars of the movie Suicide Squad
Margot Robbie
,
Cara Delevingne
and
Will Smith
all took their turns with tattooing machines, giving all members of the cast and crew matching SKWAD ink.
Among those who wanted to get their commemorate tattoo were such actors as
Joel Kinnaman
and Jai Courtney, as well as movie's director David Ayer.
Johnny Depp and Pirates of the Caribbean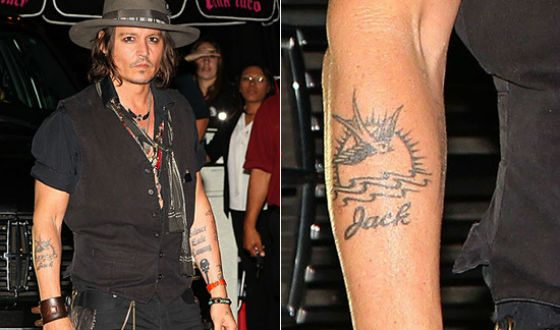 Johnny Depp
is huge ink fan, so it's not that surprising that one of them was made to honor his Captain Jack Sparrow character in Pirates of the Caribbean movies. It is pretty big tattoo placed on his forearm depicting a sparrow flying over the ocean. Johnny also has a tattoo with name Jack on it, however he made it in honor of his son.
Tom Holland and Spider-Man: Homecoming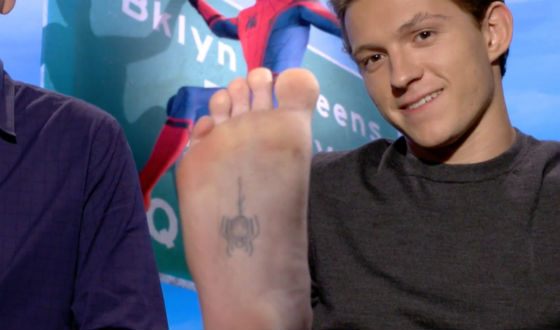 Tom Holland

's choice of a place for ink to commemorate his appearance in Spider-Man: Homecoming was quite unorthodox. The official symbol of Spider-Man was depicted right on the bottom of his foot. In interview actor admitted that it was his first time visiting the tattoo master and that the procedure turned out to be incredibly painful yet exciting.

Today it's hard to surprise anyone with tattoo, with body art being so popular and widespread way to express oneself. Some people do them just for fun or looks, while others put some special meaning in the process. For example, actors or actresses do tattoos to commemorate their most meaningful and significant roles and projects. Our editorial composed a list of celebrities, who decided that a tattoo is the best way to forever bind themselves to specific bright moments in their careers.