Jim Carrey's biography
Jim Carrey (full name James Eugene Carrey) is a Canadian-American comedian, as well as screenwriter and producer. He is known to the wide audience for «The Mask», «Ace Ventura», «Dumb and Dumber», «Liar, Liar», «Bruce Almighty», «The Truman Show», «Man on the Moon», «Eternal Sunshine of the Spotless Mind» films. He is a two-time Golden Globe winner, a multiple MTV Movie Award winners, a BAFTA nominee. Few people can resist his lively gestures and powerful charisma. Net worth: $180 million.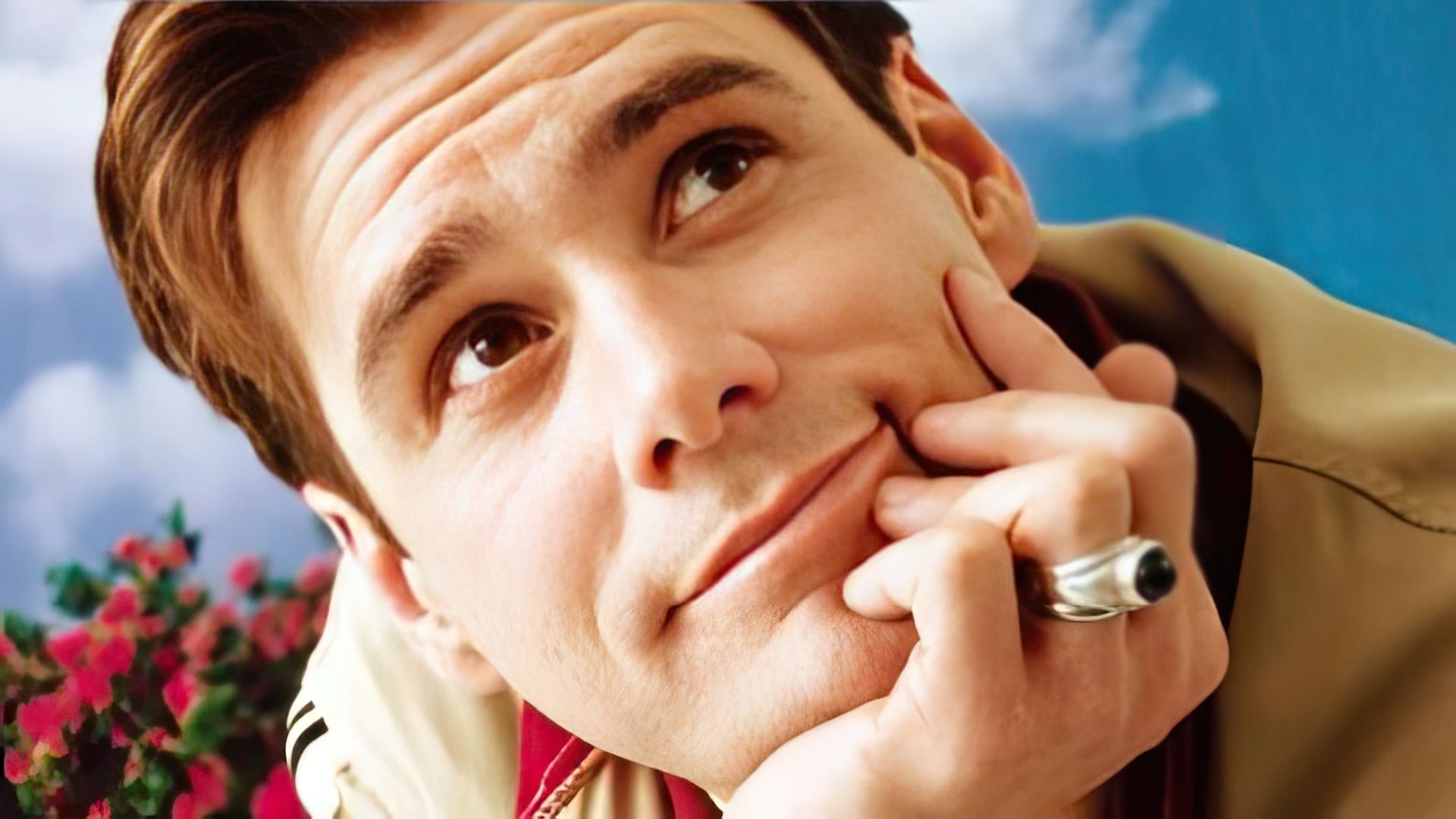 Childhood
Jim Carrey was born on January 17, 1962, in the Canadian city of Newmarket. The family lived poorly: mother Kathleen Carrey (née Oram) was a singer in her youth, who later became a housewife, and father Percy Carrey failed to make a saxophonist's career and went to work as an accountant in order to keep the family.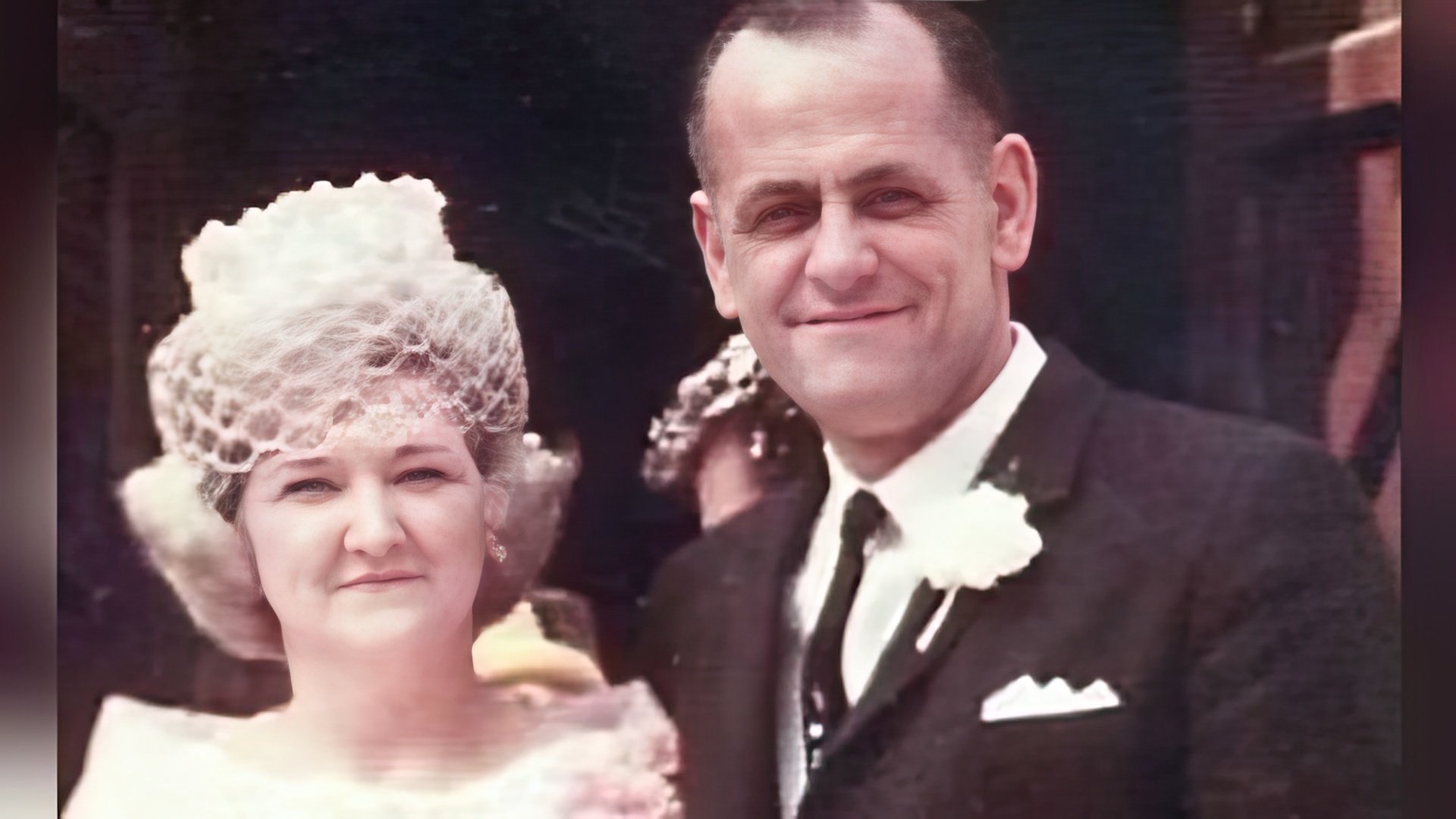 His parents raised Jim, his elder sisters Pat and Rita, and his brother John as Roman Catholics. Jim was in school when his father was fired, and the family had to move to the town of Scarborough, where Percy found a job as a security guard at a factory that produced automobile wheels. In the evenings after school, all four children worked at the same factory as cleaners.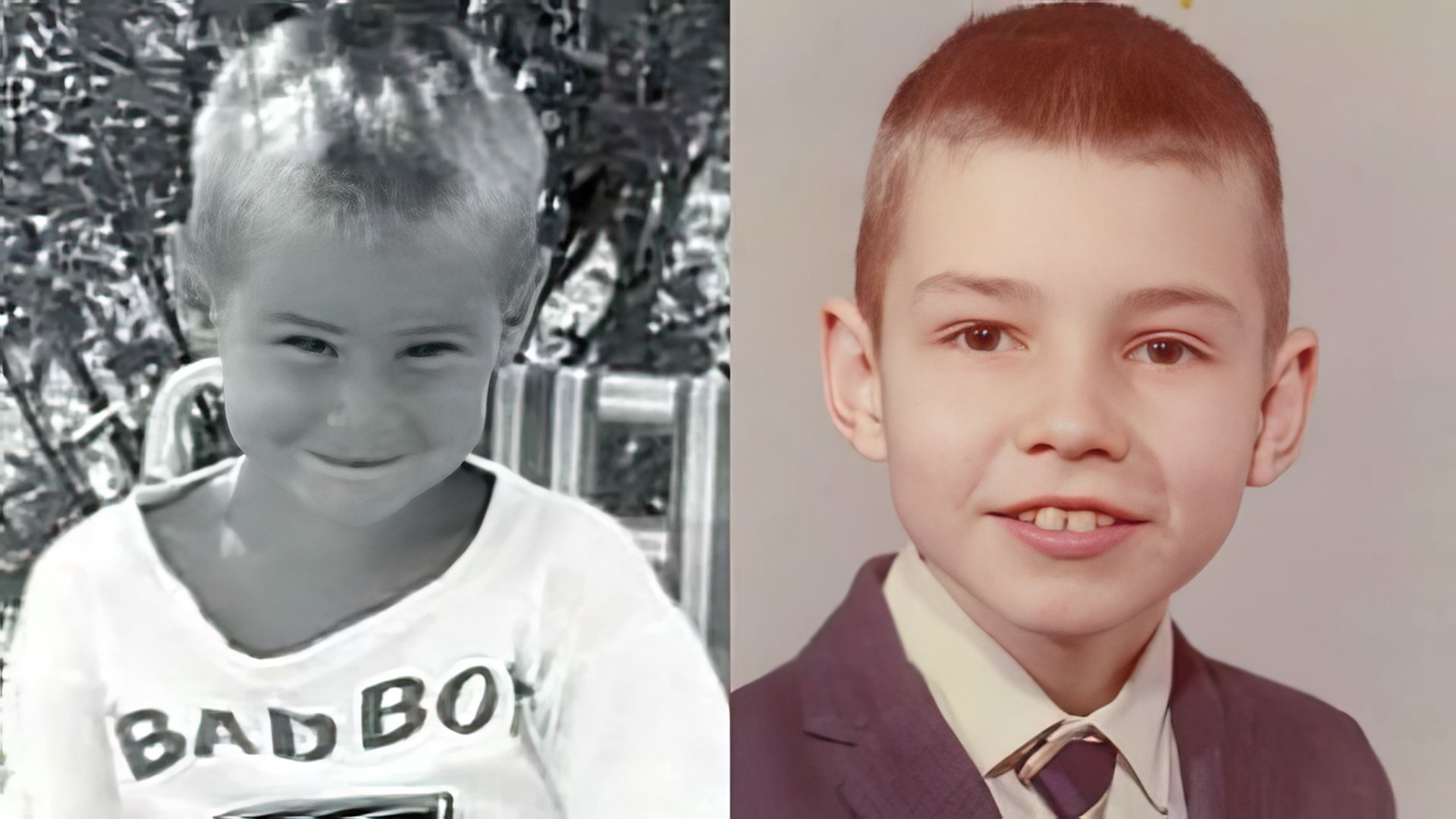 It was hard living this way, and once Carrey's family decided to quit this job - even though they lost their homes because of the decision and were forced to live in a trailer for a while.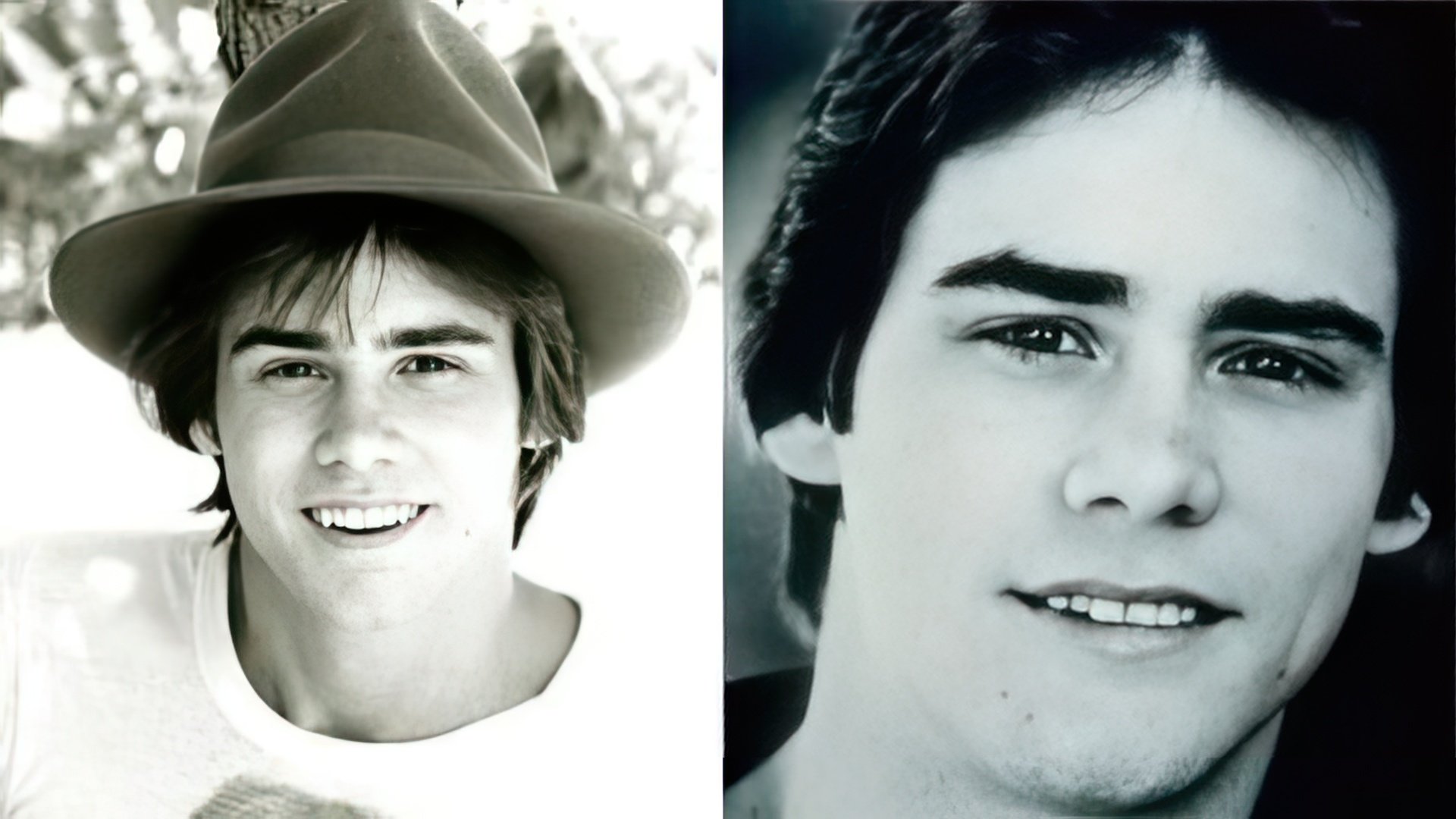 In the end, the father got a job at the Dofasco steel mill in the port city of Hamilton in Ontario. The family settled in the neighboring town of Burlington, and prosperous times began. Jim lived here for 8 years, graduated from Aldershot High School, organized the «Spoons» music band, and went to work at the same factory after school. But young Jim no less acute dreamed of becoming an actor - he loved acting the ape, amusing classmates and parodying famous personalities. When he was 10 years old, he wrote a letter to the popular «Carroll Burnett Show» saying that he was a «master of parody», and he needed to be given a role in this show. In response, the quick boy received a standard reply, but he was still happy.
The beginning of the comedian's career
His father fully supported Jim in his desire to become a professional comedian. Unable to help him financially, he brought 15-year-old Jim to the comedy club Yuk Yuk's in Toronto and even helped him in writing the text. The young man's first performance miserably failed, but in 1979 he stepped on the same stage, and this time managed to win over the public. By 1981, Jim managed to go from amateur performances at the open microphone to regular performances on a fee basis - he became the main star of several clubs at a time. Having conquered Toronto, the young comedian moved to Los Angeles, where he was also eagerly welcomed on local stages. Here he was once noticed by popular comedian Rodney Dangerfield and the latter invited him to open his performances during a tour. But at the end of the tour, Dangerfield settled in Las Vegas, and Jim Carrey decided to move to Hollywood.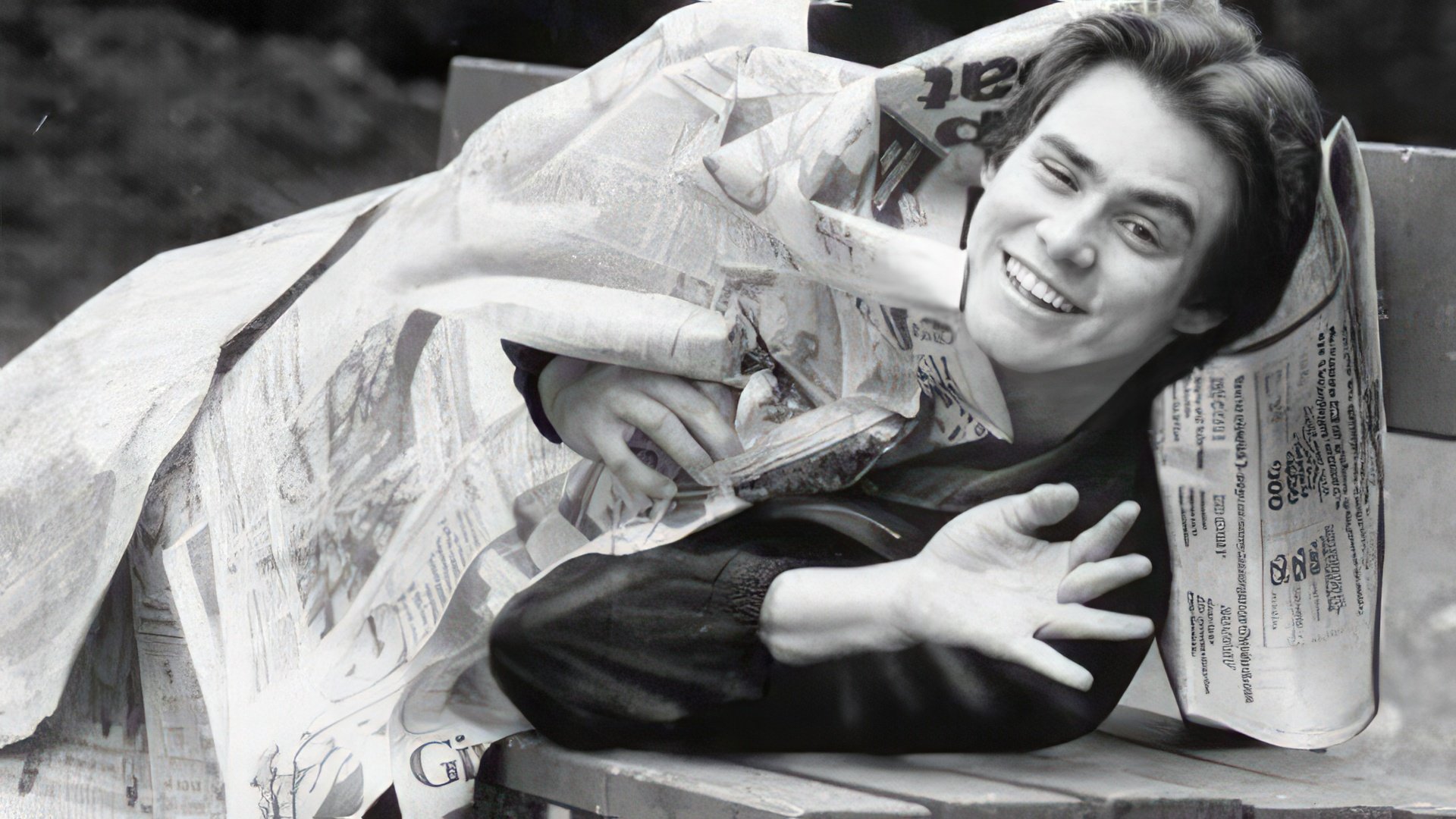 Jim got a job at «The Comedy Store» club in Hollywood. In 1982 he first appeared on television in the «An Evening at the Improv» stand-up show, and in 1983, he appeared in «The Tonight Show» entertainment show. The young man wasn't satisfied with his career as a stand-up comedian and dreamed of performing regularly on television and acting in films.

His film debut took place in 1983 in the picture «RubberFace», and he starred in the pictures «All in good taste» and «Copper Mountain» the same year. In 1984, he was invited to play the lead role in «The Duck Factory» children's series, and later he starred in the «Once Bitten» (1985), «Peggy Sue got married» (1986, directed by Francis Coppola), «Earth Girls Are Easy» (1988), «The Dead Pool» (1988), «Pink Cadillac» (1989), «High Strung» (1991), «Doing Time on Maple Drive» (1992).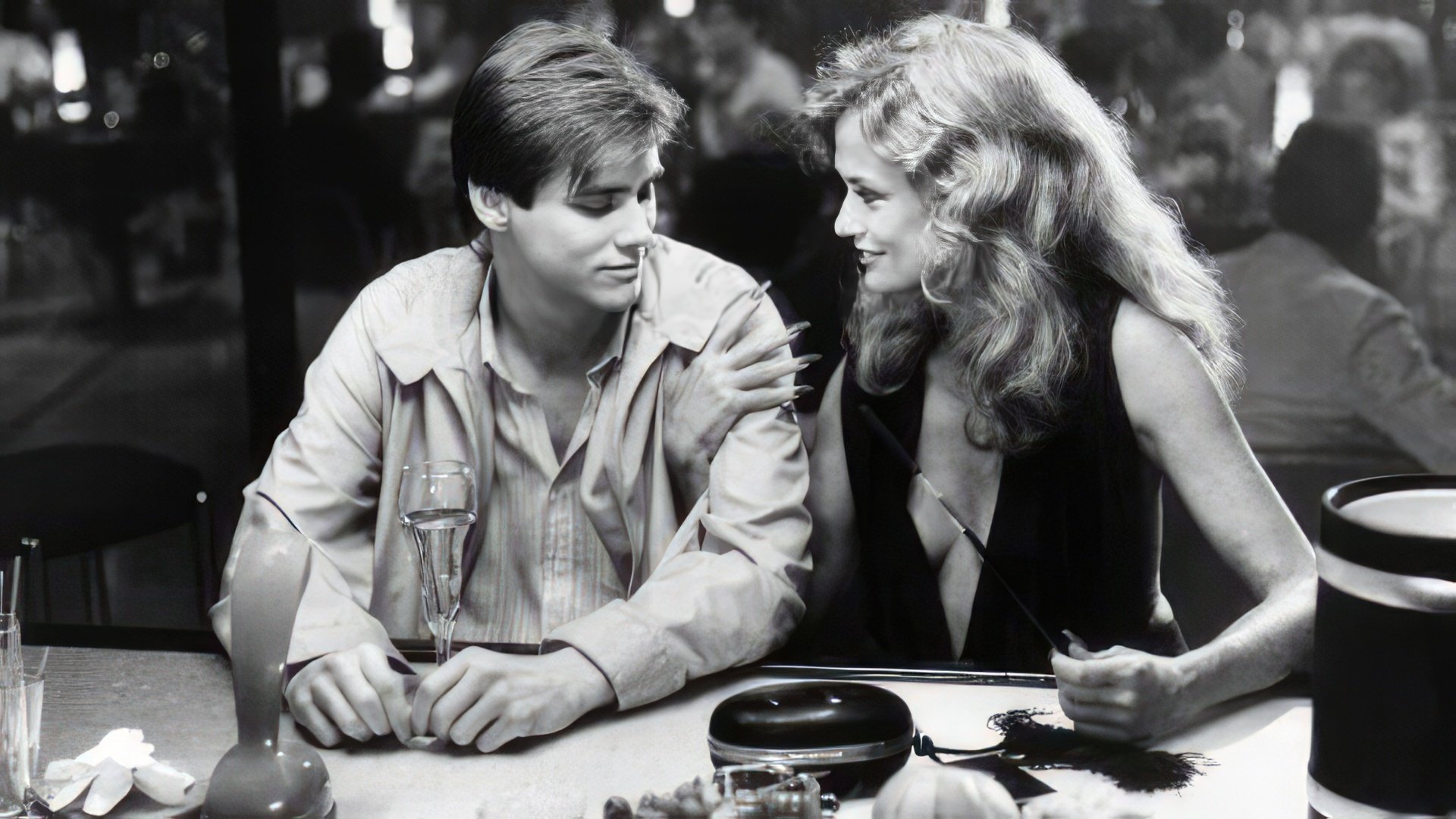 From 1990 to 1994, he played in the «In Living Color» comedy TV series on Fox, and his own show «Jim Carrey: The Un-Natural Act» was released in 1991, which he dedicated to his mother, who had just passed away.
The heyday of acting career
According to Zoomboola.com, in 1994, a fantastic breakthrough occurred in Jim Carrey's career: three extremely successful films starring him appeared on the screens: «Ace Ventura: Pet Detective» (collected $107 million at the box office), «The Mask» ($351 million, the film gave start to the career of Cameron Diaz) and «Dumb and Dumber» ($247 million).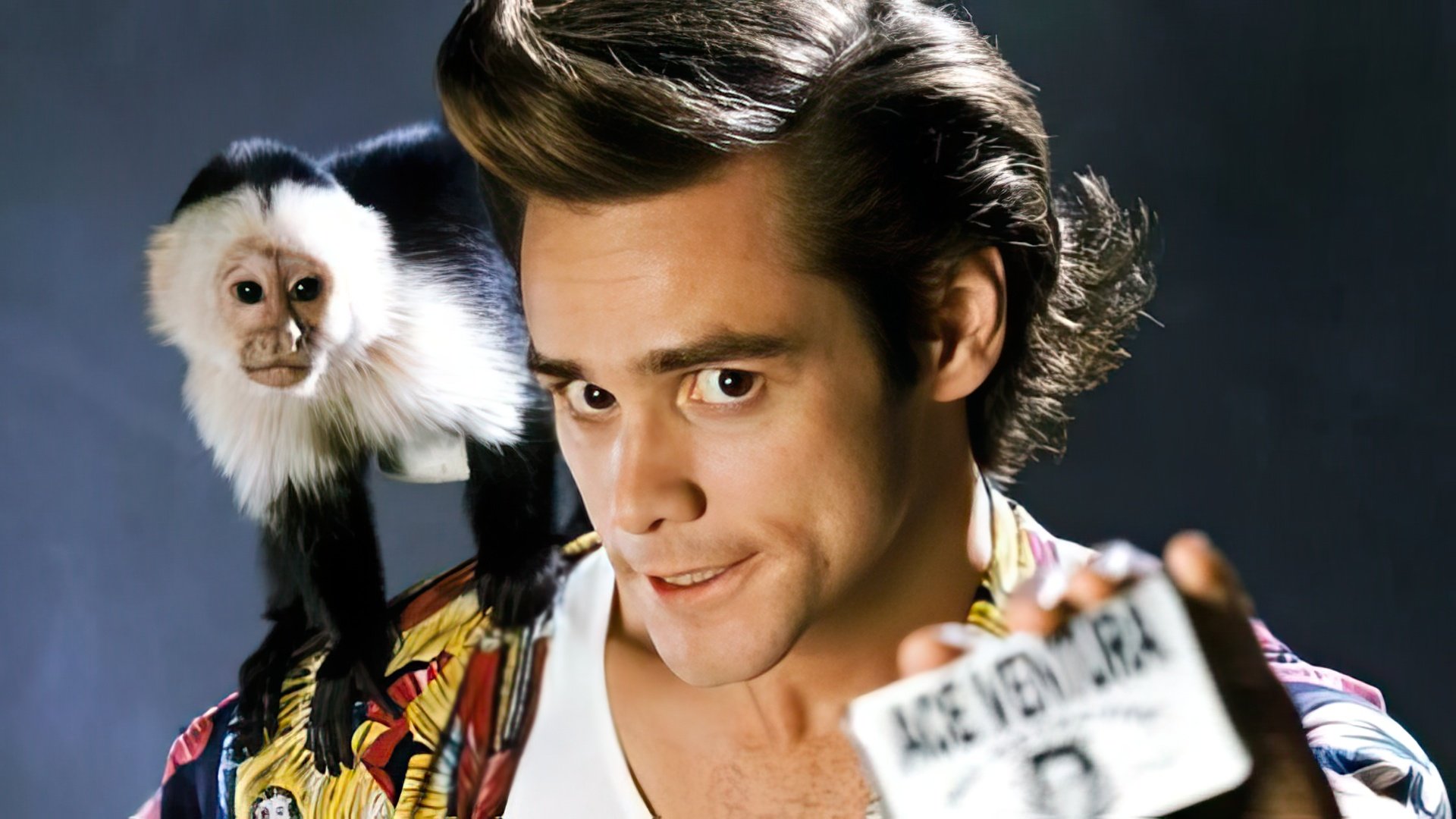 As a result, the actor was nominated for the «Golden Globe» and won the «MTV Movie Award» as Best Comedian, wherein not all critics liked his peculiar style with eccentric gestures, and the nomination for the Golden Raspberry anti-prize in the category of «The worst new star» immediately followed.

Jim became especially popular among young people, and the audience reviews for all the three comedies expressed stormy delight: «We seemed to have returned to the times when films were allowed to cause laughter», «This is one of the funniest films in the modern comedy», «Funny every second!», «I would like to go back to the times when I watched it for the first time and laughed painfully! Brilliant picture»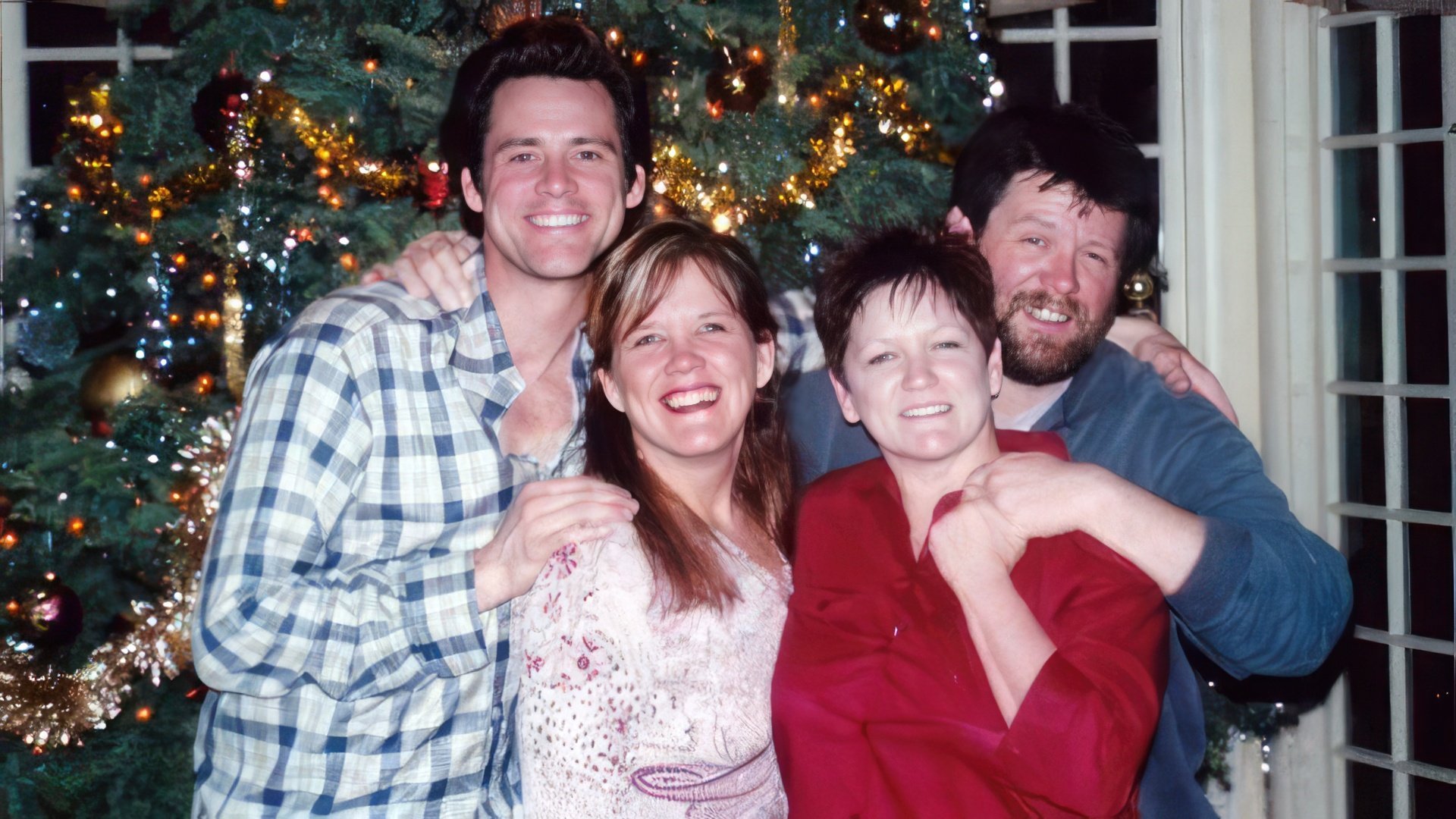 The following year, the actor was invited to play Riddler in the «Batman Forever» (1995) superhero action film, where his partners were Val Kilmer, Tommy Lee Jones, Nicole Kidman and Drew Barrymore. And although the film received mixed reviews from critics as a «vulgarly commercial film» it collected more than $336 million at the box office and demonstrated Jim Carrey's ability not only playing solo but joining a diverse acting ensemble. He was nominated for an «MTV Movie Award» in the category of «Best screen villain» for that job.
The «Ace Ventura 2: When Nature Calls» sequel continued the series of victories, the rental collections of which doubled the collections of the first part. And again not without awards: the actor received the «Kid's Choice Awards» as a «favorite actor», two MTV Movie Awards at once in the «Best actor» and «Best comedy role» categories and a nomination for «MTV Movie Award» for the Best screen kiss (with Sophie Okonedo).

Afterward, Jim Carrey starred in «The Cable Guy» (1996) black comedy by Ben Stiller, and his fee for that job made up an incredible $20 million. And again prizes followed: «Kid's Choice Awards» in the «Favorite Actor» category, «MTV Movie Award» in the «Best Actor» and «Best Screen Villain» categories and a nomination for «MTV Movie Award» for the best fight (with Matthew Broderick).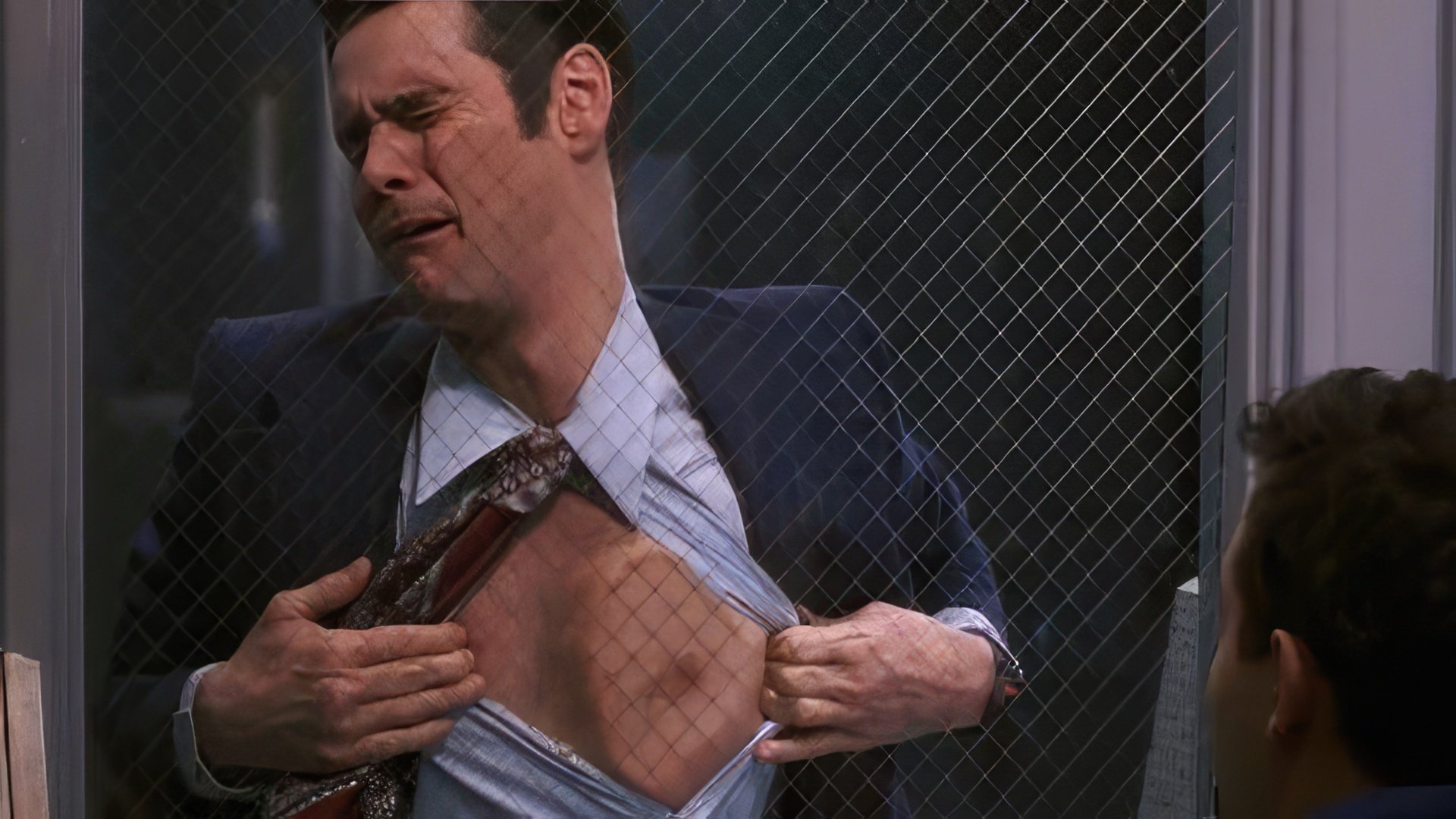 But Jim's incredible rise in popularity didn't end there: One of the cult comedies with him starring, the «Liar, Liar» was released - a story about a successful lawyer who mysteriously lost ability to tell a lie, what almost ruined his career, but helped him building a relationship with his family. Both the audience, thanks to whom the film collected 302 million dollars, and even critics who treated Jim warmer than usual were also pleased this time.
Despite the simple plot, the «Liar, Liar» incredibly wins due to Jim Carrey's raging humor. An explosion of laughter - and you unwittingly start adoring him.


Despite his outstanding successes, in 1998 he decided to take a break from his frivolous role and played a more serious role in «The Truman Show» fantastic tragicomedy. This is a story about a man whose whole life suddenly turns out to be a cleverly and cruelly planned reality show. The film received the highest rating of critics as «a funny and touching film that surprisingly accurately shows a nation suffering from an unquenchable thirst for peeping over the personal lives of celebrities and ordinary people». Jim Carrey's «Golden Globe» for the best dramatic men's role is among the large number of prestigious awards received by the film.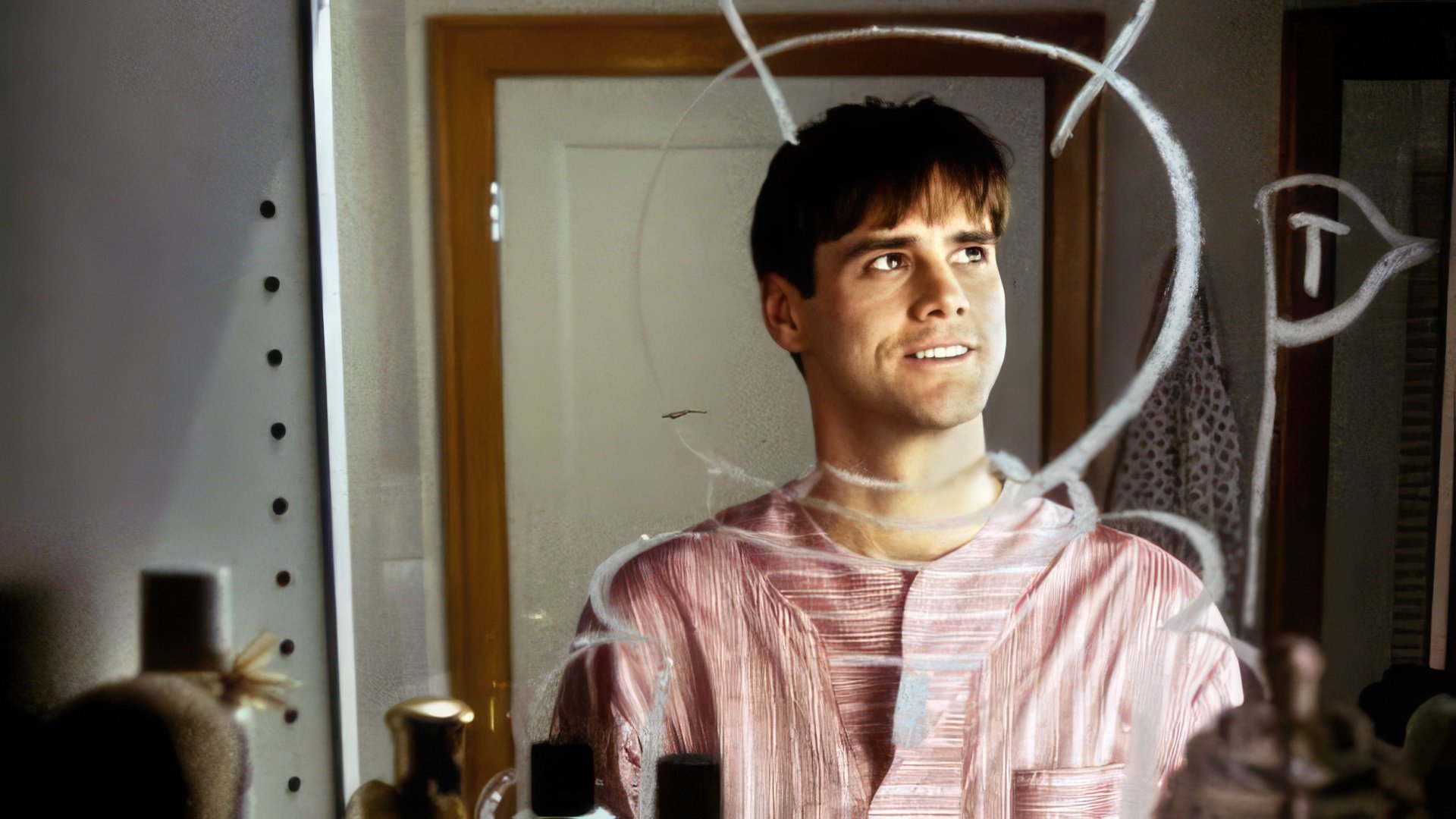 Another unusual role he played in 1999 was the famous comedian Andy Kaufman in the biographical drama by Miloš Forman «Man on the Moon». The film also featured such famous actors as Courtney Love, Danny DeVito, and Christopher Lloyd. And despite the picture didn't pay off, Jim Carrey received another Golden Globe and several nominations at other film awards for it.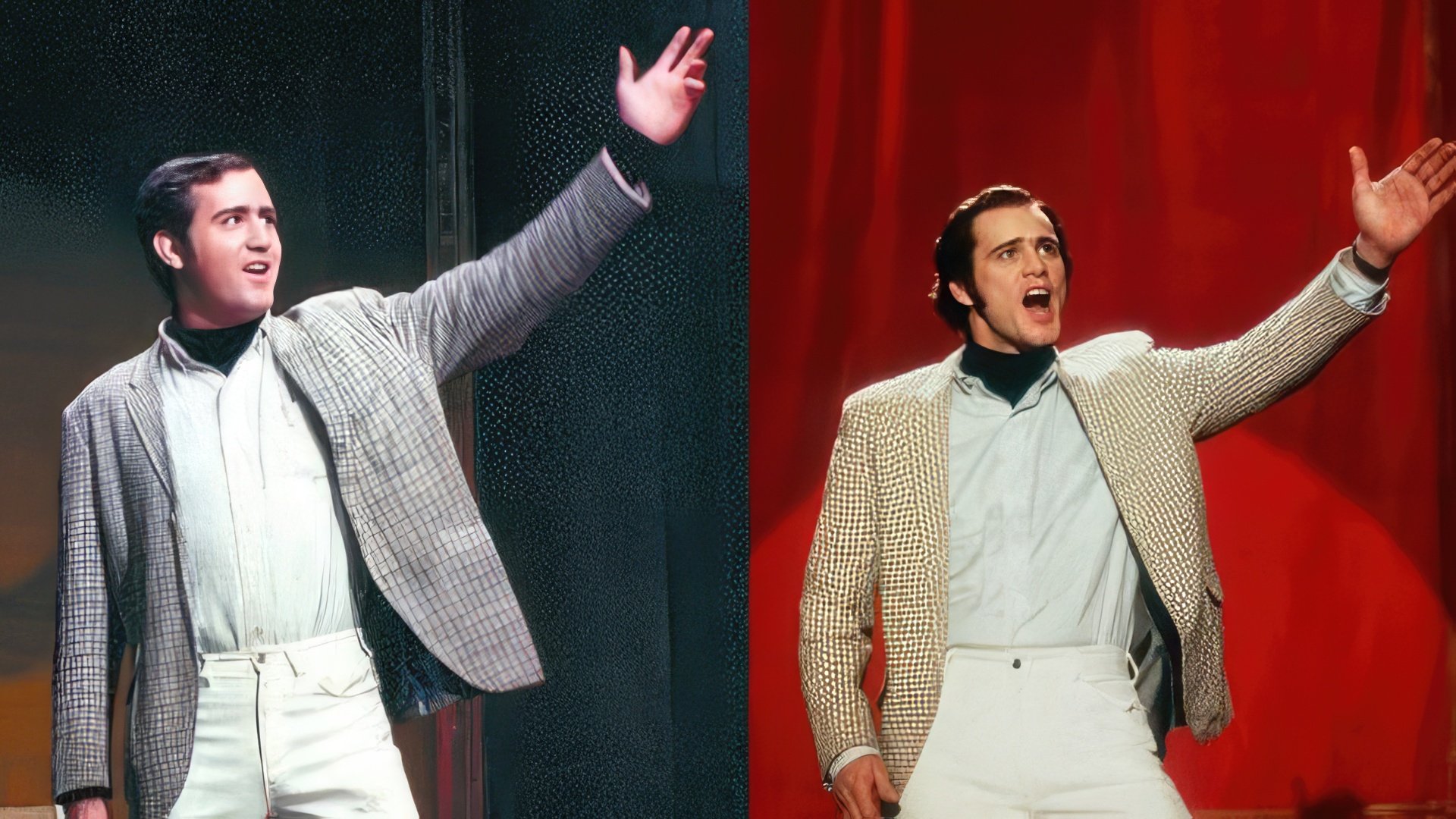 In 2000, the actor returned to his favorite comedy genre and starred in the films «Me, Myself & Irene» (partnered by Renee Zellweger) and «How the Grinch Stole Christmas» (with Anthony Hopkins). Both pictures were a great success, and the «Grinch» brought Jim Carrey a new «MTV Movie Award» and a nomination for the «Golden Globe».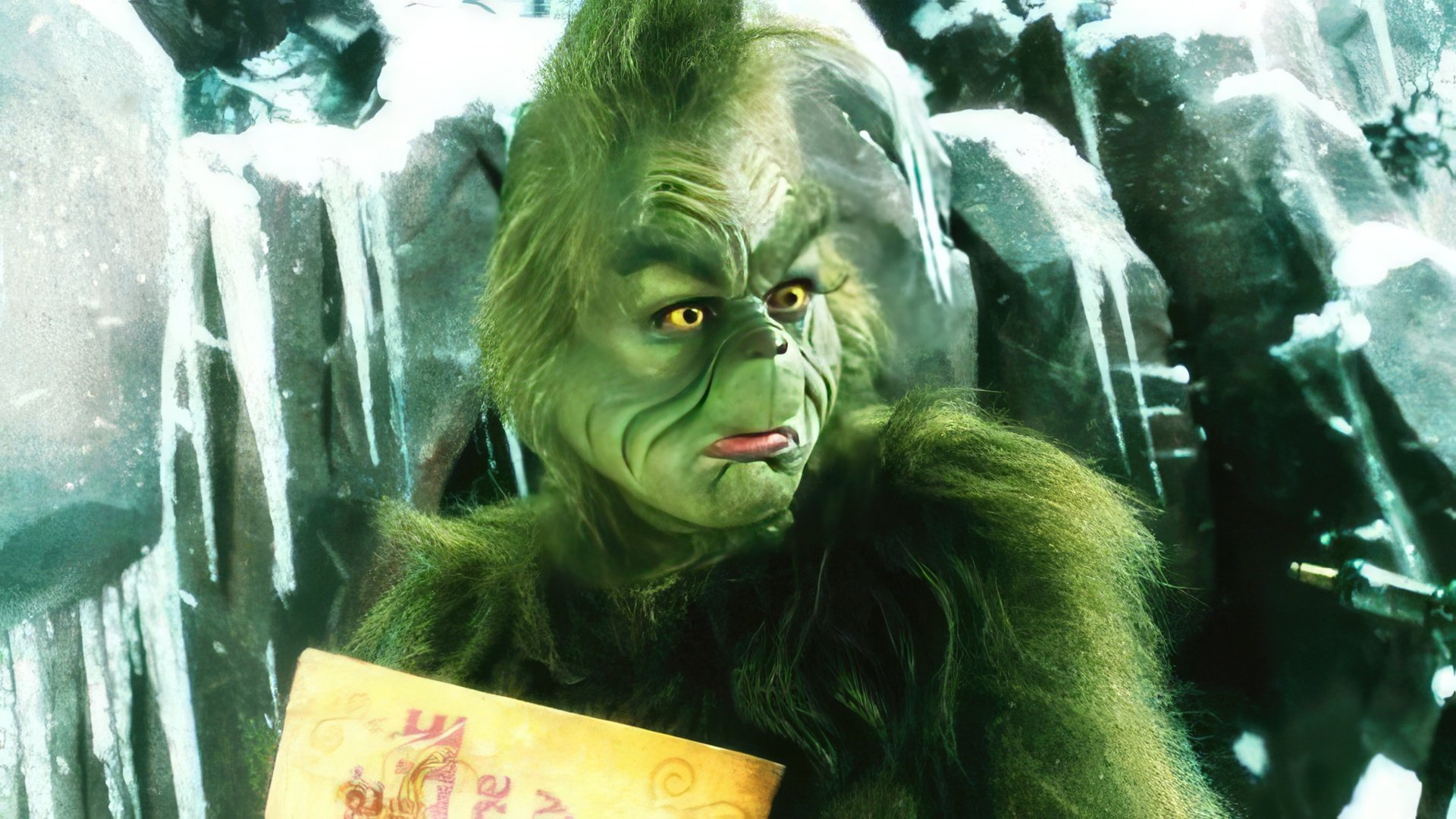 The lead role in the «Bruce Almighty» (2003) famous comedy was another unforgettable job by the actor, played along with Jennifer Aniston and Morgan Freeman. The film has collected a colossal 484 million dollars, despite it was banned in some Muslim countries, because it showed God in the image of an ordinary person. An especial one among these works is the «Eternal Sunshine of the Spotless Mind» (2003) romantic drama with the elements of fiction, where Jim Carrey starred in a brilliant acting ensemble with Kate Winslet, Kirsten Dunst, Mark Ruffalo, and Elijah Wood. The film is about the stunning beauty and the existential horror of the sense, trapped in a confused mind, and the willing amnesia of a broken but hopeful heart. The film received a number of prestigious awards, including the Oscar for the best original scenario, and Jim Carey was nominated for the BAFTA and Saturn awards. His play in this film was called «the best, most mature and clearly focused on during his entire career».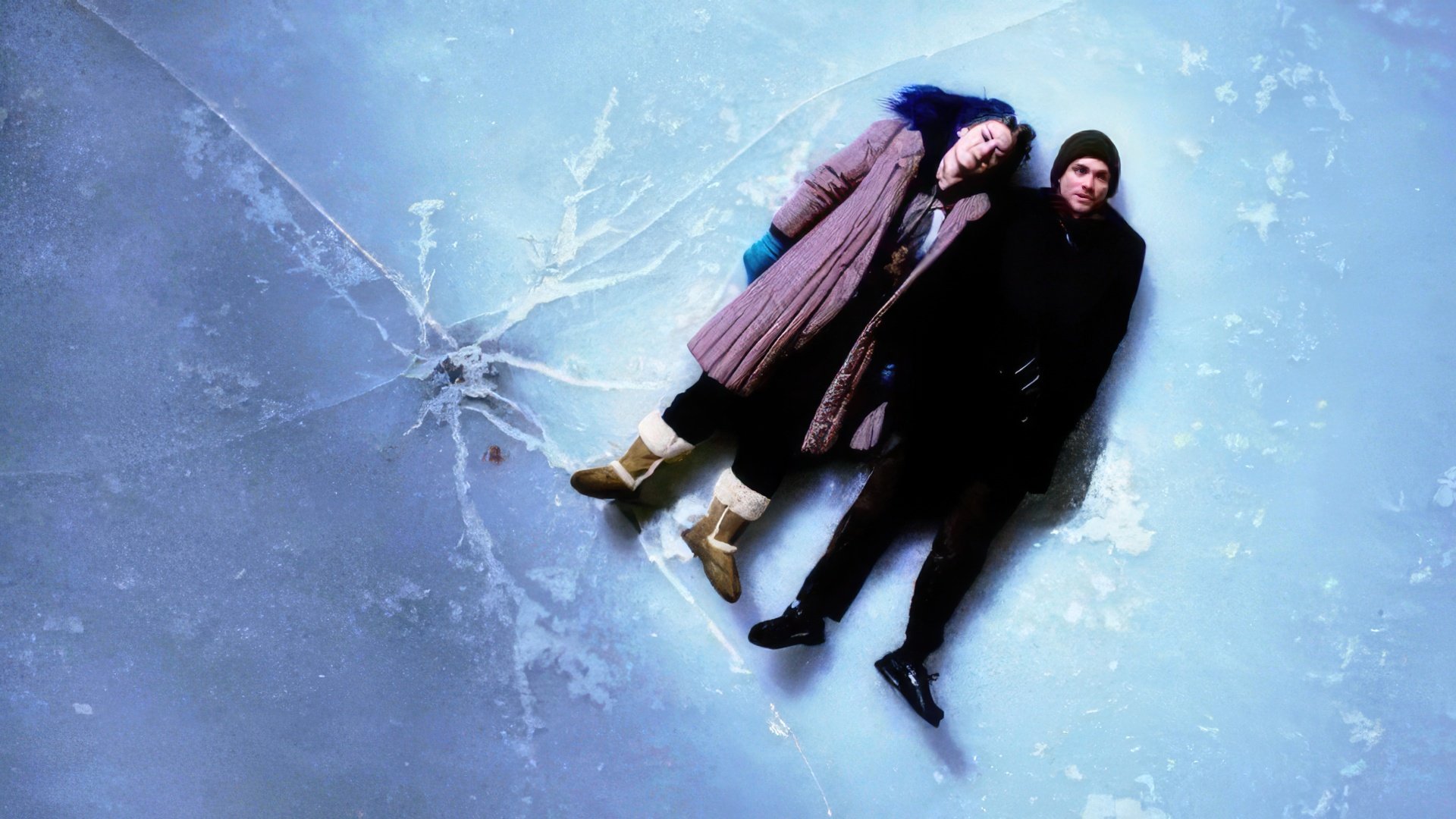 In 2007, the actor appeared in the «Number 23» psychological thriller, and his role was another serious retreat from his branded comic role. Unfortunately, critics smashed this work to pieces, calling it «awkward and uninteresting» and Jim Carrey was nominated for the Golden Raspberry anti-prize.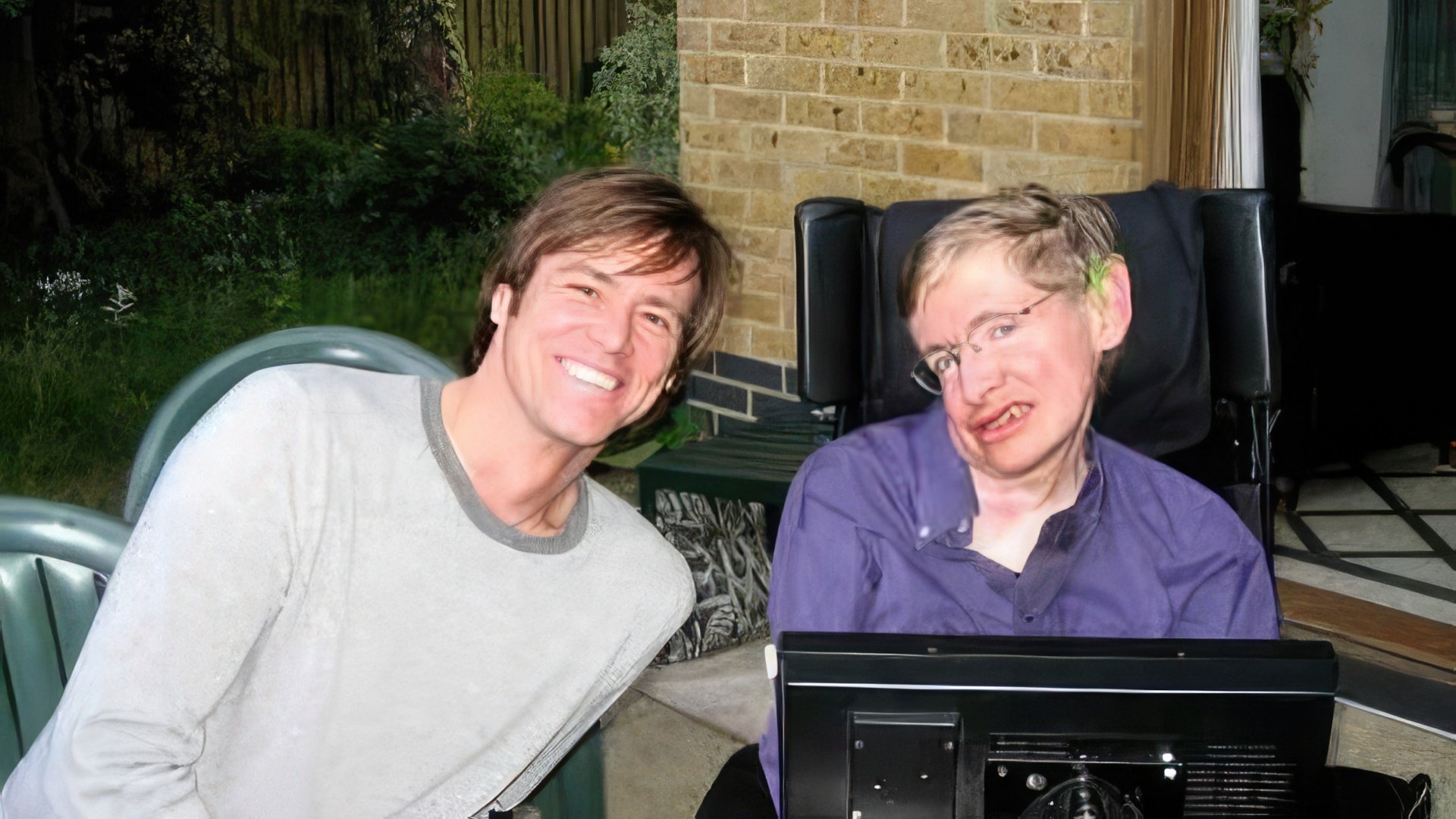 After that failure, the success of the «Yes Man» (2008) comedy, in which he starred alongside Zooey Deschanel and Bradley Cooper, turned even more value for him. Another MTV Movie Award and several nominations at once for the Teen Choice Awards and the Kid's Choice Awards were the prize. Critics stated: «The «Yes Man» is good as a comedy starring Jim Carrey, but it is even more interesting as a movie about love, which continually makes you laugh.»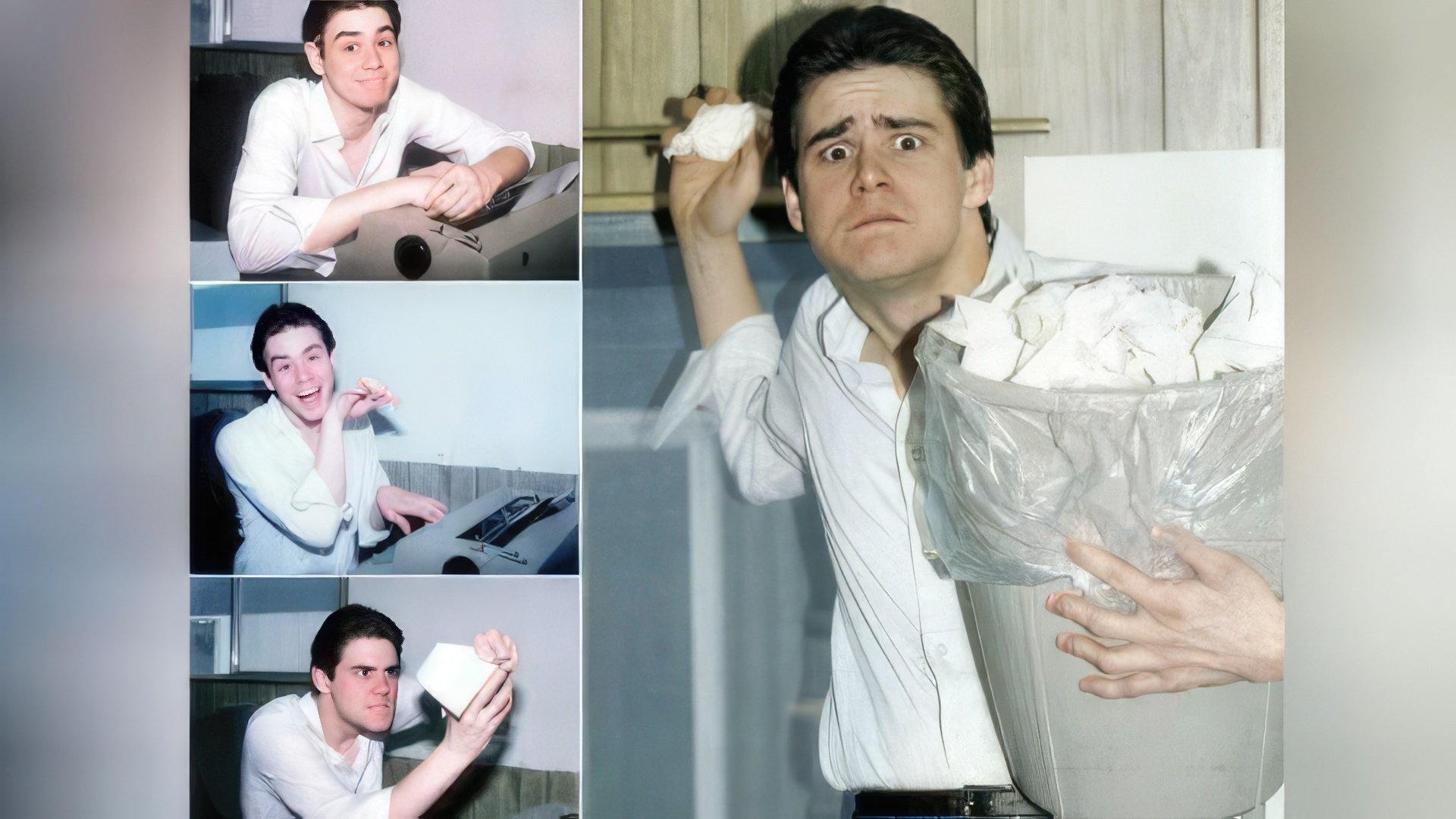 However, the actor's interest in more serious pictures wasn't over at all, and in 2009 he played one of the lead roles in the «I Love You Phillip Morris» romantic tragicomedy alongside Ewan McGregor. Before launching in worldwide rentals, the film was shown at the «Sundance» festival of non-commercial and authorial films and at the Cannes Film Festival later.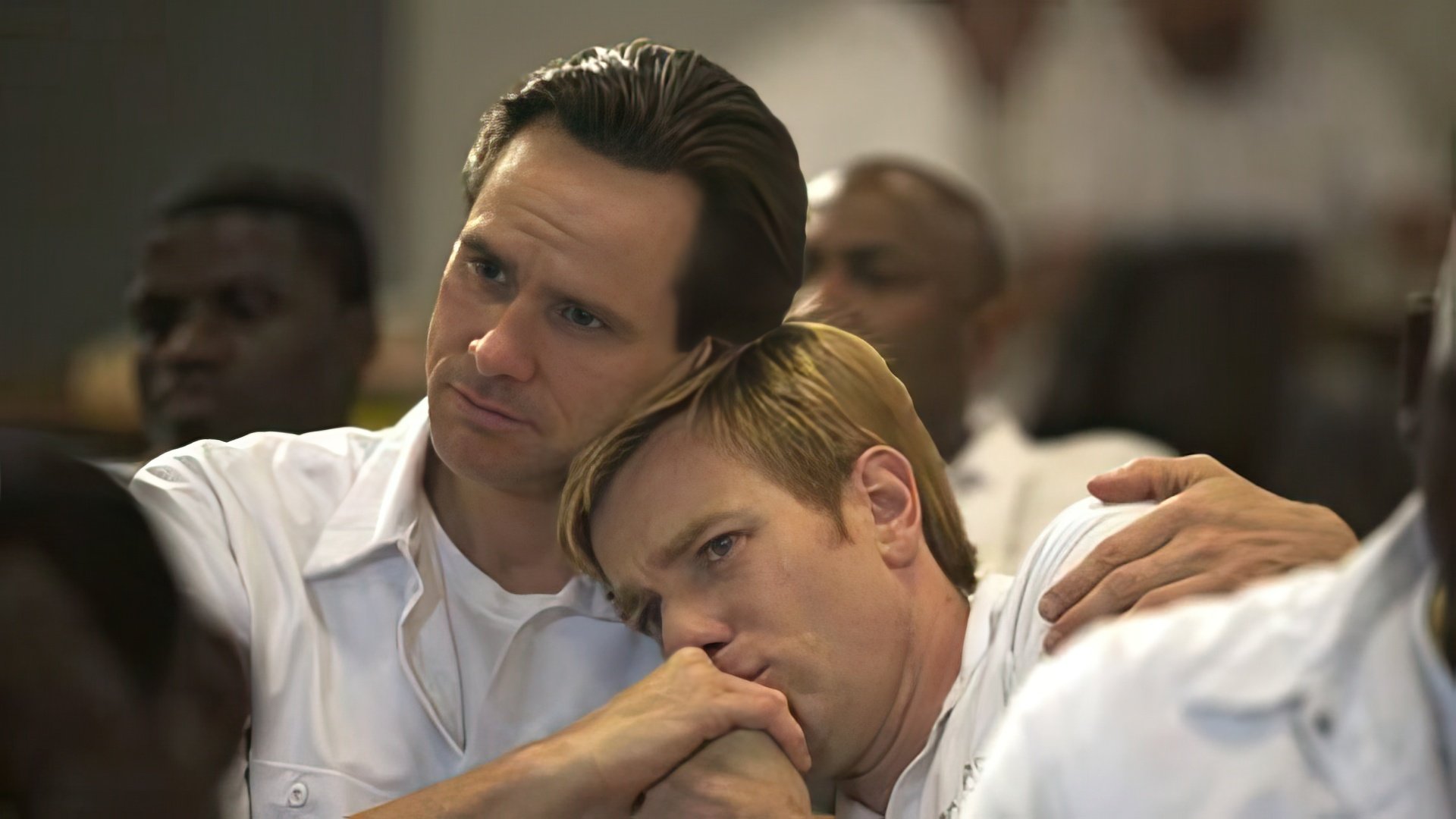 In the same 2009, he played in «A Christmas Carol» - the 3D screening of the story by Charles Dickens, alongside Colin Firth, Gary Oldman, Robin Wright, and other famous actors. The picture turned out to a real blockbuster, collecting 325 million dollars. Then followed works in the successful comedies «Mr. Popper's Penguins» (2011), «Dumb and Dumber 2» (2014), and several more films. In recent years Jim Carrey was actively engaged in producing and in this new capacity he took part in the «Rubble Kings» (2015) documentary film, the «I'm Dying Up Here» (2017) TV series and several other projects.

In 2018 Jim Carrey continues working on television, taking part in the «Kidding» comedy-drama series as the leading actor and producer. In recent years, he practically retired from big cinema and devoted himself to his old hobby - painting.
Jim Carrey's personal life
Jim Carrey has been married twice during his life, and besides, he has also had several love affairs. His following statement can be considered his motto in his personal life:
I don't believe in fairy tales about eternal love. Ten years with the same person is more than enough.
He first got married on March 8, 1987 – his choice was actress Melissa Womer, then a waitress from «Comedy Store», and later an actress and producer. On the 9th of September the same year, their daughter Jane Erin Carrey was born.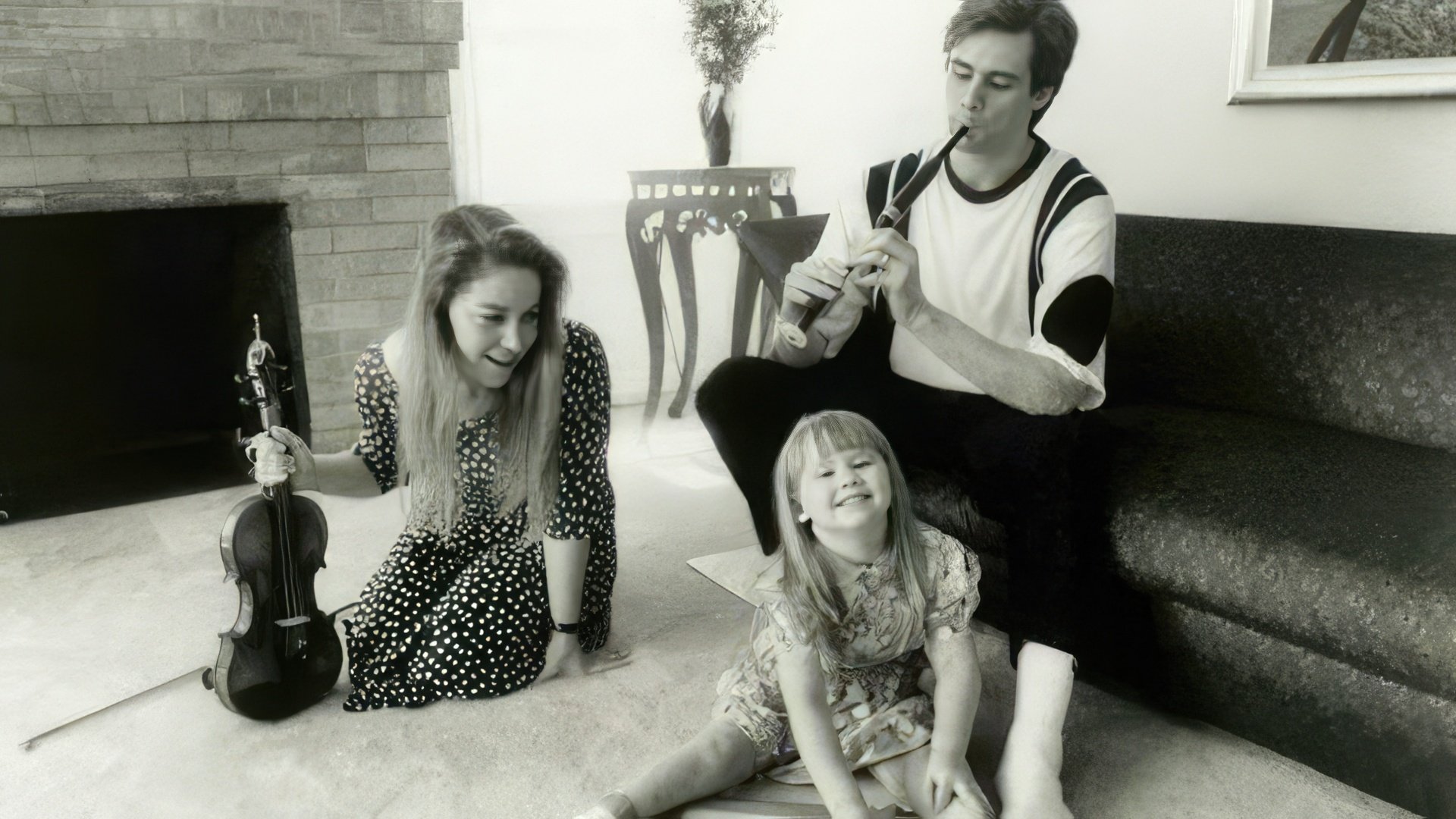 Soon tragic events occurred in the actor's life: in 1991 his mother died of a serious disease and in 1994 his father passed away, to whom Jim was very attached. The loss of parents led the actor to depression, and Melissa was unable to help him. Two opposing principles seemed to like fight inside him: he could be an exemplary family man, but time after time he was desperately in need of loneliness.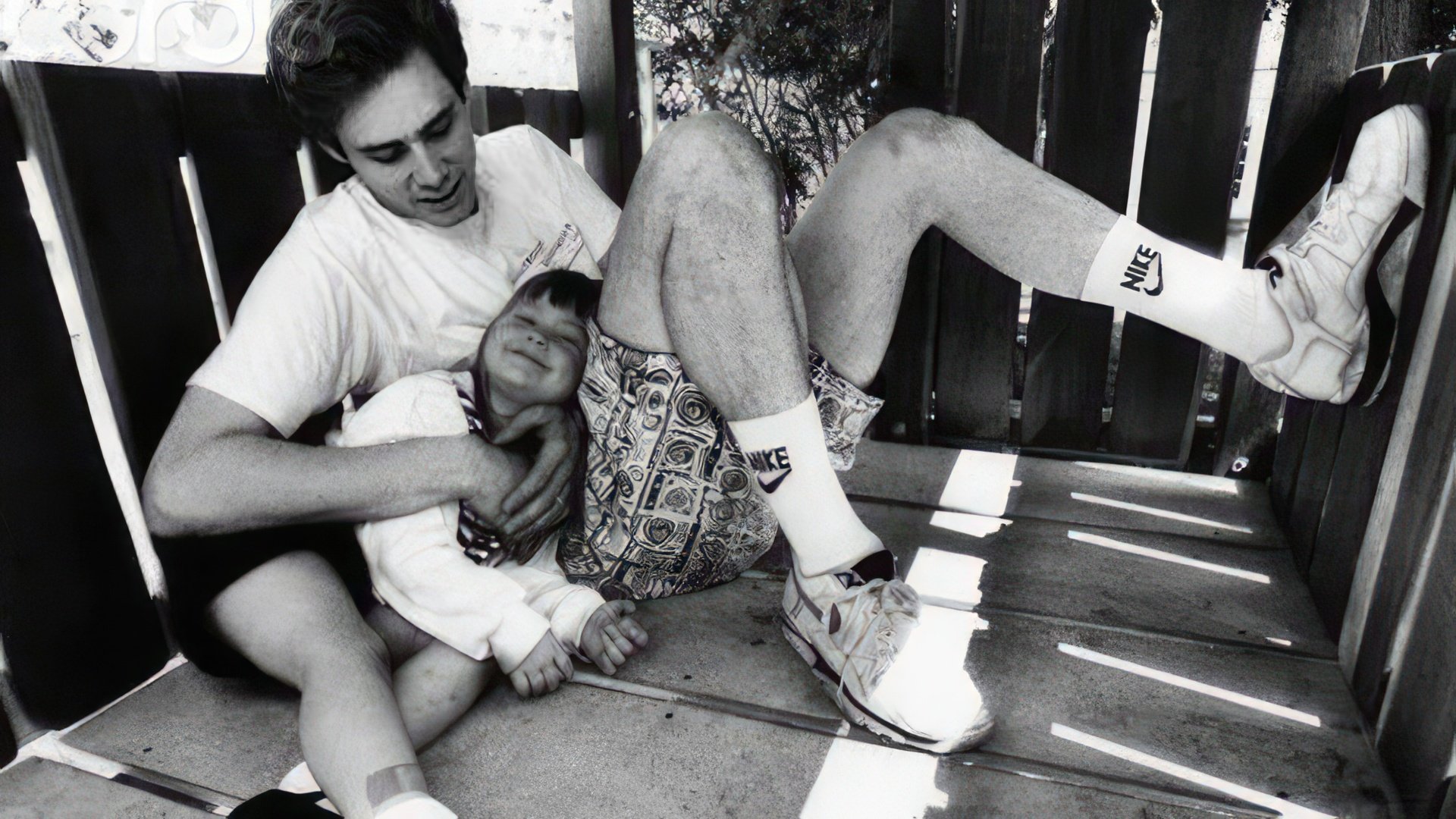 In 1995 Jim had an affair with his colleague from the «Dumb and Dumber» Lauren Holly, and after a series of serious scandals, Melissa decided to give him a divorce. On September 23, 1996, Jim married Lauren, but the marriage lasted just 8 months.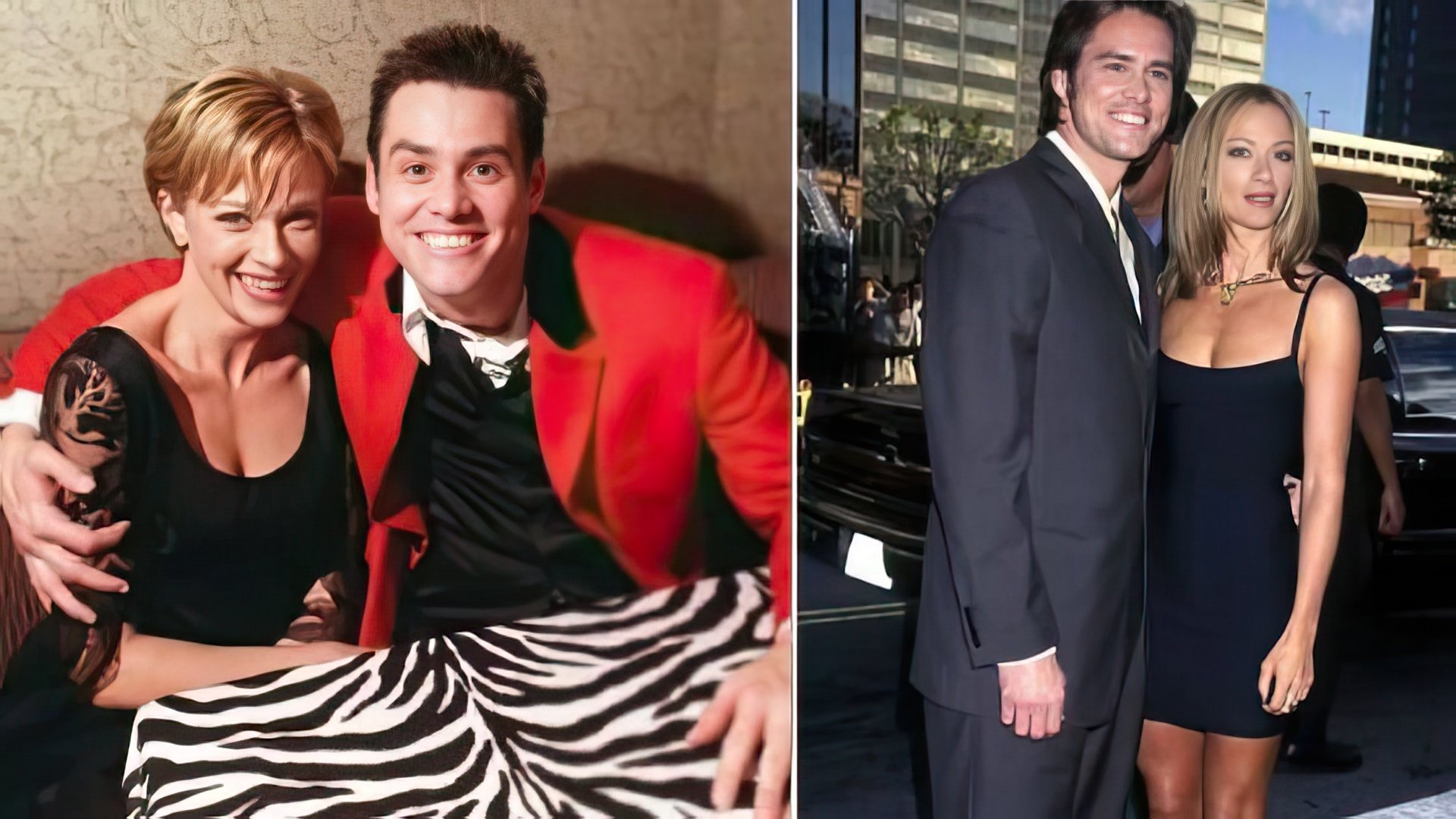 After that for a year and a half he was engaged to Renee Zellweger, relationship with whom began while working on the set of the «Me, Myself & Irene» comedy. Then he dated his doctor Tiffany Silver and fashion model Anine Bing for short periods of time.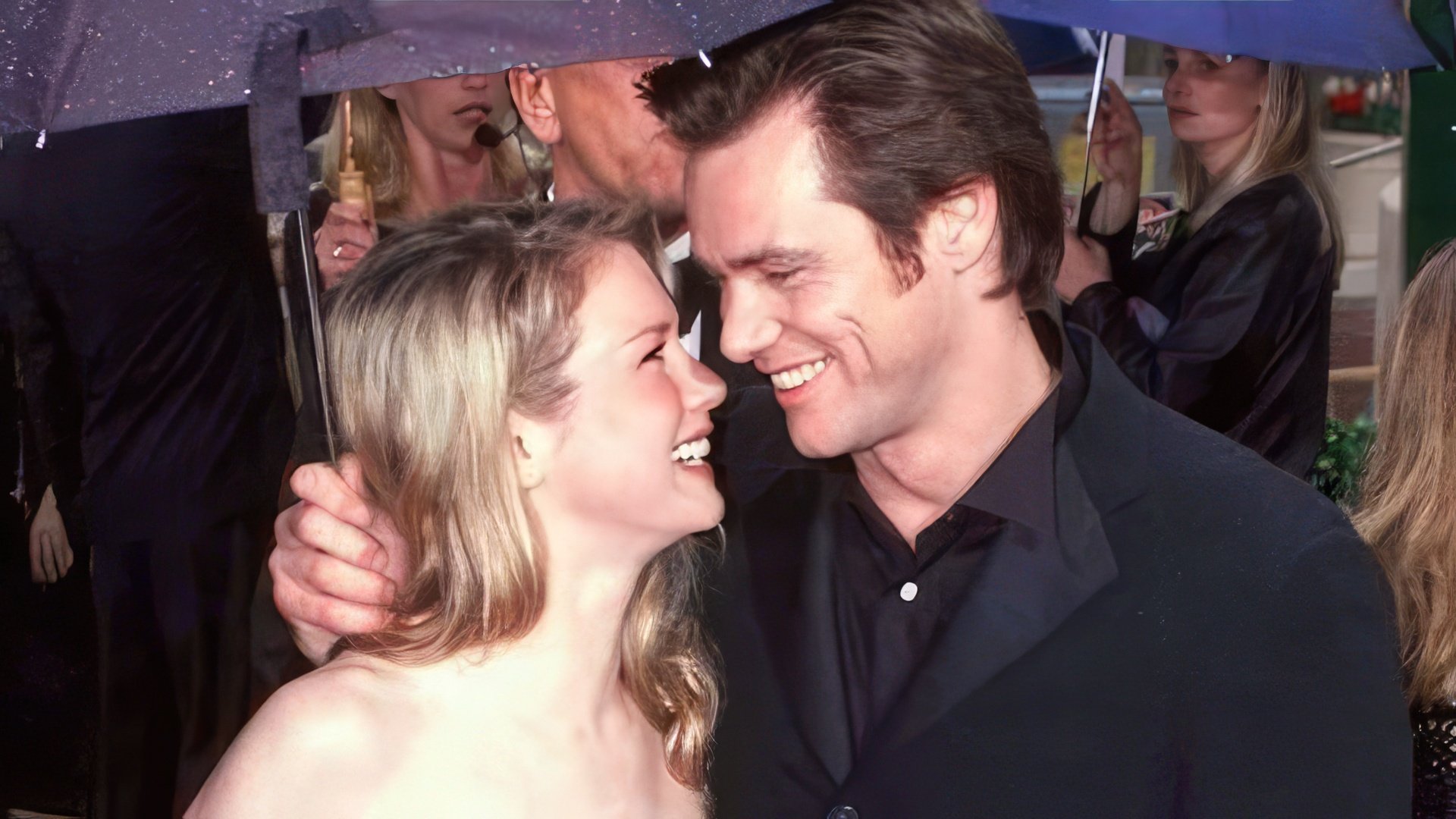 In 2005 he met model and actress Jenny McCarthy, and their relationship lasted until April 2010. Despite the attempts of the press to find out the reasons for the beautiful couple breaking up, no comments followed from the former lovers except Jenny stating: «We are still good friends with Jim»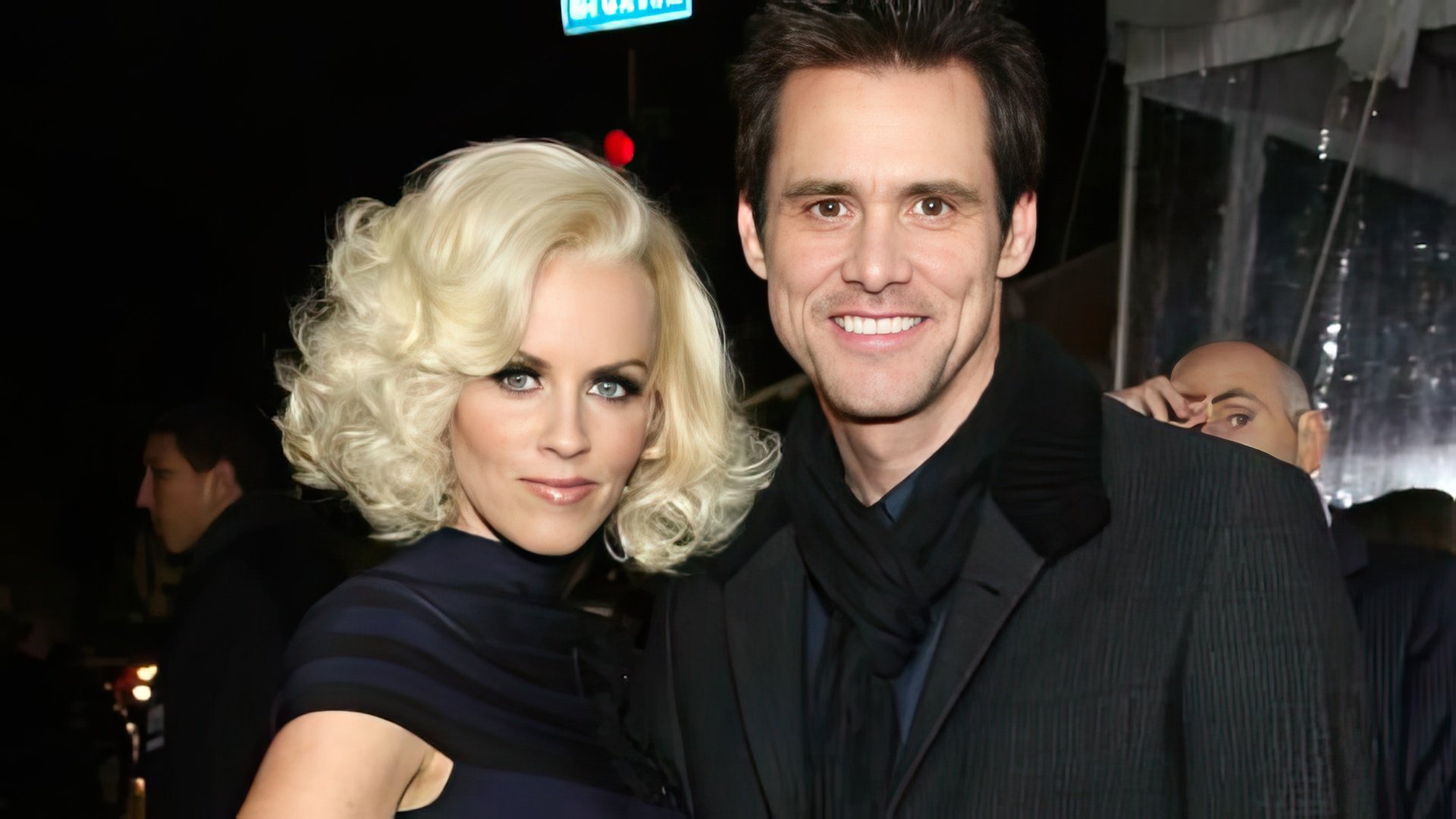 In 2012 53-year-old Jim Carrey dated a Russian student Anastasia Vitkina, and after parting with her, he began a relationship with 28-year-old Irish Cathriona White. Soon the couple also broke up, and in 2013 the girl married another man. However a love affair broke out between Jim and Cathriona again from May to September 2015, and after breaking up, the young woman committed suicide by taking a lethal dose of pills. According to her mother, «she felt that she had no reason to live after losing the man whom she madly loved».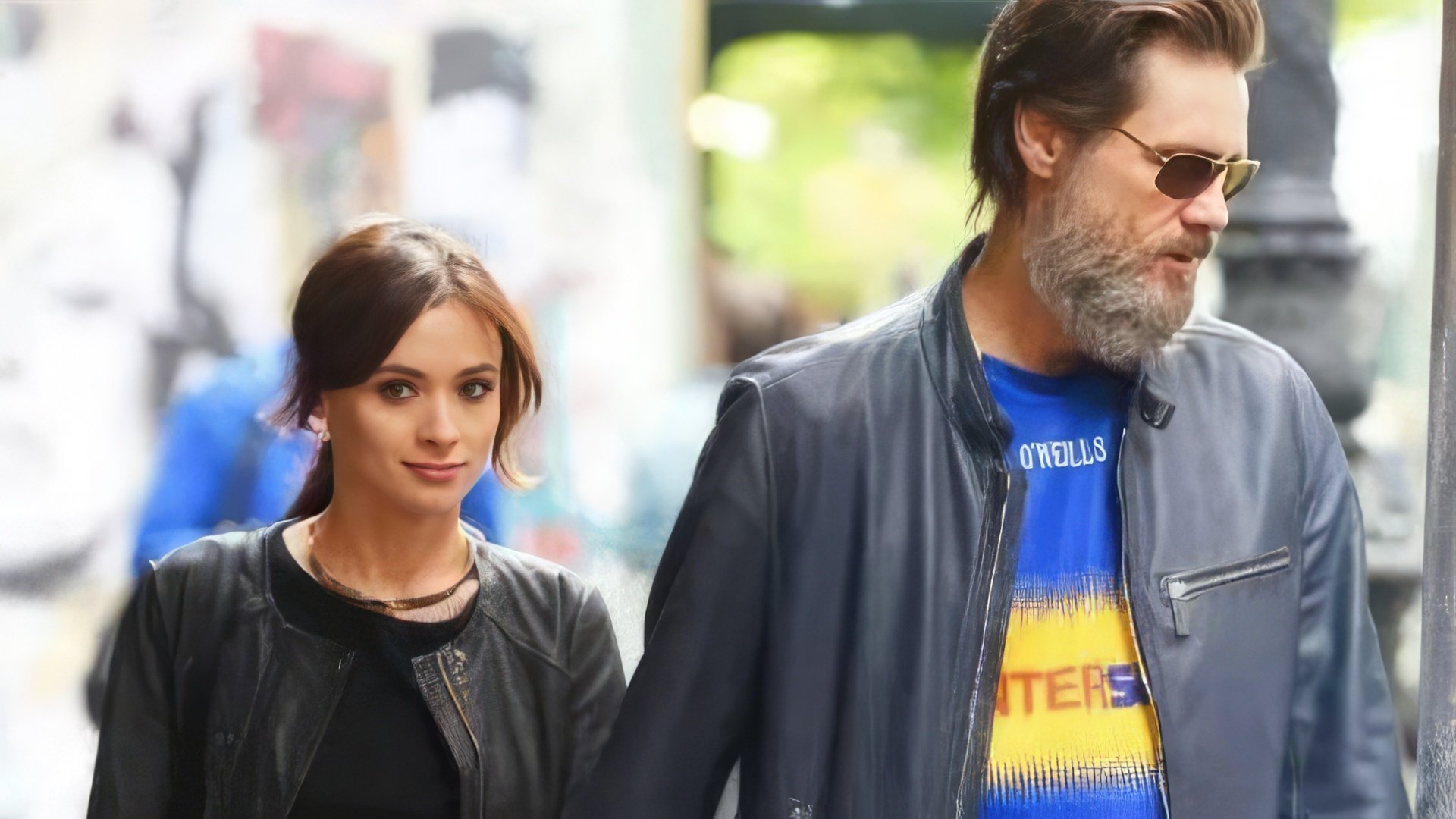 He fully paid for Cathriona's funeral, carried the coffin, and looked very depressed. Soon Cathriona White's official husband filed a lawsuit against Jim Carrey, accusing him of «using his vast wealth and status of a star for the illegal purchase of pills that poisoned his wife» but the actor defended his innocence in court.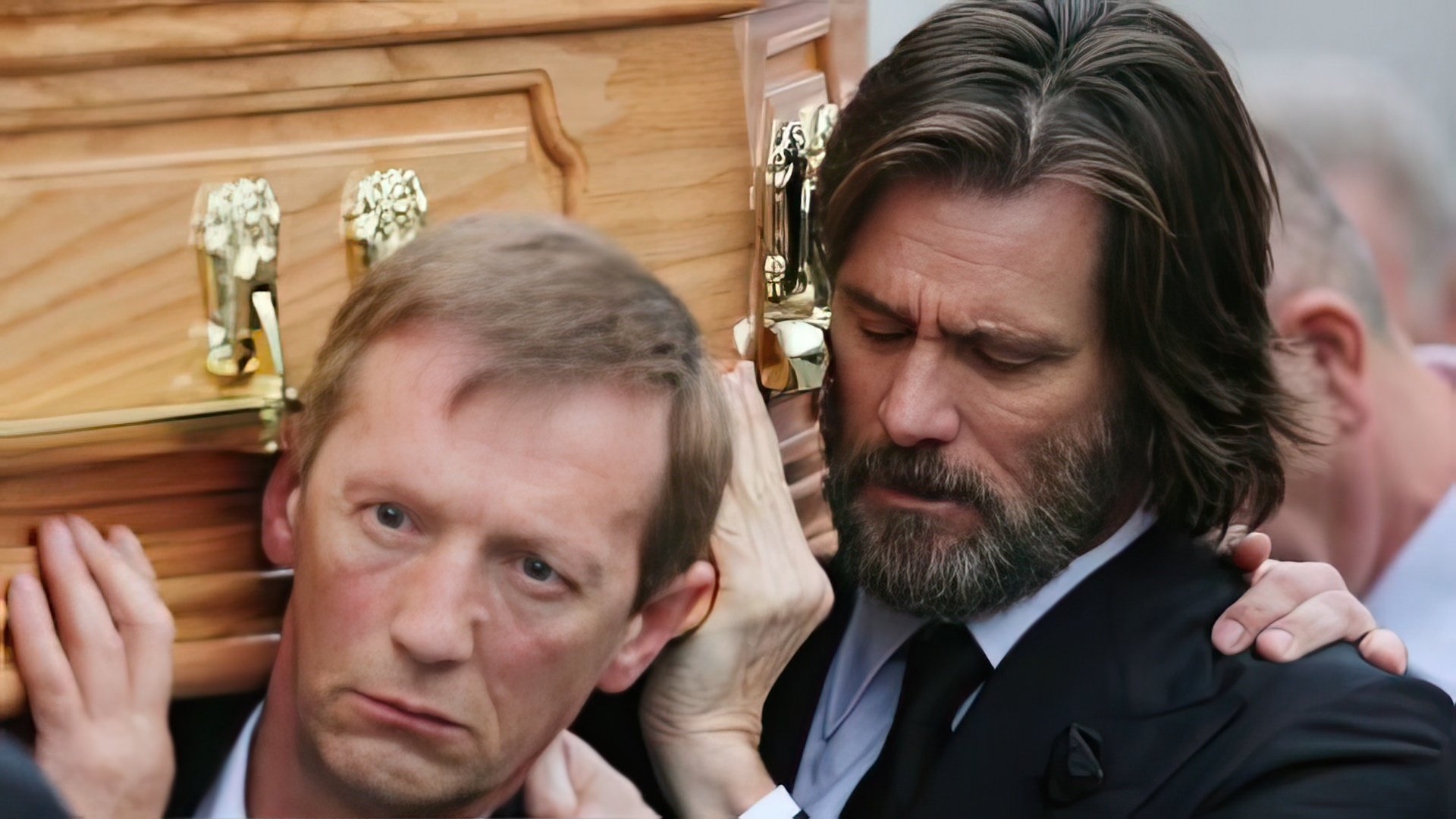 After that, he almost disappeared from sight and appeared in public only in September 2017 at the New York Fashion Week. He shaved his thick beard and looked exhausted, though he still joked and fascinated those around him. He told the journalist trying to interview him: «This is not our world. All this is unreal. And we have no meaning».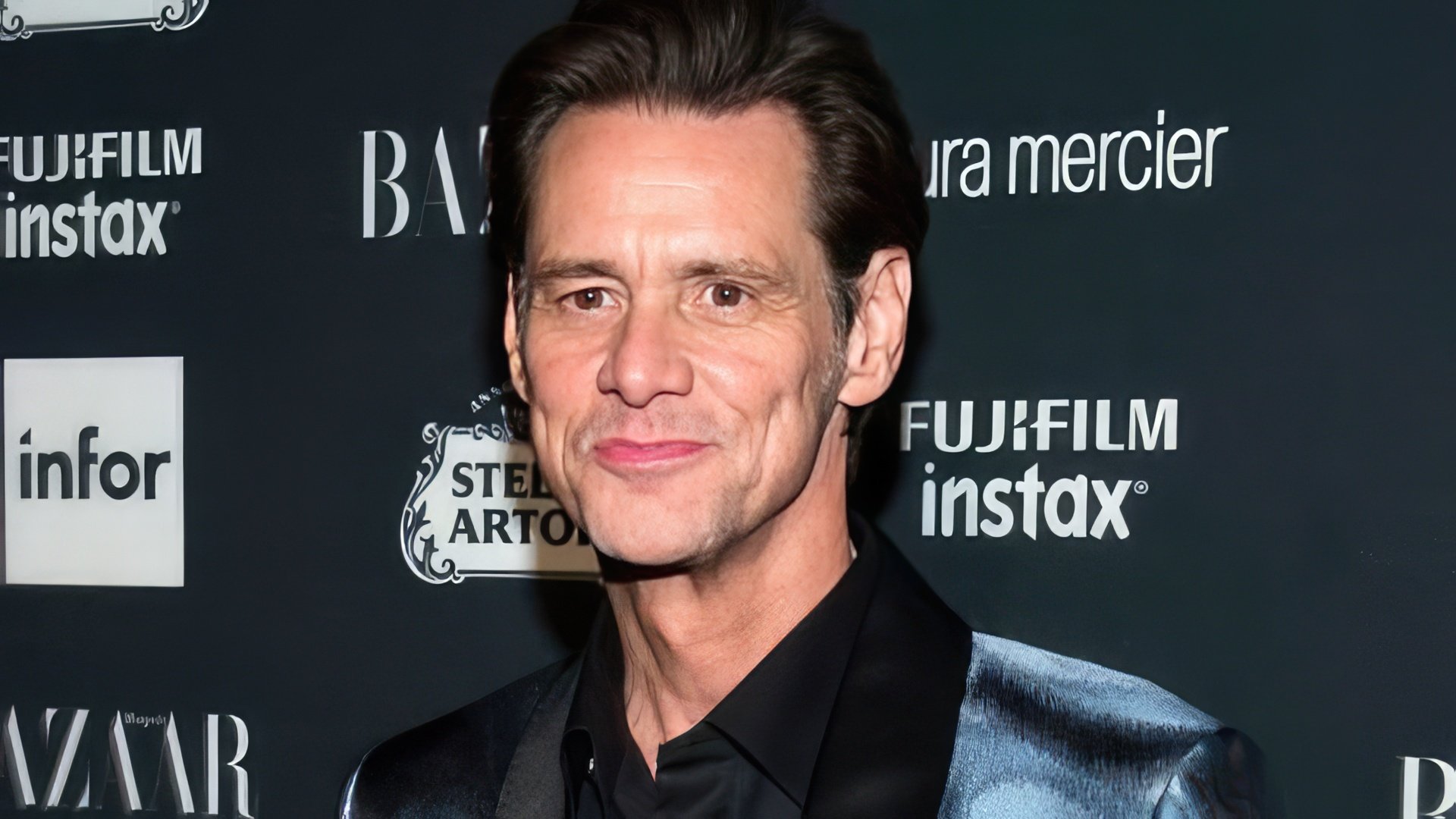 Jim Carrey is a citizen of Canada and since 2004 he also has US citizenship. He is a vegetarian and an opponent of current vaccination practices because he believes that some types of vaccines are toxic and cause autism.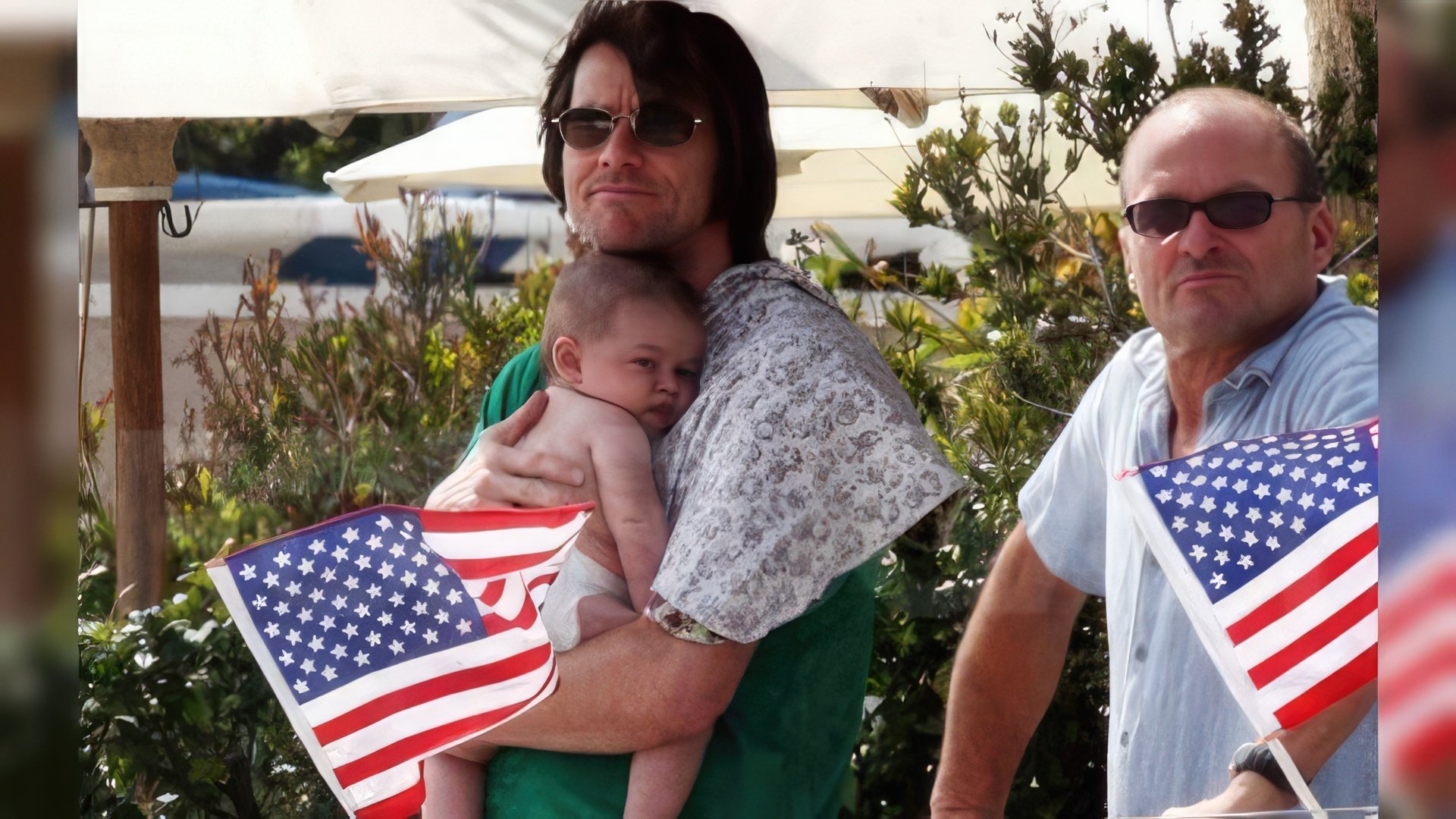 Jim Carrey Now
In recent years, he has practically moved away from the big cinema and devoted himself to an old hobby - painting. Now among his works the genre of political caricature prevails. For political reasons, he also deleted his Facebook account and sold his shares in the company.

However, in 2020, viewers will see Kerry in the villainous role of Dr. Robotnik in a feature film about Sonic the hedgehog. The actor, although not too similar to the source from a computer game, perfectly getting used to the role.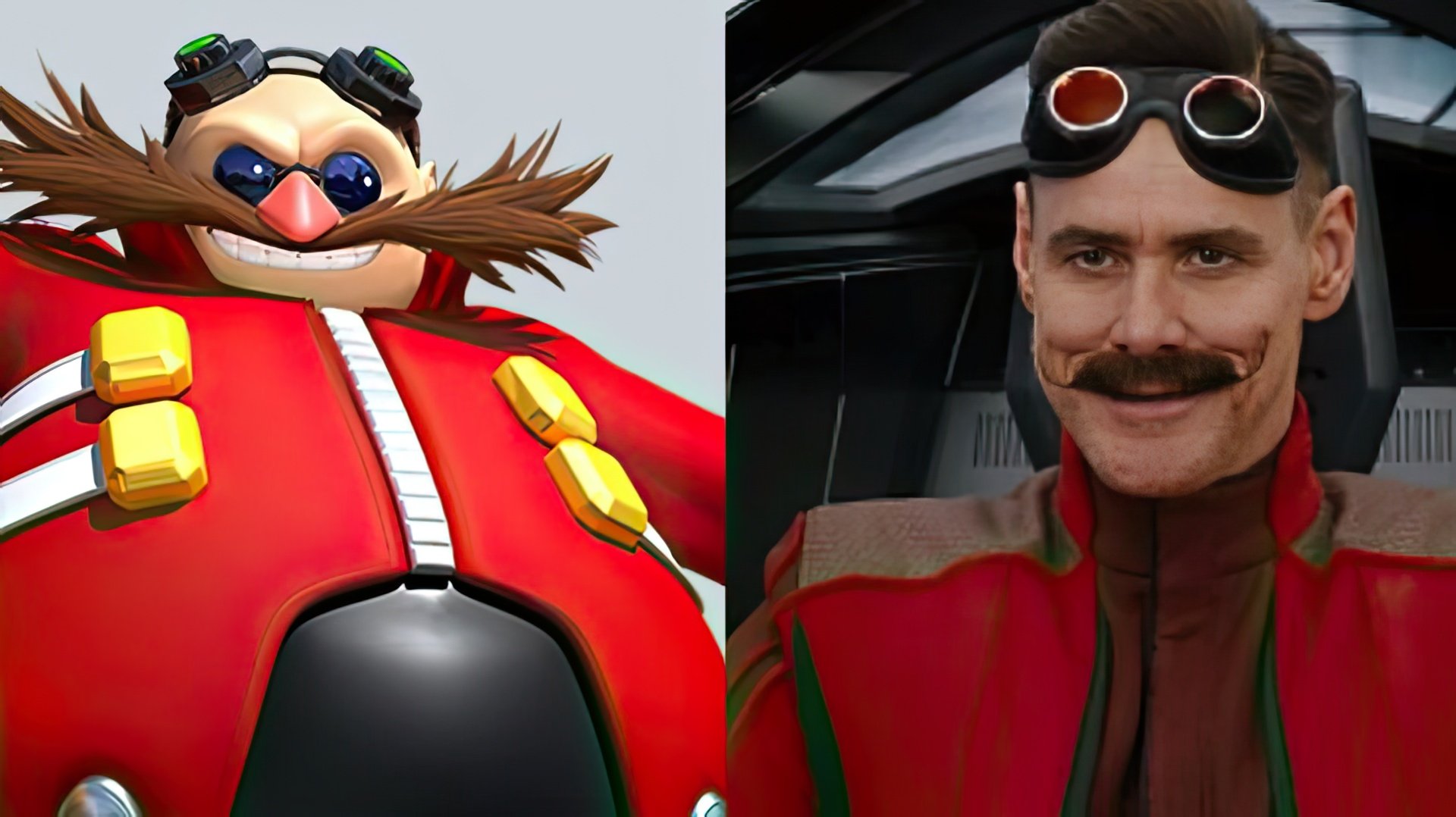 On March 30, 2022, the second part of "Sonic" was released, in which Kerry returned to the role of Robotnik. In connection with the premiere, Access Hollywood took an interview with the actor, during which he announced his retirement:
Press Ctrl+Enter If you find a mistake