The young actress is dating a 15-year-old singer Jacob Sartorius. The tabloids got a photo dated the 31st of December last year. In the picture,
Millie Bobby Brown
is captured in the company of the singer, and the photo is accompanied by three hearts, by which we can judge that the couple is not just friends.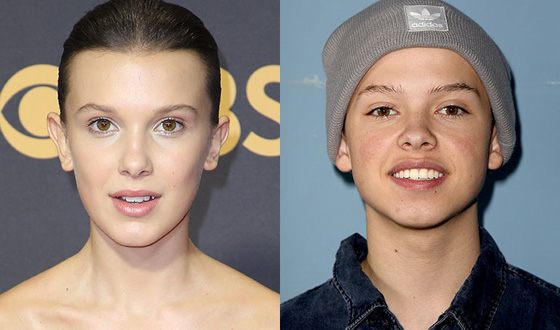 Before this, the fans of the actress and singer noticed that they «like» each other's photos in social networks. Many followers of the couple have become literally obsessed with their relationship and began to comment on the posts that they think Millie and Jacob addressed each other. In the end, some part of the young stars' fans had to intervene in the story, standing on the privacy protection of the couple. Some commentators and bloggers even wondered whether it is reasonable for two young people to meet at such an early age. However, Millie and Jacob's parents, apparently, does not prevent their relationships.

13-year-old Millie Bobby Brown gained fame through the TV series «Stranger Things», where she plays a girl with the gift of telekinesis.

13-year-old Millie Bobby Brown has caused serious debate in the Network, posting a picture with her lover.