Jamie Foxx biography
Jamie Foxx is an American actor and singer, comic, and Academy Award recipient. He got incredibly famous after his star performance in Ray, as well as an appearance in such blockbusters as Collateral, Law Abiding Citizen, Django Unchained by Quentin Tarantino, The Amazing Spiderman 2, etc. His net worth is over $100 million.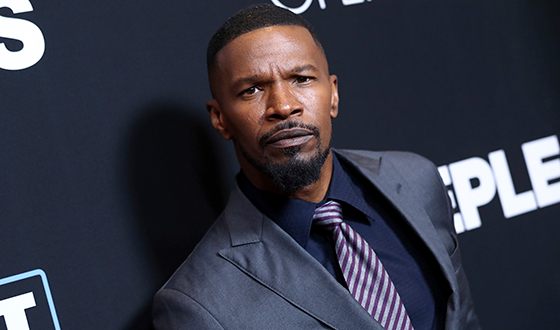 Early life and childhood
Jamie Foxx (born as Eric Marlon Bishop) was born on December 13, 1967, in Terrell, Texas. He lived with his biological parents Louise Annette Talley Dixon and stockbroker Darrell Bishop (who took name Shahid Abdula after converting to Islam) for just around 7 months. They abandoned Eric and took no part in his upbringing.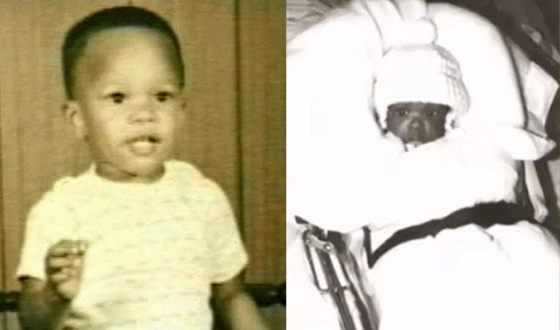 Foxx was raised by his mother's adopted parents – harsh, strict, religious, and hardworking nurse and yard worker, 60 years old Esther Marie and Mark Talley. Jamie himself considers life lessons, given by his grandmother, to be one of the reasons for his success. There was an impressive big library in his adoptive parents' home. Early in his life, Eric showed quite an interest in reading; grandmother noticed this and worked hard on inspiring future actors to have confidence that he is a clever, smart kid and is more than capable to achieve whatever he wants in life.

Esther wasn't the one to let her grandson dawdle. A grandmother's insistence, 3 years old Foxx started to practice piano. In his teens, he became a vocalist, pianist, and choir leader in Terrell's Baptist church and sung in Leather and Lace band. Another Eric's innate talent became apparent during his time in primary school; he was a center of attention among his peers, had a great sense of humor, and kept an audience entertained. If that wasn't enough, Foxx played basketball and football; he broke many school records, showed great promise, and aspired to play for his local Dallas Cowboys. Later on, he became a boy scout.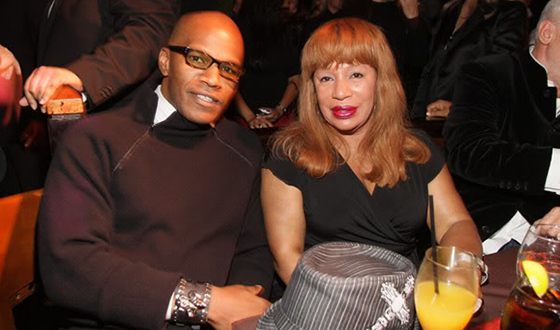 Despite his grandmother's care and dedication to him, the boy couldn't stop asking himself why did his real parents abandon him? It took half a lifetime to realize that they never actually wanted a child.
I often wondered, why? I wasn't that kind of kid who always gets into some trouble. In fact, I was the opposite. I even was a midfielder in my high school football team! My real father lived but 45 kilometers away from me and never cared enough to talk or visit.
Eric was 17 when his adoptive father died; Esther outlived her husband on 20 years and passed away, leaving the actor heartbroken.

In 2014 Jamie decided to reestablish his relationship with real parents. The actor found them and even took his mother to live with him. Unfortunately, he still failed to find common ground with his father.
Movie and TV career
Eric's passion for music eventually took over his ambition to become a professional athlete. After graduating from high school he received an honorary scholarship to United States International University, where he studied musical and performing arts.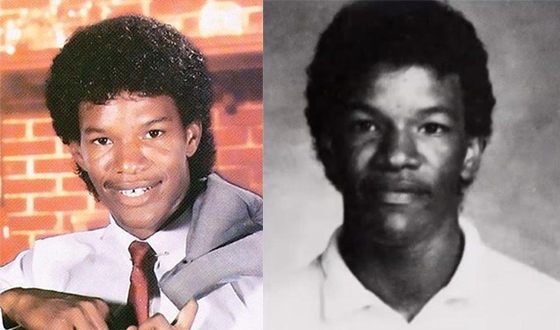 First real stage experience Eric acquired only in 1989 when he took part in an open mic show in a local comedy bar on a bet with his friend. He noticed, that women comedians are the first to be invited to the stage, hence he took an alias Jamie Foxx since this name is gender-neutral. Surname though, he chooses in honor of legendary comedian Redd Foxx.

Two years later Jamie joined the cast of the sketch-comedy show In Living Color and appeared in TV series Roc. He made his big-screen debut in 1992 comedy movie Toys, joining the cast of many Hollywood legends such as RRobin Williams, Joan Cusack, and Robin Wright.
Artist noticed, that women comedian are the first to be invited to the stage, hence he took an alias Jamie Foxx since this name is gender-neutral
Newfound success allowed the young comedians to launch his own sitcom dubbed The Jamie Foxx Show, running from 1996 to 2001. However, Foxx was not content with the reputation of a comedy actor and proved to the audience that he is more than capable to take on any role. To do so, he appeared in 1999 drama movie Any Given Sunday by Oliver Stone portraying hard-partying football player.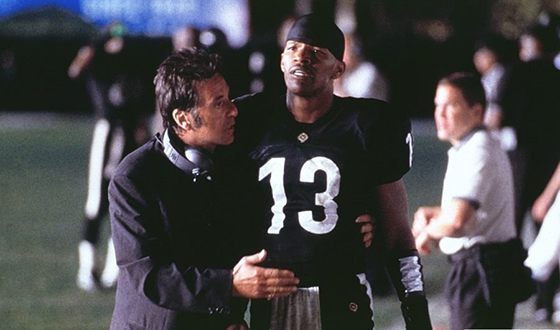 In 2001 Jamie paired up with Will Smith in sports drama Ali by Michael Mann, starring as Drew Brown, cornerman and trainer of the legendary boxer. Three years later he starred as taxi driver Max Durocher in neo-noir thriller Collateral along with Tom Cruise; his performance was highly praised by critics and allowed him to receive an Academy Award nomination for Best Supporting Actor.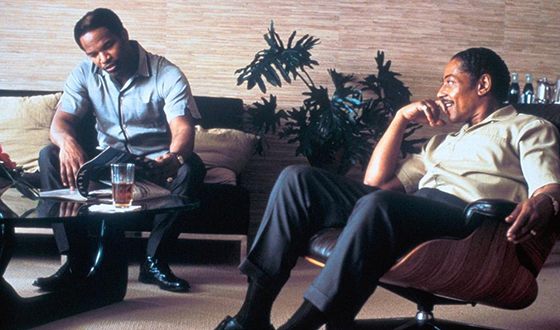 His portrayal of Ray Charles in 2004 musical biography movie Ray brought Jamie his first Academy Award prize as well as BAFTA Award for Best Lead Actor. Achieving that, Foxx became a third male actor (after Barry Fitzgerald and Al Pacino), to ever score two Academy Award nominations in one year for performance in two separate films.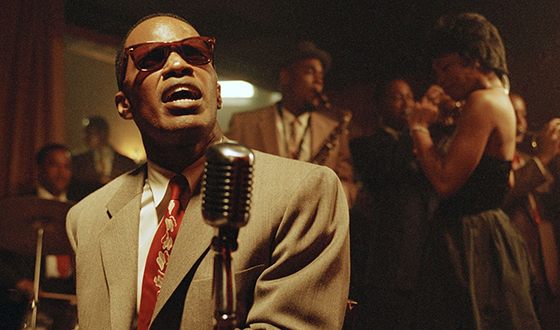 2007 brought Foxx a starring role of a special agent in Peter Berg's action thriller The Kingdom based on bombings in the living quarters of Saudi Arabia. In the same year, Jamie received his personal star in Hollywood Walk of Fame. The actor described this day as one of the most insane days of his entire life.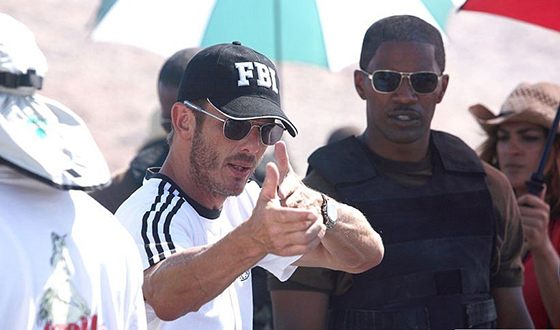 Two years later Jamie starred in drama movie The Soloist by Joe Wright, where he appeared as young prodigy violoncellist Nathaniel Ayers, joining the magnificent Robert Downey Jr. Just a few months later actor paired up with Gerard Butler in thriller film Law Abiding Citizen, once again catching the eye of critics and the general public alike.
Django Unchained and new turn in career
According to Zoomboola.com, in 2012 Foxx was invited to star in new Quentin Tarantino project Django Unchained based on a story about an Afro-American slave, turned headhunter and slave-owners bane. In the interviews, the actor admitted, that filming of a movie was incredibly hard emotionally and made him ponder about the suffering of his ancestors a lot. His own early life was not pretty either; he grew up in Texas, which is up to this day, along with other southern states, notorious for the persistence of racial stereotypes. Needless to say that in the 70's, when Jamie was but a kid, the situation was even worse.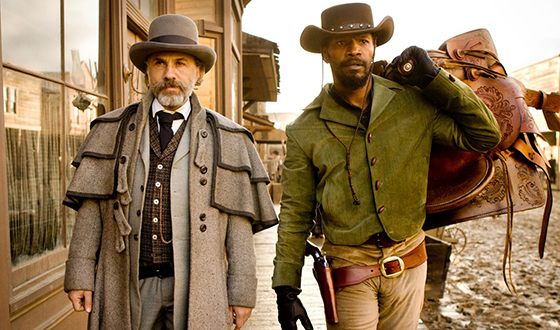 Reading Tarantino's bloody and violent script, Jamie perfectly understood that reality was even more horrifying. His extensive knowledge of American slavery history served the actor well during the filming of a movie. I said to Tarantino that there is no better actor to take the role since only I can rely on my personal experience in the matter, recalls Foxx. Perhaps that is why, despite the impressive list of candidates to take on the role of Django, which included Will Smith, Terrence Howard, Idris Elba and Chris Tucker, Tarantino chose Jamie Foxx.

Filming of a movie took a toll on Jamie; it was extremely mentally exhausting to portray a slave. During the scene of the torture of Broomhilda (Kerry Washington), he even broke out in tears. The movie also featured Jamie's own horse called Cheetah.

In 2013 Jamie Foxx starred as President James Sawyer in action thriller White House Down alongside Channing Tatum and James Woods and followed it up with an appearance in The Amazing Spider-Man 2 where he was cast as supervillain Electro and musical drama Annie, produced by Will Smith and Jay Z.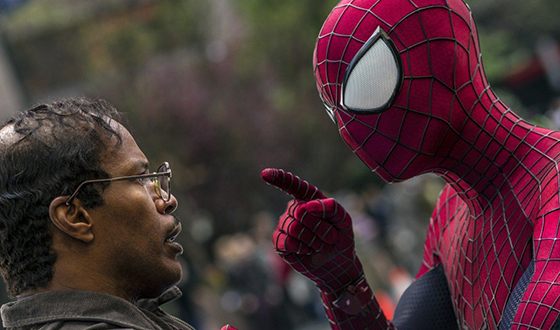 In 2017 Foxx appeared in thriller movie Sleepless and action Baby Driver along with Ansel Elgort and Lily James.
Musical career
In 1994 Jamie released his first studio album «Peep This», which was not commercially successful. He returned to the music only 10 years later, featured on one of the songs of rapper Twista called Slow Jamz alongside Kanye West. Song reached #1 on the USA Billboard Hot-100 chart and #3 on the UK Singles Chart.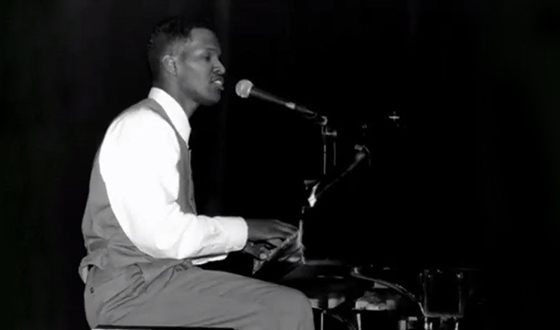 At that point, nobody had any doubts about Foxx musical talent. He joined Kanye for a second on Gold Digger song, where he performed a piece of Ray Charles famous I Got a Woman composition; single reached first place at Billboard Hot 100 remained on top of it for 10 straight weeks.

At the end of 2005, Jamie put out his second studio album Unpredictable, which quickly achieved the status of double platinum. This period in time also marked with his brilliant collaborations with R&B-singer Mary J. Blige, and rappers Ludacris and Field Mob. At the beginning of 2007 Jamie launched The Foxxhole channel, based on Sirius Satellite Radio, which broadcasted various talk shows, comedy sketches and promoted Afro-American musicians as well as Jamie's own music.

In 2008 Jamie released his third album Intuition, featuring Kanye West, T.I., Ne-Yo, Lil 'Kim, and T-Pain. Music video on «Blame It», one of the songs from the album, involved cameos from such established stars as Forest Whitaker, Samuel L. Jackson, Ron Howard and Quincy Jones.
By 2010 Jamie Foxx had already released four studio albums
His fourth album, Best Night of My Life hit the shelves in 2010. It featured singles with Justin Timberlake and T.I., rappers Rick Ross and Drake. Five years later artist released another album, dubbed Hollywood: The Story of Dozen Roses, which received missed reviews from the critics.

Starting with May 2017 Foxx became a host and executive producer of TV game show Beat Shazam.

In 2018, the actor took part in at least 6 projects, including the adventure film Robin Hood, where he played the role of the closest friend and mentor of the noble villain, whom he played (Taron Egerton). In the same year, he began work on his own comedy film, All-Star Weekend, and stars in the biographical drama Just Mercy, based on the story of the world-famous human rights lawyer (who is said to be played by Michael B. Jordan.
Personal life
In 2004 Jamie had a 13-month long affair with American actress Leila Arcieri. Later on, he started a relationship with actress and fashion designer Christina Milian. Other famous partners of Foxx were models Sky Nellor and Dominika Simon, writer Nikki Giavasis and actress Stacey Dash.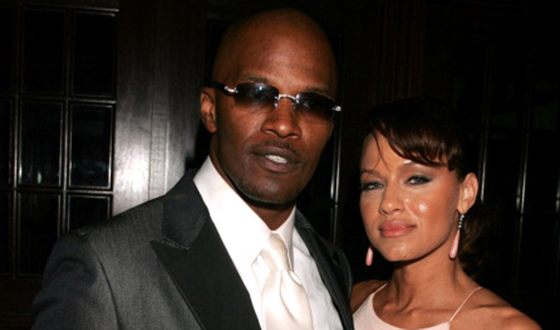 Last several years Jamie is committed to a relationship with American actress Katie Holmes. The couple thoroughly hid their relationship, despite the fact that it started right after Holmes's divorce with Tom Cruise back in 2012. For a long time, they had to come up with various explanations about the nature of their relationship; Foxx and Holmes decided to publicly come out as pair only around October 2018.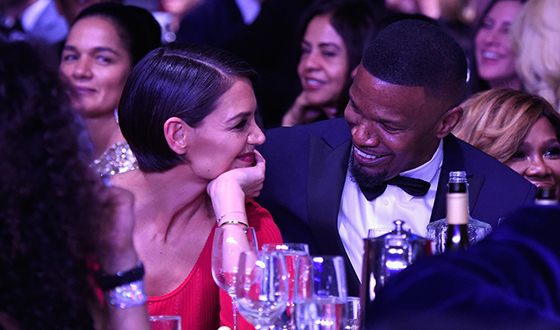 Jamie Foxx is a father of two daughters, Corinne (1994) and Annalise (2009), both from his previous relationships. Katie Holmes's daughter Suri (2006) is under the custody of her mother and perfectly gets along with Jamie.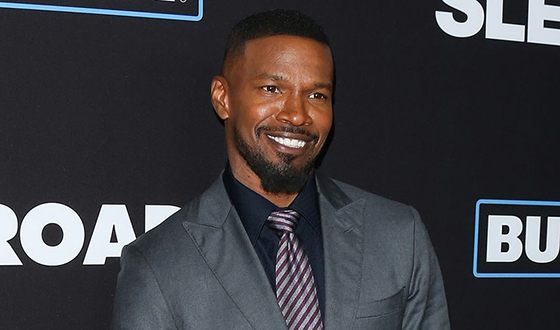 In the summer 2018 woman, that preferred to remain anonymous, claimed that the actor sexually harassed her. Allegedly, the incident took place at the party, where Foxx tried to get her to perform oral sex. When she refused to do so, some of Jamie's friends kicked her out of the house. Foxx fervently denied the claims and aims to pursue legal action against his accuser.
Jamie Foxx now
Since 2018, Foxx has been filming his own movie, All-Star Weekend. It featured famous actors such as Gerard Butler and Robert Downey Jr. The release of the film, despite fans' expectations, was postponed indefinitely. In 2019, Foxx played Walter McMillian in the American drama Just Mercy. A year later, Jamie took part in the filming of the superhero film "Project Power", playing the role of Art.
Press Ctrl+Enter If you find a mistake