Uma Thurman's biography
Uma Thurman is a famous Hollywood actress, widely known for her choice of distinct and very diverse roles. She received worldwide recognition after appearing in Quentin Tarantino's cult classics «Pulp Fiction» and «Kill Bill».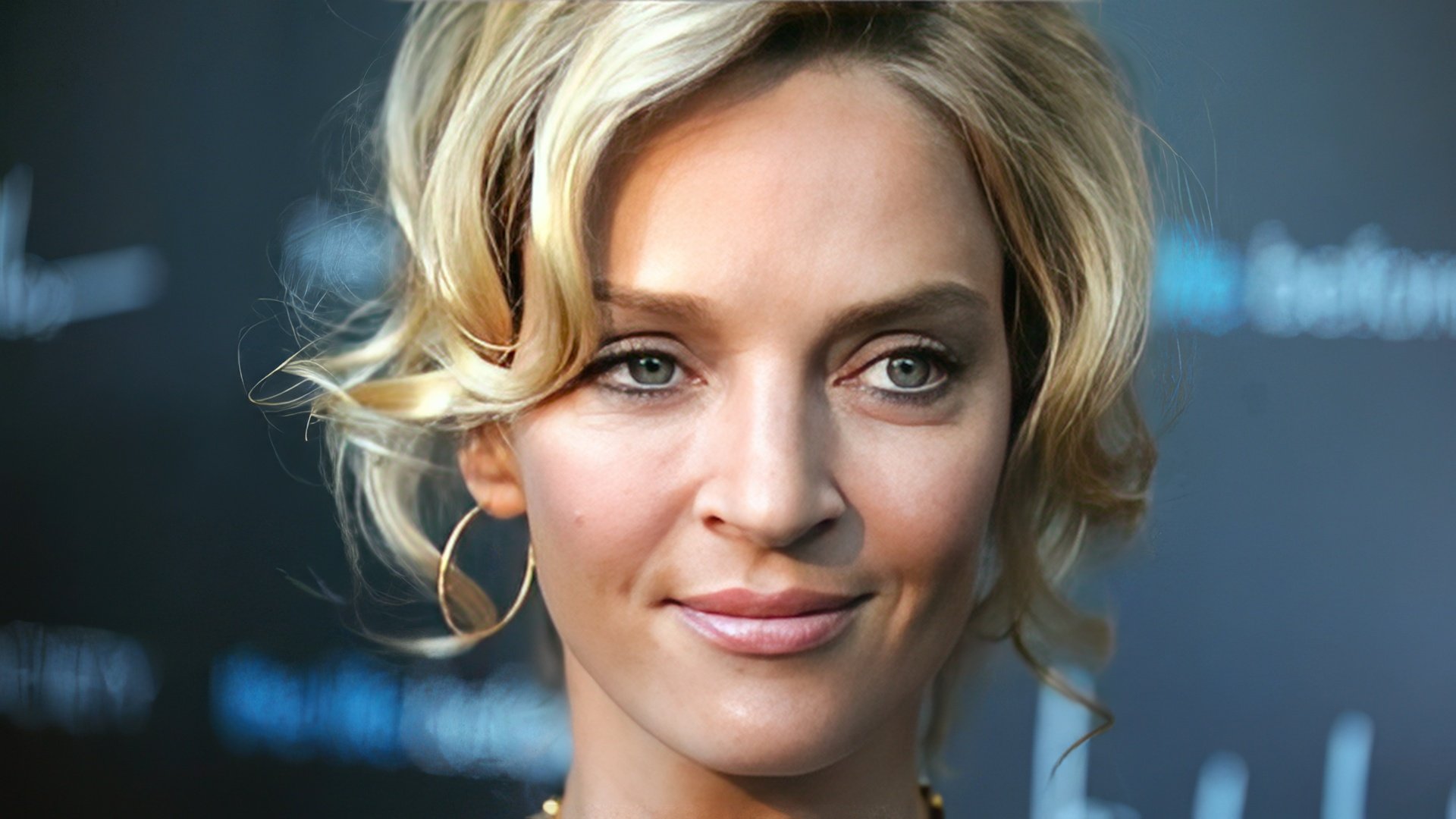 Uma's very unconventional, yet alluring beauty, in combination with her multifaceted acting talent, is what makes her stand out and so appealing to directors, critics, and viewers alike. Net worth: $45 million.
Uma's childhood
Uma was born in Boston in 1970 in a large family of a Swedish high fashion model and a professor, of German descent. Her father, Robert Thurman, was the expert in Indo-Tibetan Buddhist Studies, a former ordained Buddhist monk and a close Dalai Lama acquaintance, so it's no surprise that his daughter was named after a Hindu goddess of beauty and light – Parvati (or Uma).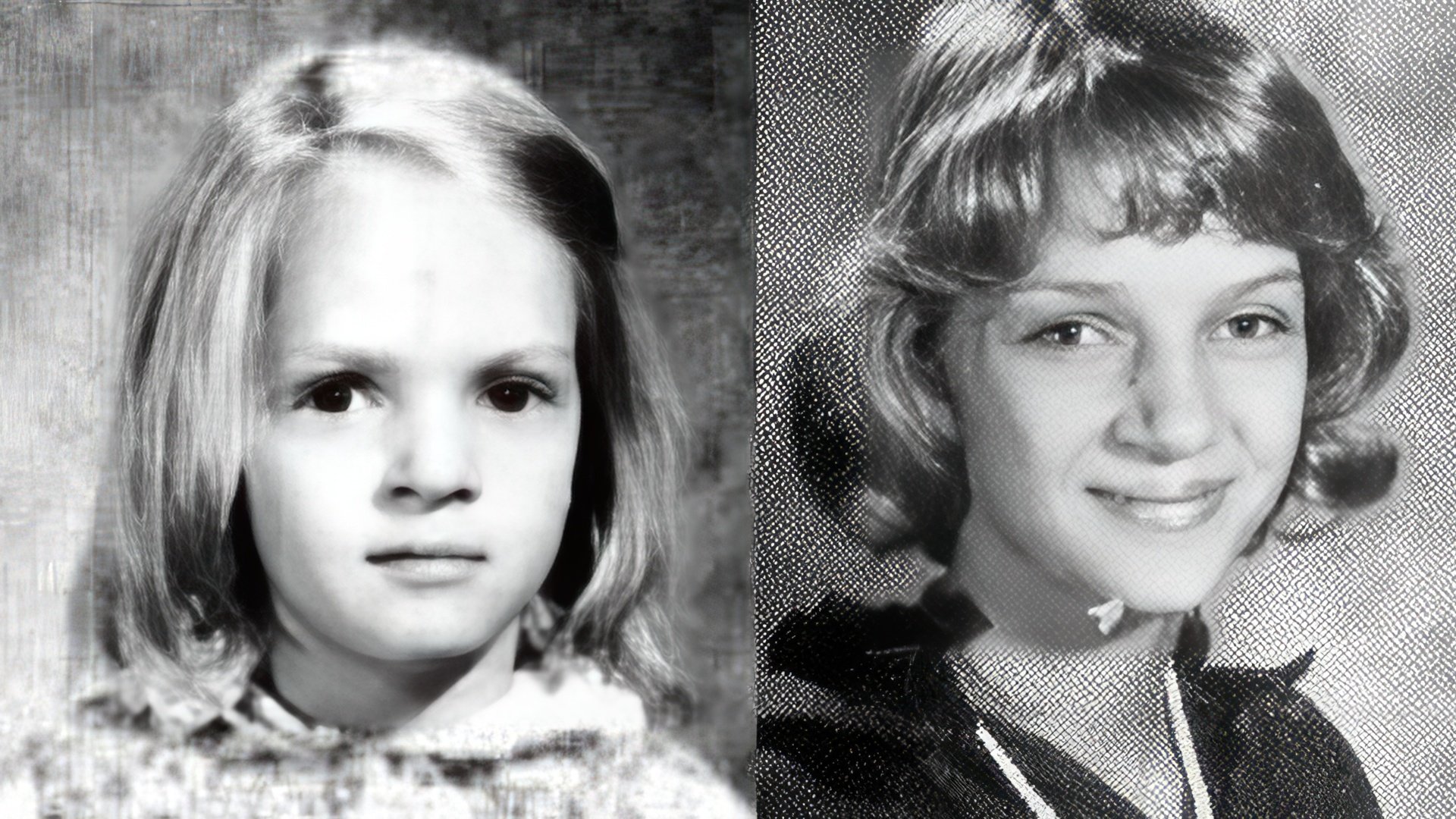 She was raised in Amherst, where her father taught his classes. The household was always busy with guests, Buddhists mainly, and this fact influenced Uma's upbringing tremendously. The girl had trouble connecting with her peers, as she was teased about her unusual name and appearance; she was often described as an awkward and introverted child.
Uma's first roles
Uma decided to become an actress, following a small, but a successful appearance in a school play. After dropping out of school at the age of 15, she spent most of her time mastering her acting skills and working to support herself – she was a waiter, a model, and a dishwasher. Then-unknown actress went to all the castings diligently and moved from one city to another to pursue her aspirations.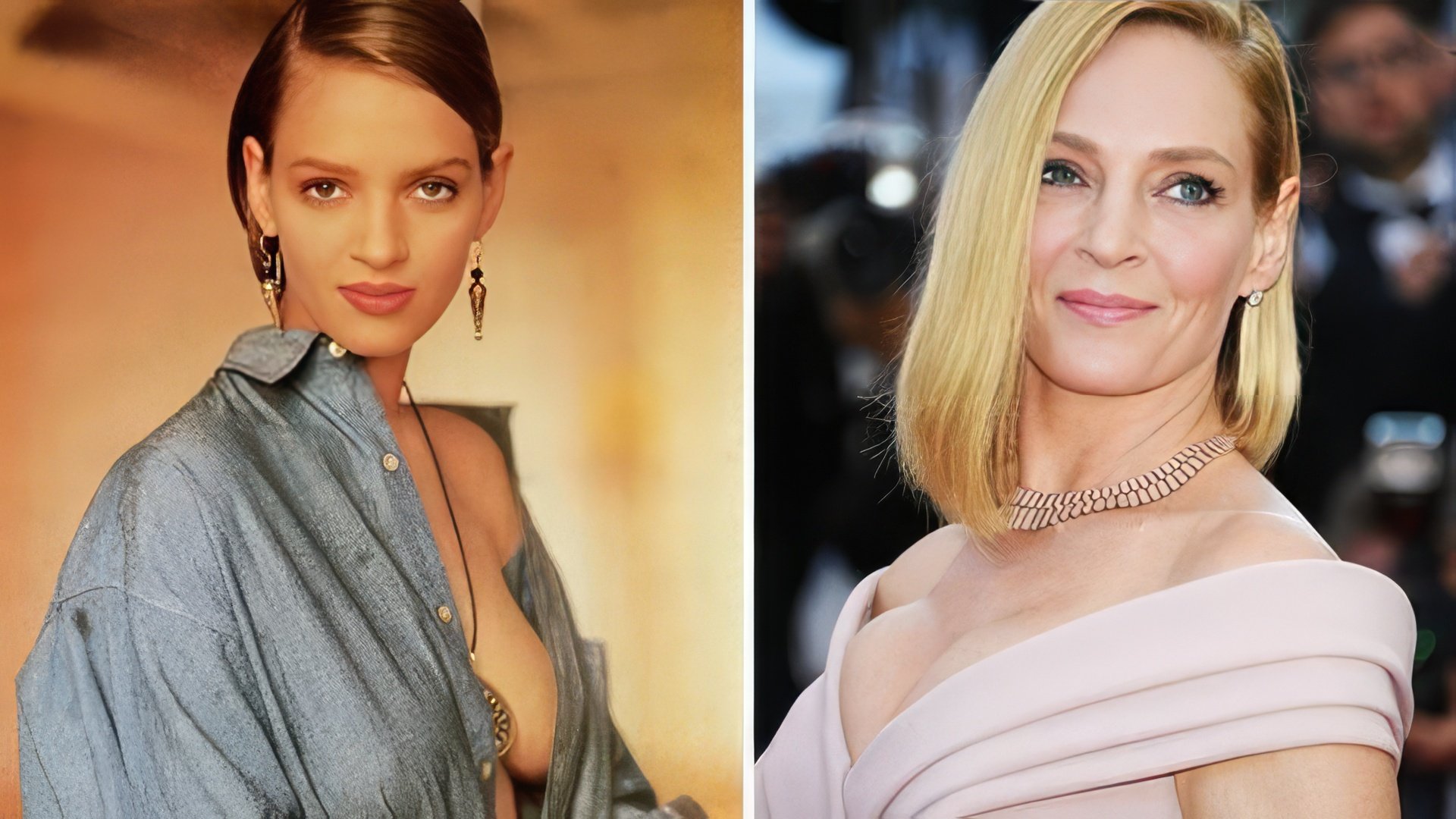 Her efforts paid off quickly when in 1987 she was cast to star in a neo-noir psychological thriller «Kiss Daddy Goodnight». And, although the movie was a total flop, Uma's portrayal of a young cunning seductress drew the attention of the critics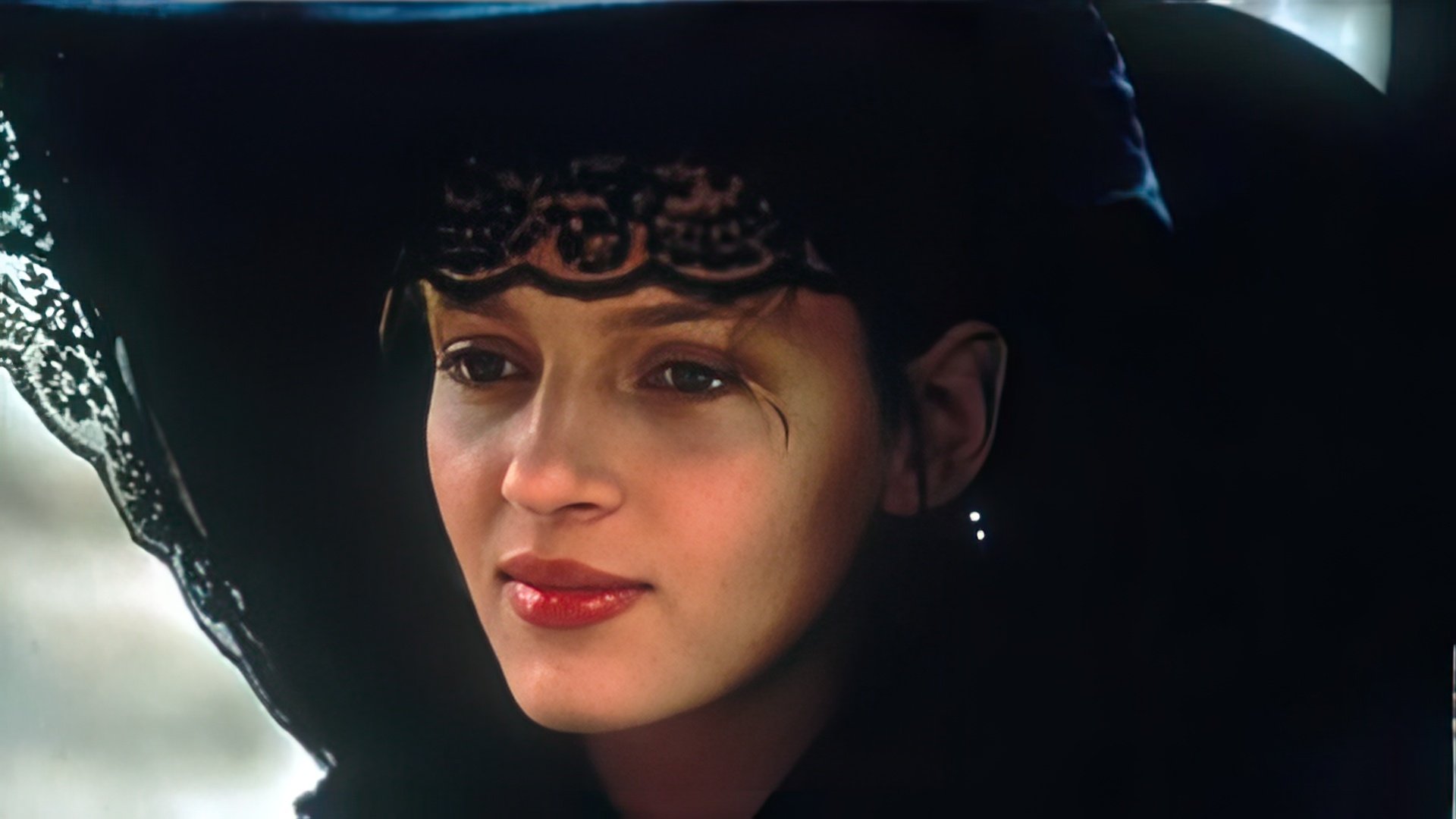 In 1988 Uma made an appearance in Terry Gilliam's adventure fantasy film «The Adventures of Baron Munchausen». She played the role of a goddess – Venus, and even though her screen-time was close to none, it was not only the critics but also the directors, who've noticed her that time.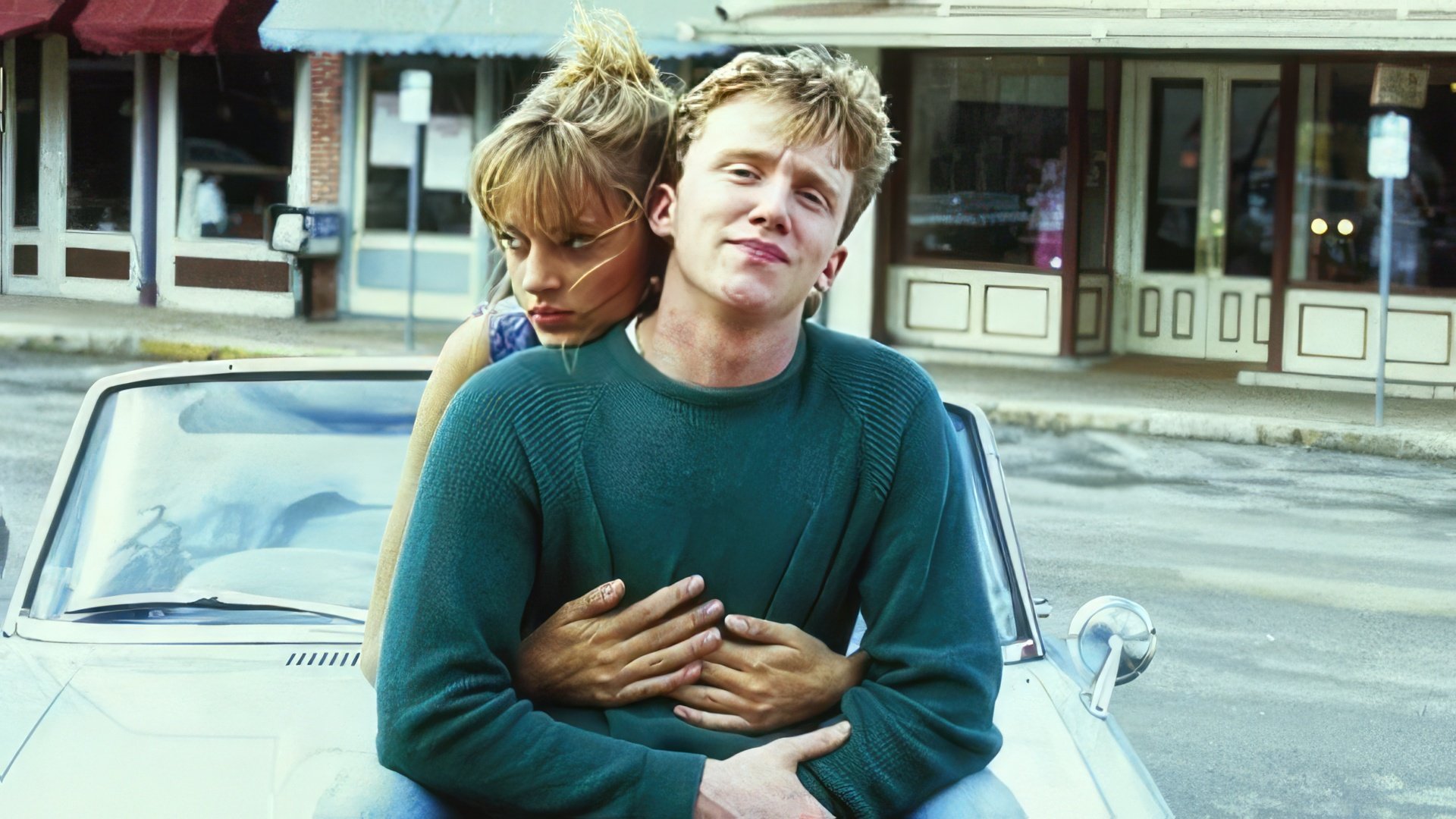 Soon the actress received a leading role in a comedy film «Johnny Be Good», which turned out to be her first truly relevant role in her career. She portrayed the main character's funny girlfriend Georgia and starred alongside Anthony Michael Hall and Robert Downey Jr..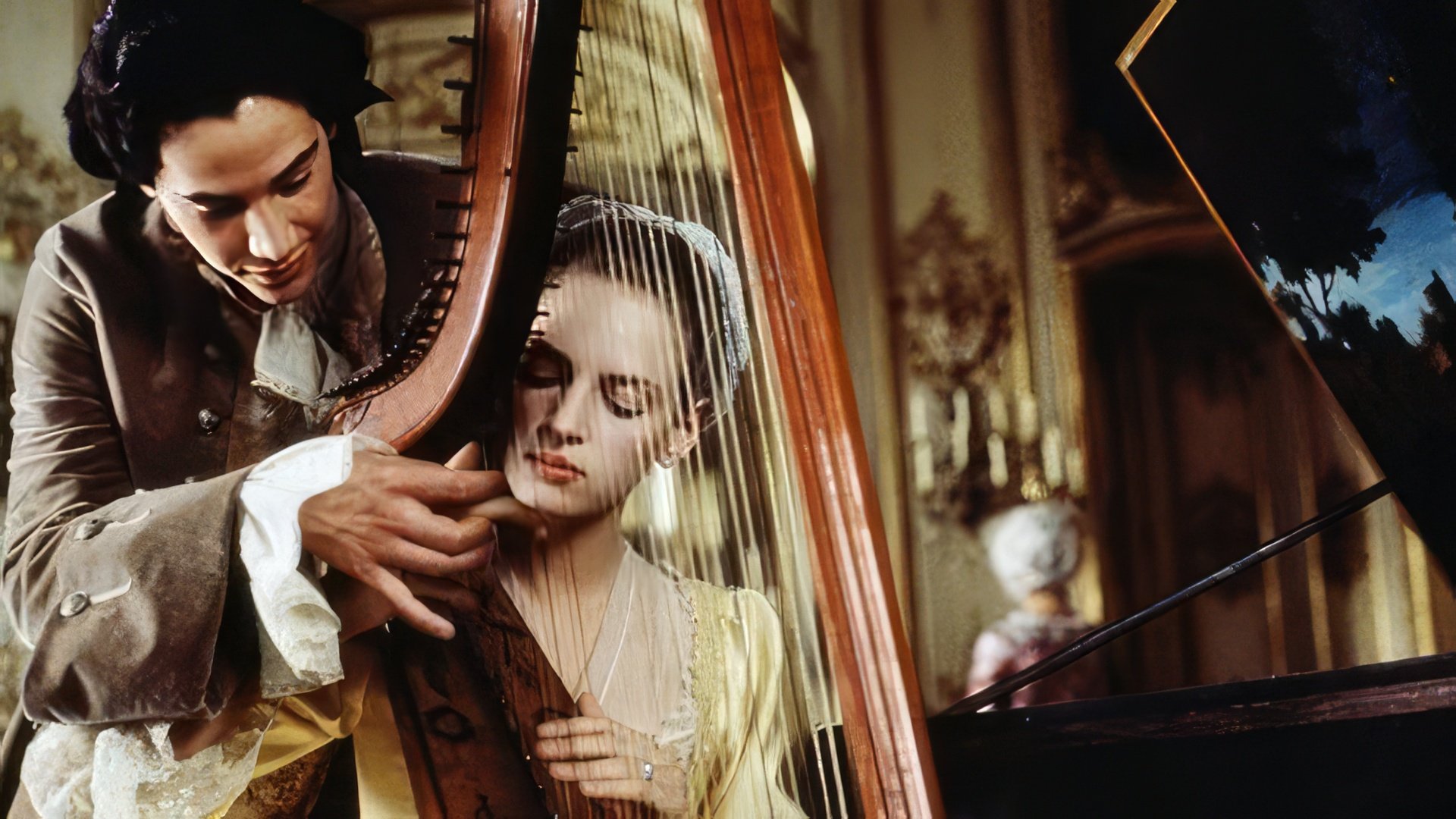 She drew her winning ticket that same year when she appeared in Stephen Frears' historical drama «Dangerous Liaisons». The young actress portrayed a naïve French aristocrat, seduced by John Malkovich's character. The movie had a brilliant cast of Michelle Pfeiffer, Glenn Close and Keanu Reeves, but Uma not even once looked out of place alongside such recognized actors and acted in a very relaxed and convincing manner.

From the very beginning of her career, Uma established herself as a very versatile and responsive actress – she easily cooperated with various directors and just as easily agreed to bring very diverse characters to life. In 1990 she appeared in John Boorman's romantic comedy «Where the Heart Is», however, the film went unnoticed.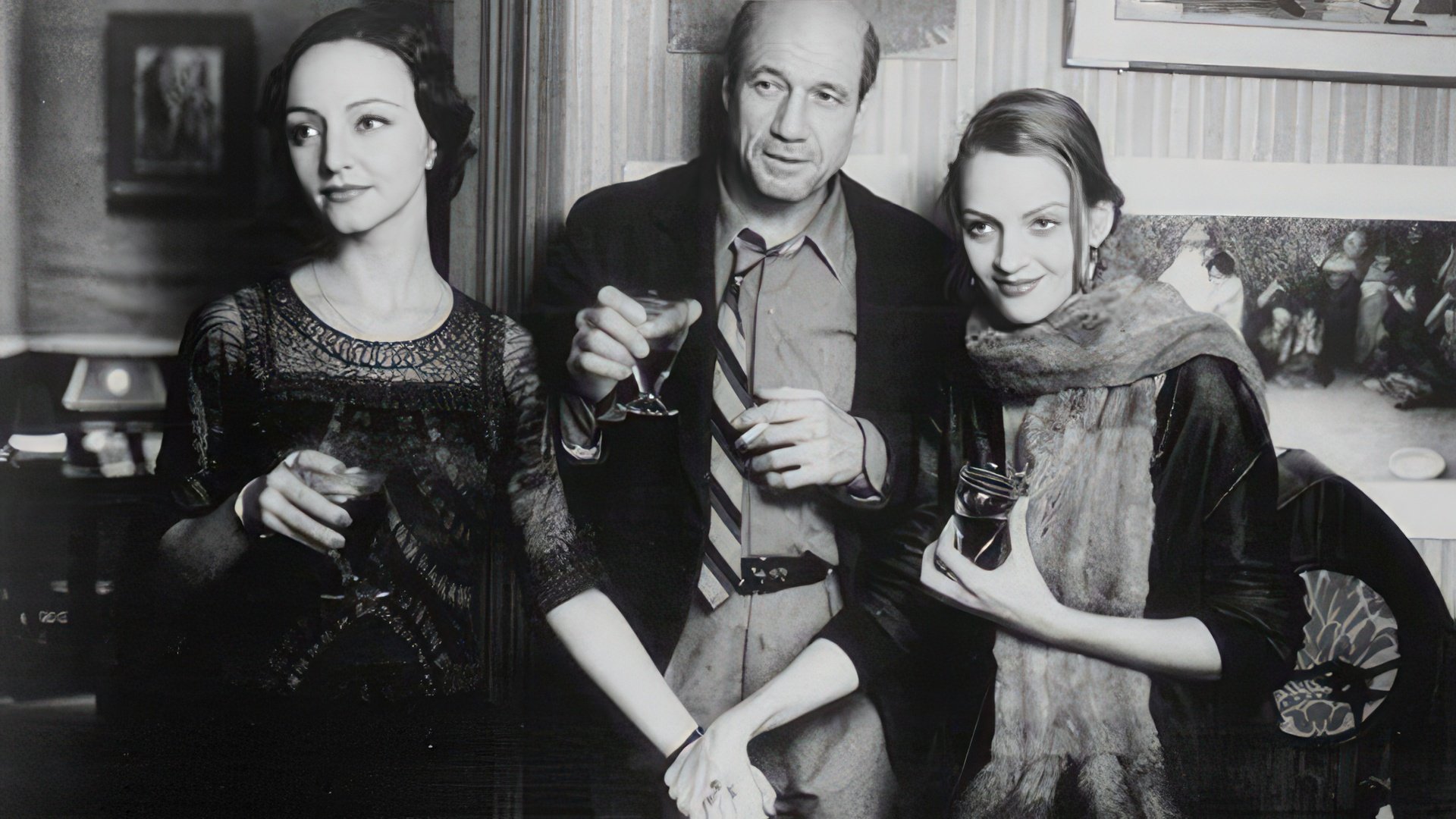 Despite constantly being offered only supporting roles, Uma Thurman was starting to receive a lot of attention from producers and directors. In 1990 she was cast to play an innocent, but at the same time naughty, wife of an American writer Henry Miller, in a biographical drama film «Henry & June», directed by Philip Kaufman. The picture was a great success, and Uma's acting was highly appraised. From then on, she became recognized as the actress, capable to deliver complex challenging roles, solely relying on her acting skills and not beauty.

In 1992 she appeared in a neo-noir drama «Final Analysis», alongside Richard Gere and Kim Basinger, and in a mystery «Jennifer 8», alongside John Malkovich and Andy García. And, although both movies didn't do well at the box office, Uma's talent shined.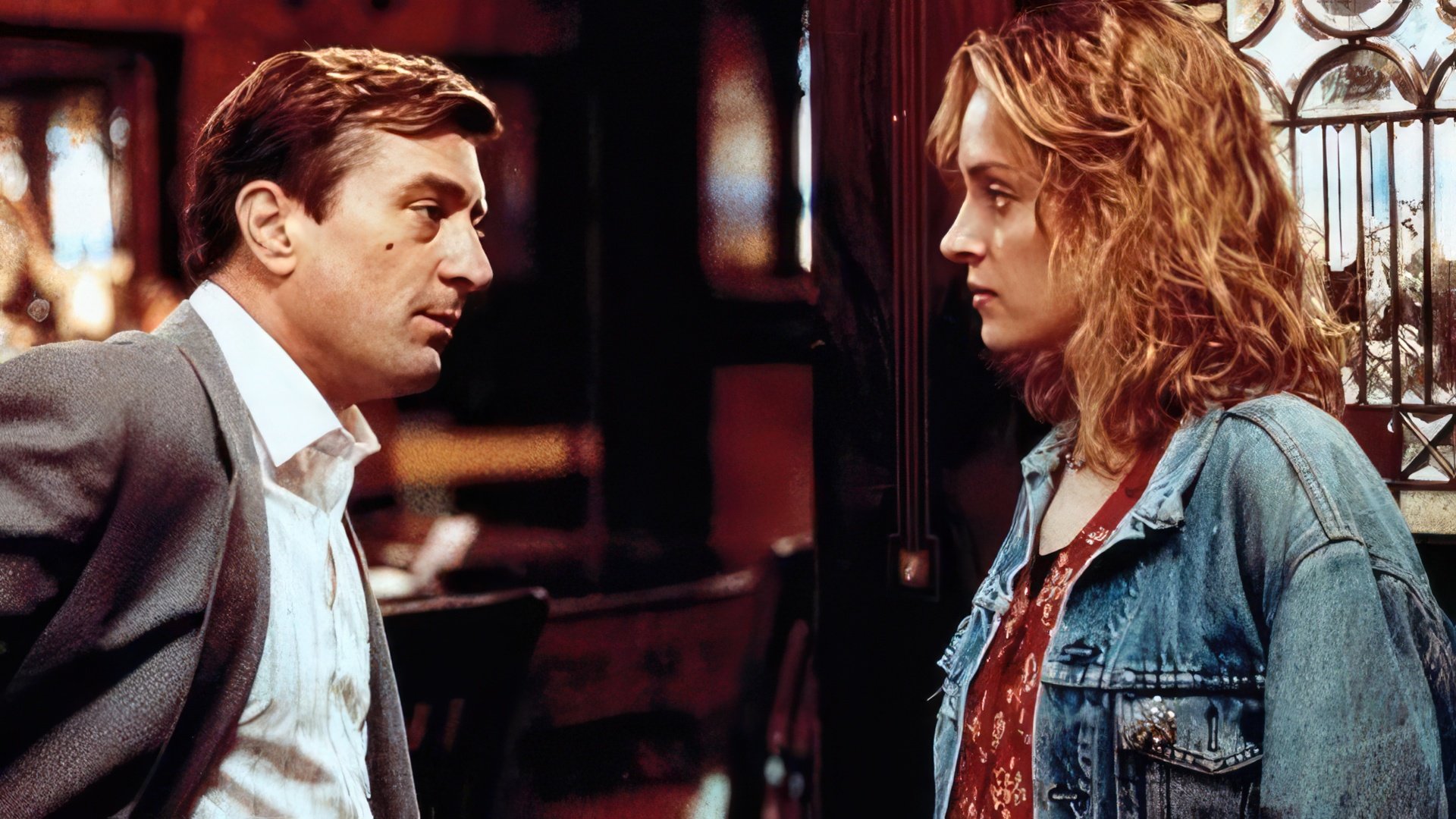 A year later the actress starred in a crime comedy-drama «Mad Dog and Glory» opposite renowned Hollywood actors – Robert De Niro and Bill Murray. The critics loved it! What they loved less was her choice of a role in Gus Van Sant's romantic comedy-drama «Even Cowgirls Get the Blues».
Collaboration with Tarantino
Uma Thurman received her worldwide recognition and universal success after portraying Mia Wallace in Tarantino's cult «Pulp Fiction». Tarantino was very adamant about casting her and wouldn't even consider anyone else for that role. Uma, however, wasn't entirely sure about her choice, but she understood that the sole prospect of cooperation with a director of a sensational heist film «Reservoir Dogs» would bring in a lot more opportunities.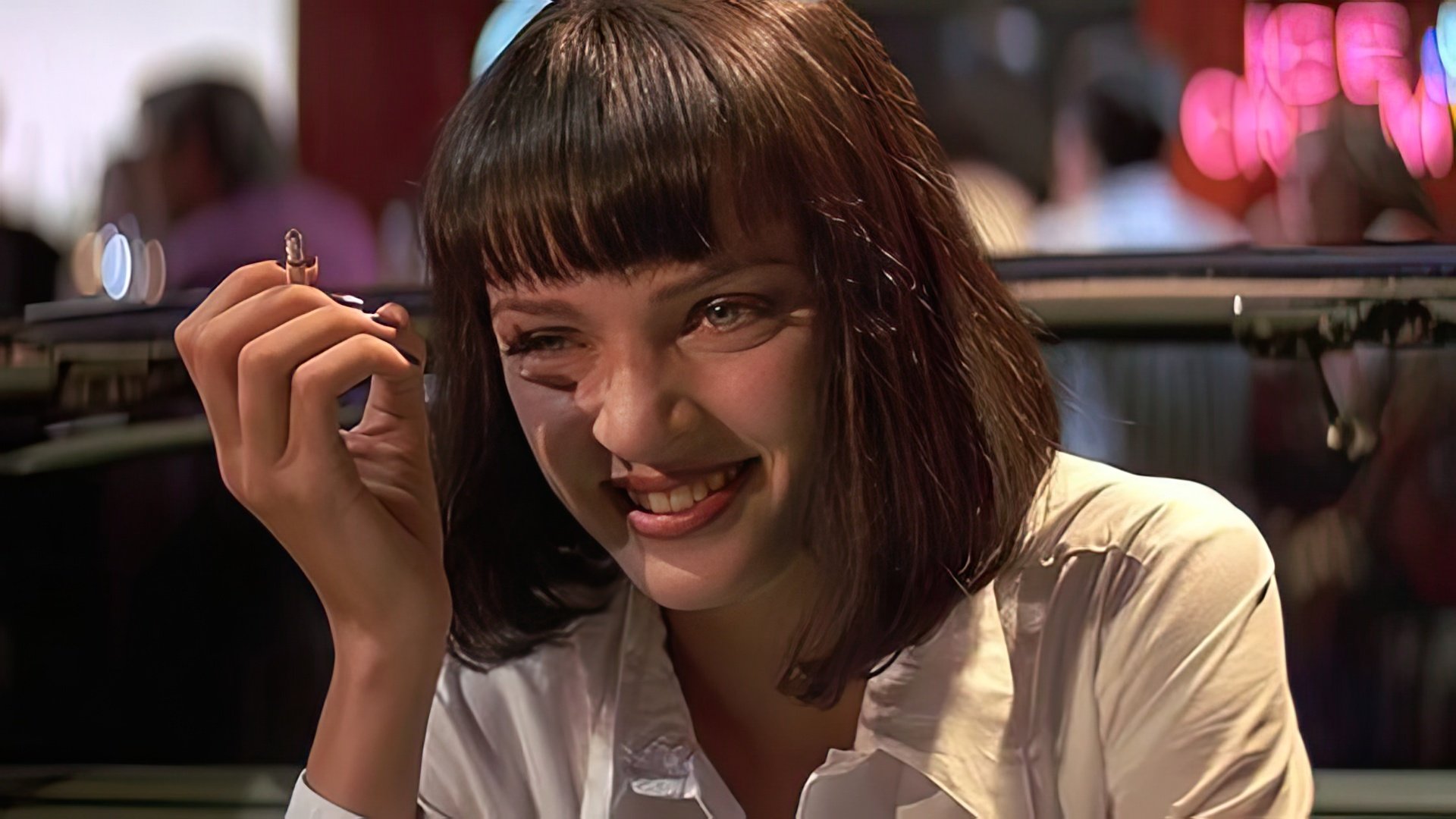 She was the star of the iconic twist scene, which some people believe to be the best scene of the entire movie! Uma had to overcome her embarrassment of large feet (size 11!) and dance barefoot opposite, John Travolta. The viewers were ecstatic, they received this crime film, full of black humor and lengthy dialogues, very well and Uma got her first Academy Award for Best Supporting Actress nomination.

Uma's extraordinary acting received widespread acclaim and the movie itself appeared on many critics' lists of the greatest films ever made. However, after such a tremendous success, she appeared in a couple of mediocre films, in contrast to her «Pulp Fiction» costars – Bruce Willis and John Travolta, whose career was truly revived.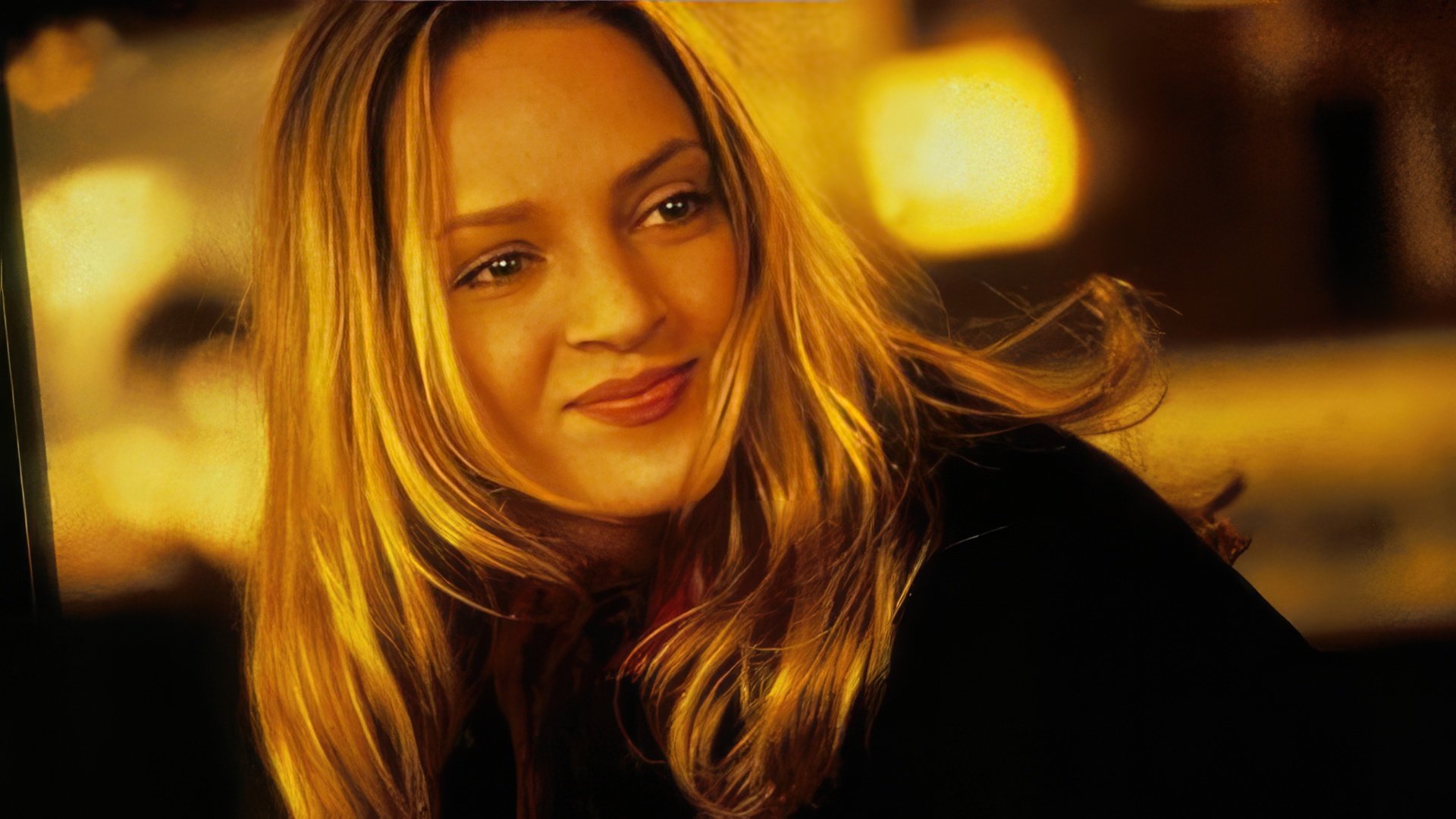 In 1995 a romantic comedy «A Month by the Lake» came out and a year later Uma starred in a romantic comedy «The Truth About Cats & Dogs». That same year she made an appearance in «Beautiful Girls» where she portrayed, well, a beautiful girl. Uma's next role was a challenge since she had never played the characters of that kind before.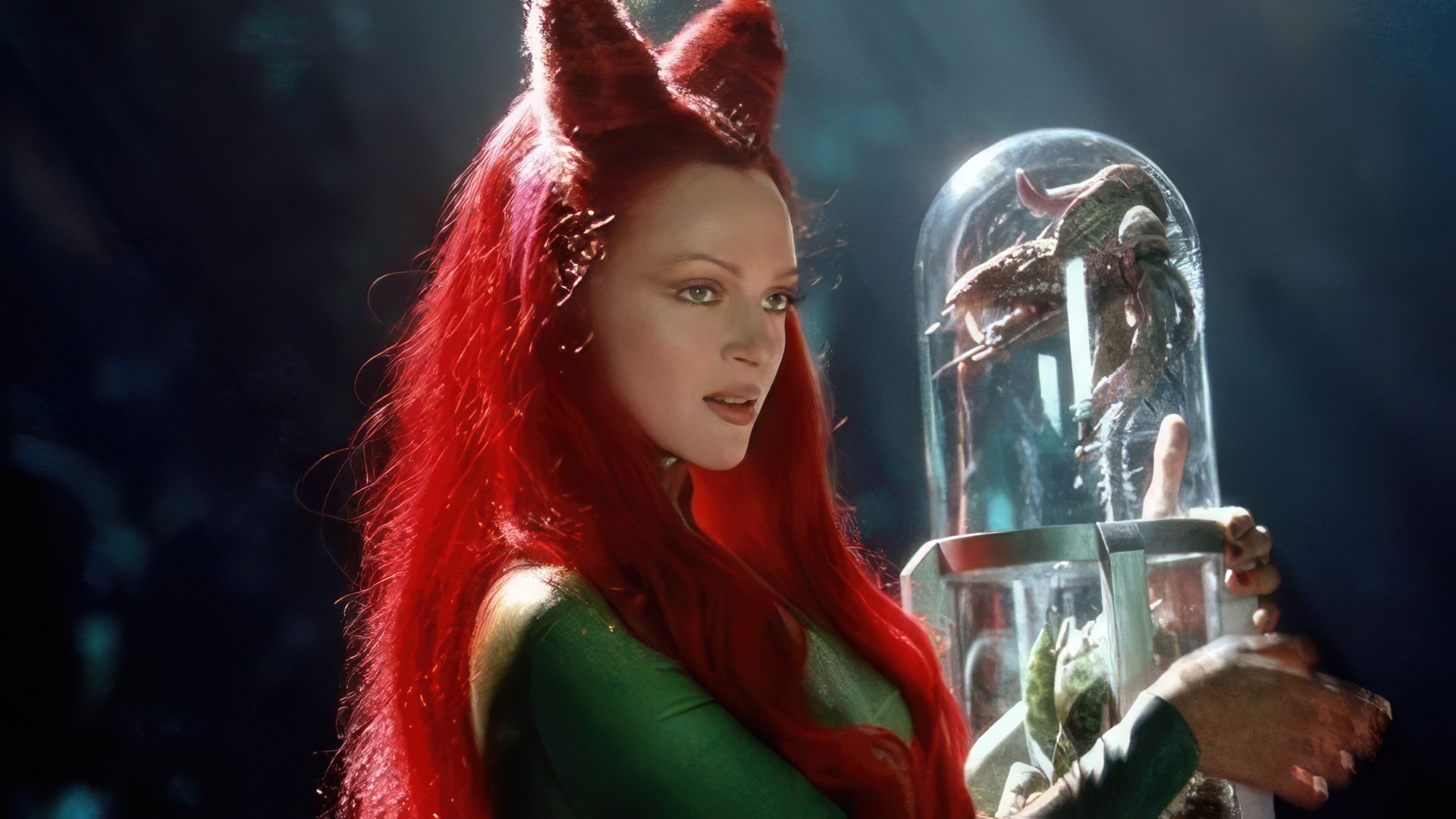 She starred alongside Arnold Schwarzenegger, George Clooney, and Alicia Silverstone in a superhero film based on the DC Comics – «Batman & Robin». Despite this star-studded cast, the film failed to receive good critic reviews.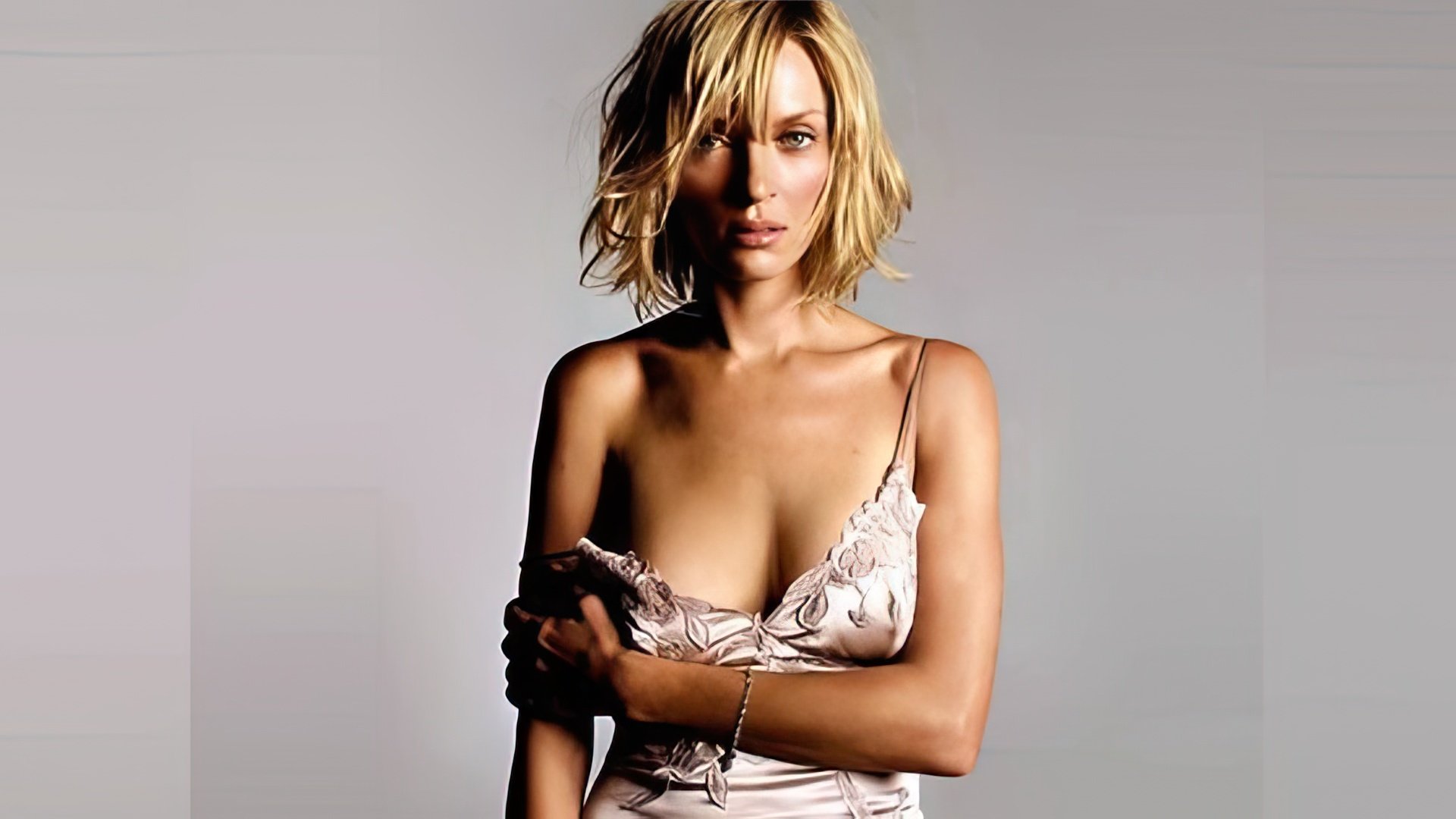 The audience considered Uma to be one of the sex symbols of that time. The actress herself was very humbled, but at the same time, displeased with such a status, as she wanted to be admired for her acting skills first and foremost. Another film, starring Uma, Jude Law and Uma's future husband Ethan Hawke became a huge commercial success. And, although, a science fiction film «Gattaca» had some explicit scenes, they weren't the main point of the picture and were done in a very tasteful manner.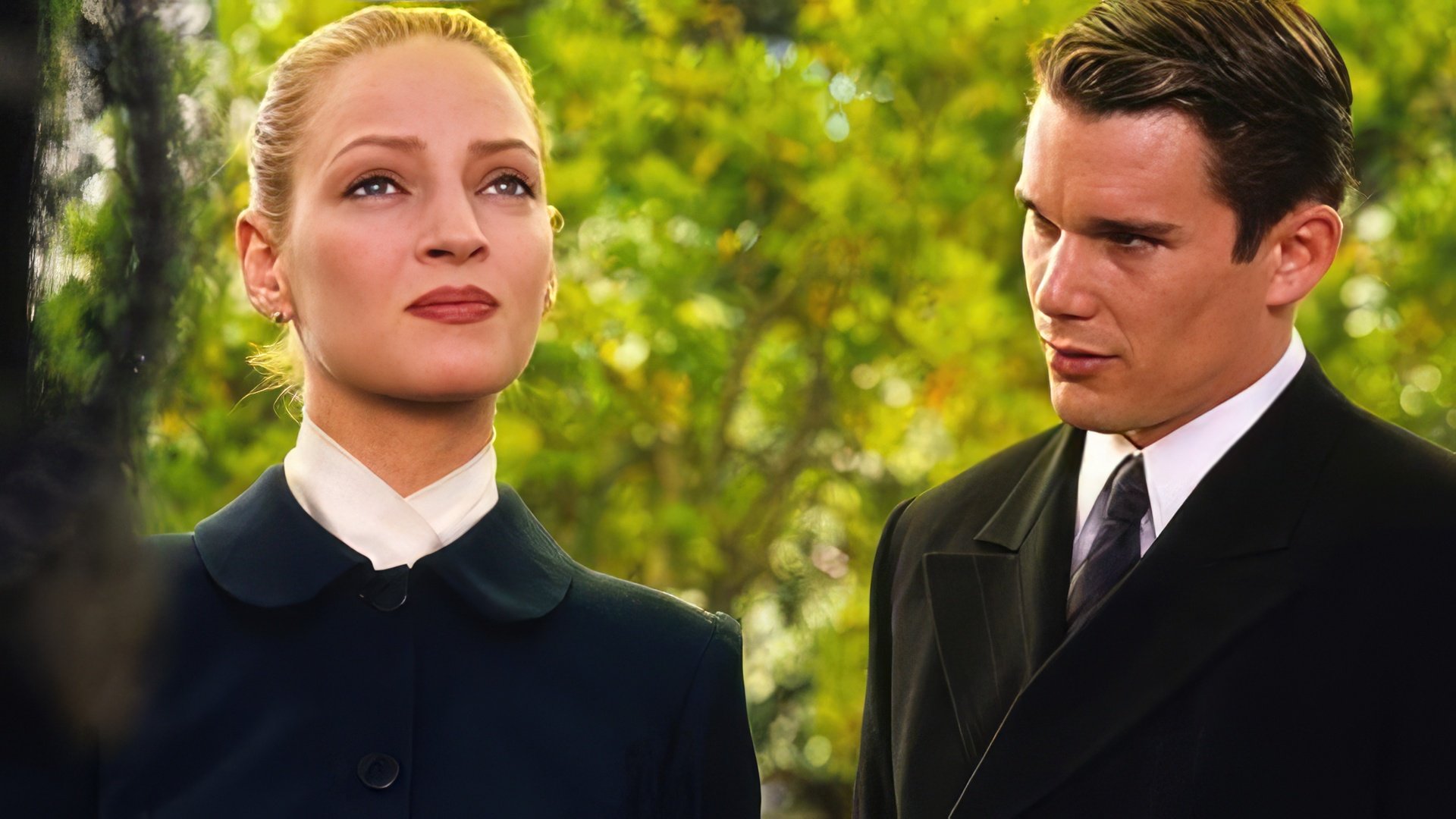 Uma tried to regain her identity as a character actress, which she, quite frankly, lost after her «Pulp Fiction» success by working on a comedy-drama «Sweet and Lowdown», directed by Woody Allen. She appeared opposite Sean Penn and Samantha Morton. In 2000 she starred alongside Gérard Depardieu and Tim Roth in a historical drama «Vatel», once again proving her talent in costume period dramas.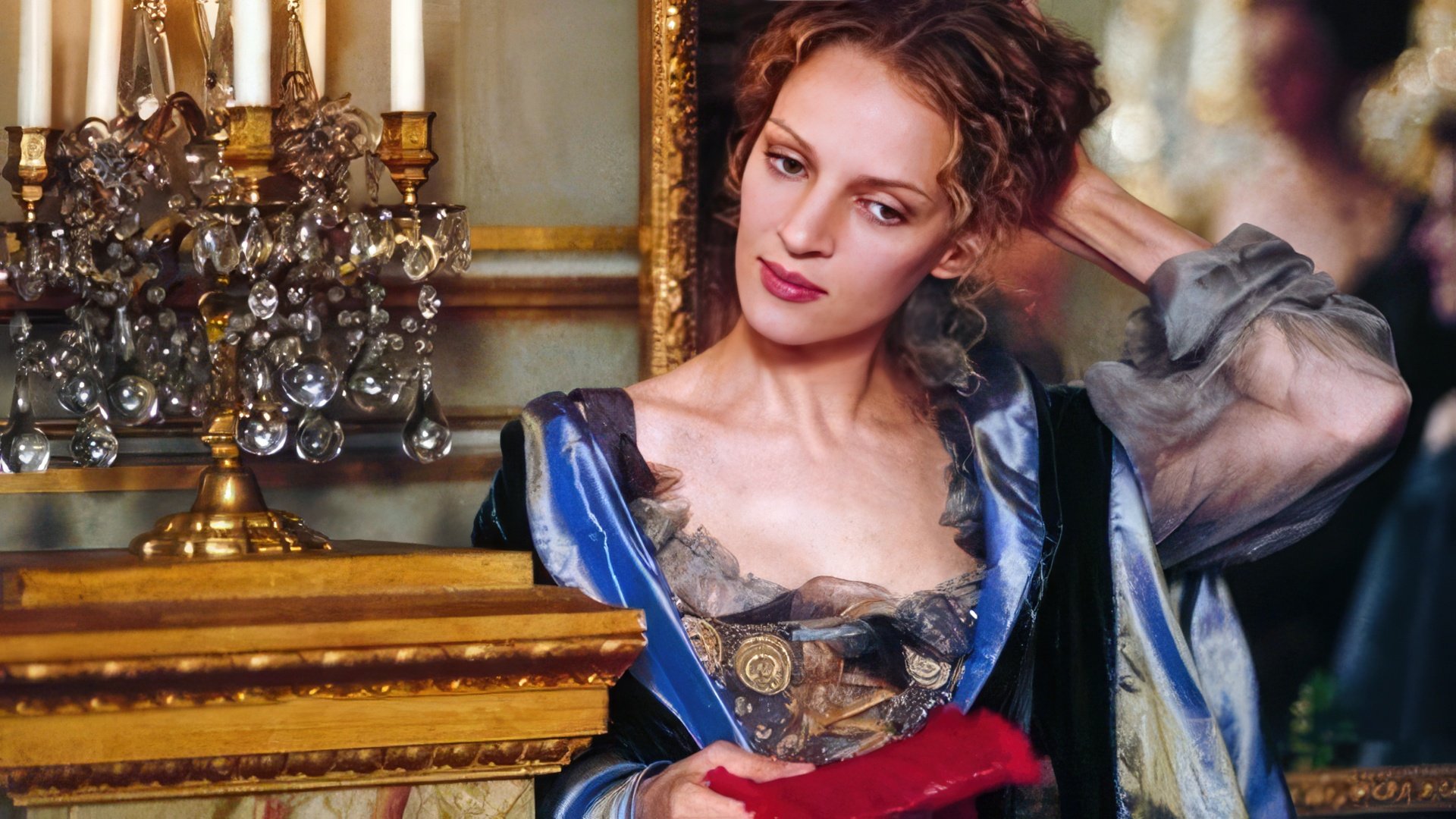 She was astounding as a single mother in a television movie «Hysterical Blindness» opposite Juliette Lewis. She managed to breathe life into a seemingly simple and unremarkable character and later received a Golden Globe for her performance.
Kill Bill
According to Zoomboola.com, Thurman-Tarantino collaboration is considered to be one of the most successful and entertaining duos in the cinema's history. In 2002 he offered her another extraordinary role: he confessed that he wrote the part specifically for her and was willing to delay the filming due to the actress's pregnancy. This crazy and daring two-part action film became an instant hit for both Thurman and Tarantino and brought significant recognition to the actress and the director.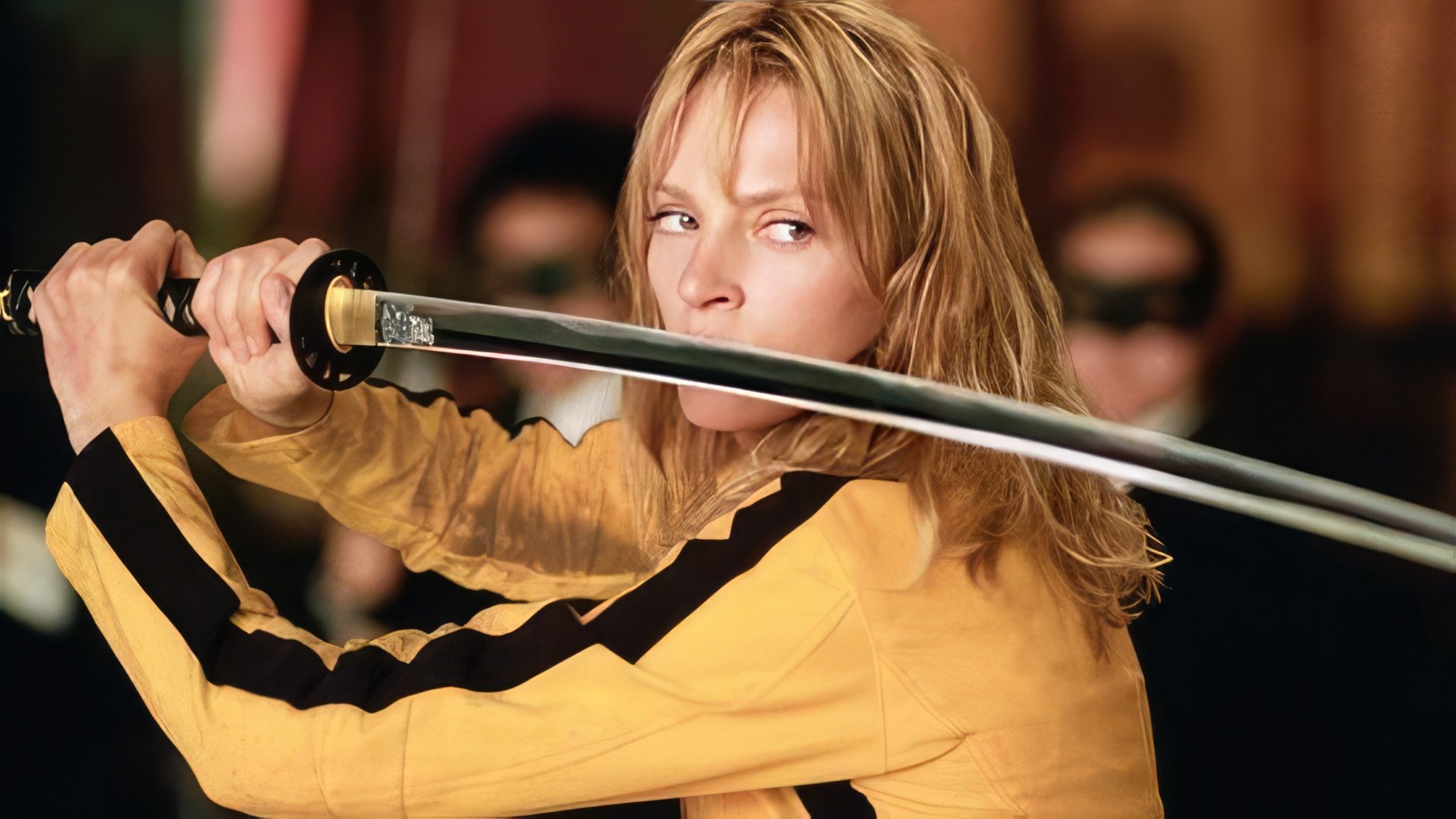 This picture was a distinct homage to the "Grindhouse" cinema, including martial arts and samurai cinema was overflowing with true-to-life violence. «Kill Bill,» tells the story of the assassin, named The Bride, who swears revenge on a team of her «colleagues», who betrayed her. It took almost a year to complete the fight sequence shooting, and Uma was covered in bruises and scratches thought the whole filming process. The audience fell in love with her fragile, but mentally strong avenger character and everyone was on the edge of their seats, watching where her journey would take her. Tarantino himself cited Uma as his muse for the creation of this particular character, but it was Uma who conceived the image of a bride, covered in blood. She was the one, who proposed a peaceful and tranquil future for The Bride after she was done with her vendetta.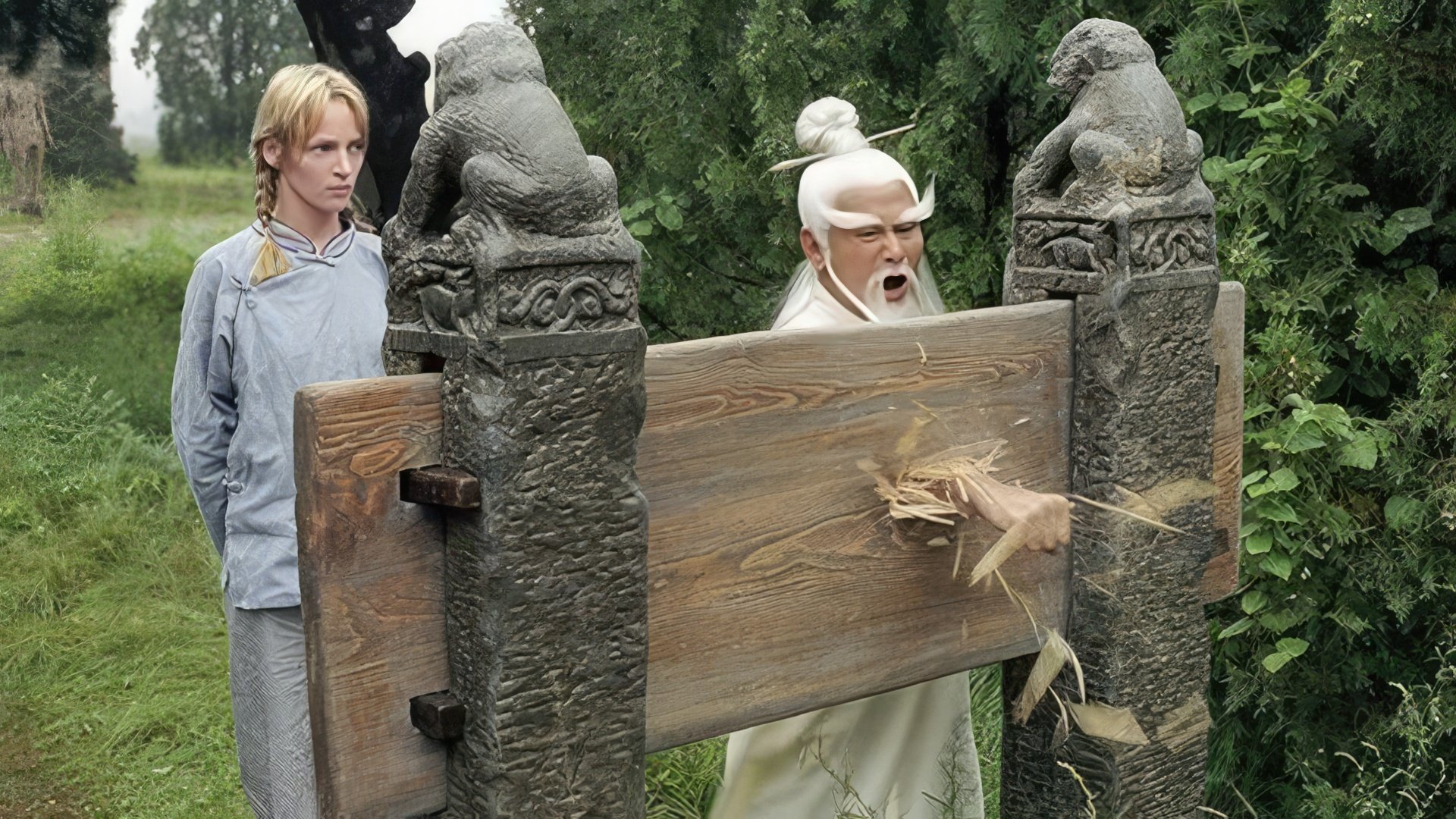 Career after «Kill Bill»
After such an intense experience, Uma decided to take a little break and choose to pursue some fun and not as dramatic roles. She then appeared in comedies «Be Cool», «Prime», «My Super Ex-Girlfriend» and «The Accidental Husband». She proved once again that she's very versatile and could be an excellent asset to a drama or comedy alike.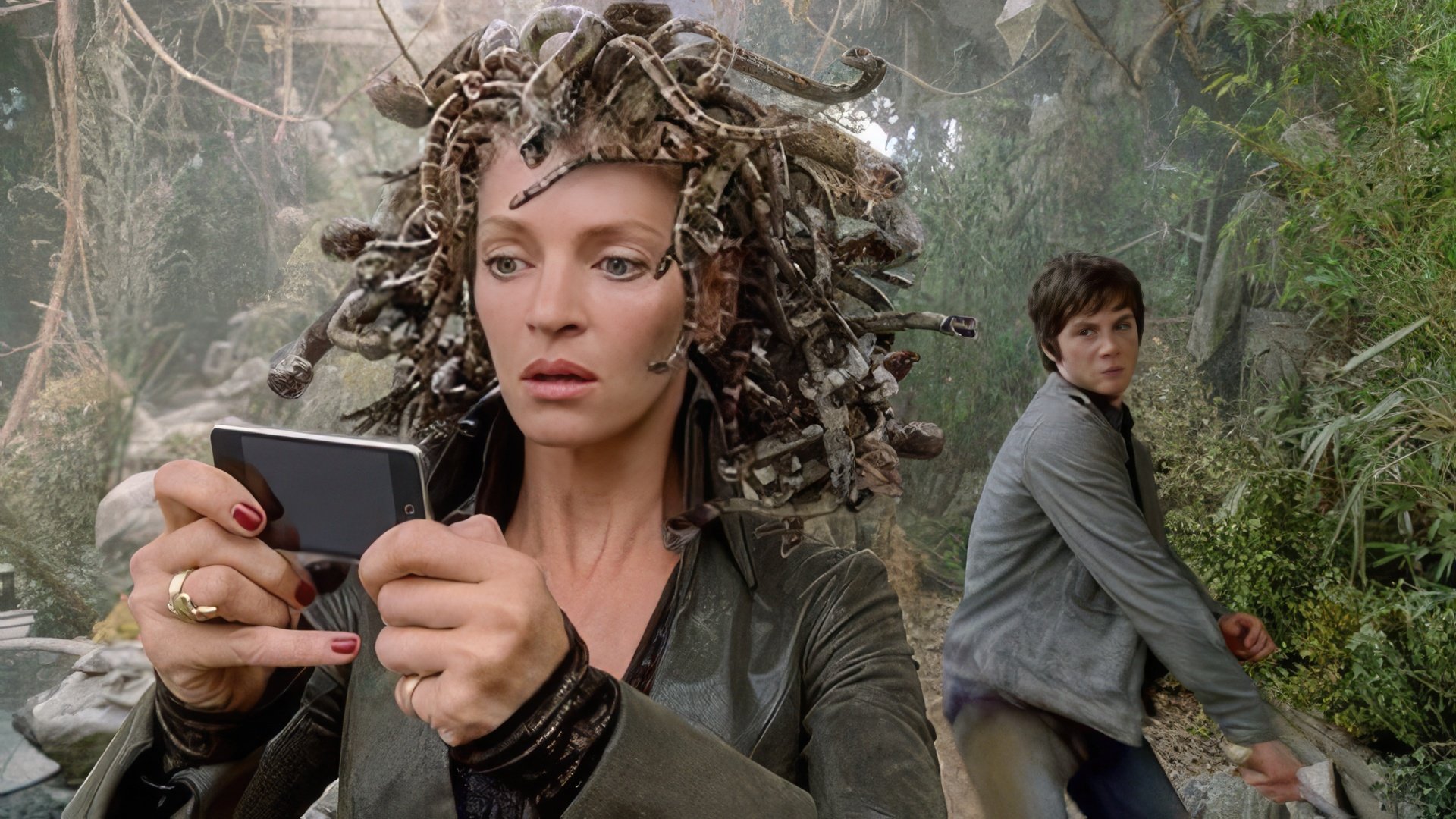 She reprised her role as a supervillain, Medusa, a gorgon cursed by Athena, in a young adult fantasy film «Percy Jackson & the Olympians: The Lightning Thief», starring Logan Lerman and Alexandra Daddario. And a bit later, she showed a completely different side of herself in «Bel Ami», based on a scandalous and very ahead of its time novel of the same name by Guy de Maupassant. She was cast as a very influential lover of the main character, trying to reach the top of the society, portrayed by Robert Pattinson. In 2013 Uma Thurman had a chance to work with another acclaimed cult director, Lars von Trier on his two-part ensemble art drama «Nymphomaniac», where she had a cameo of a «woman on the verge of a nervous breakdown». Meanwhile, Charlotte Gainsbourg, Stacy Martin, and Shia LaBeouf got the leading roles.

At the 2018's Cannes Film Festival Lars von Trier presented his new masterpiece – «The House That Jack Built», where Uma Thurman had one of the leading roles. A family comedy film «A War with Grandpa» is set to premiere later this year, as well as a heist comedy «The Con Is On» and a supernatural horror «Down a Dark Hall».
Uma Thurman's personal life
Although not many people know this, Uma was married to a British actor Gary Oldman for two years – 1990-1992. They later co-starred in a failure of the film «The Avengers». The actors were truly incompatible in their lifestyle – Uma was a «goody-two-shoes», while Gary was a rebel, and that became the main reason for their divorce.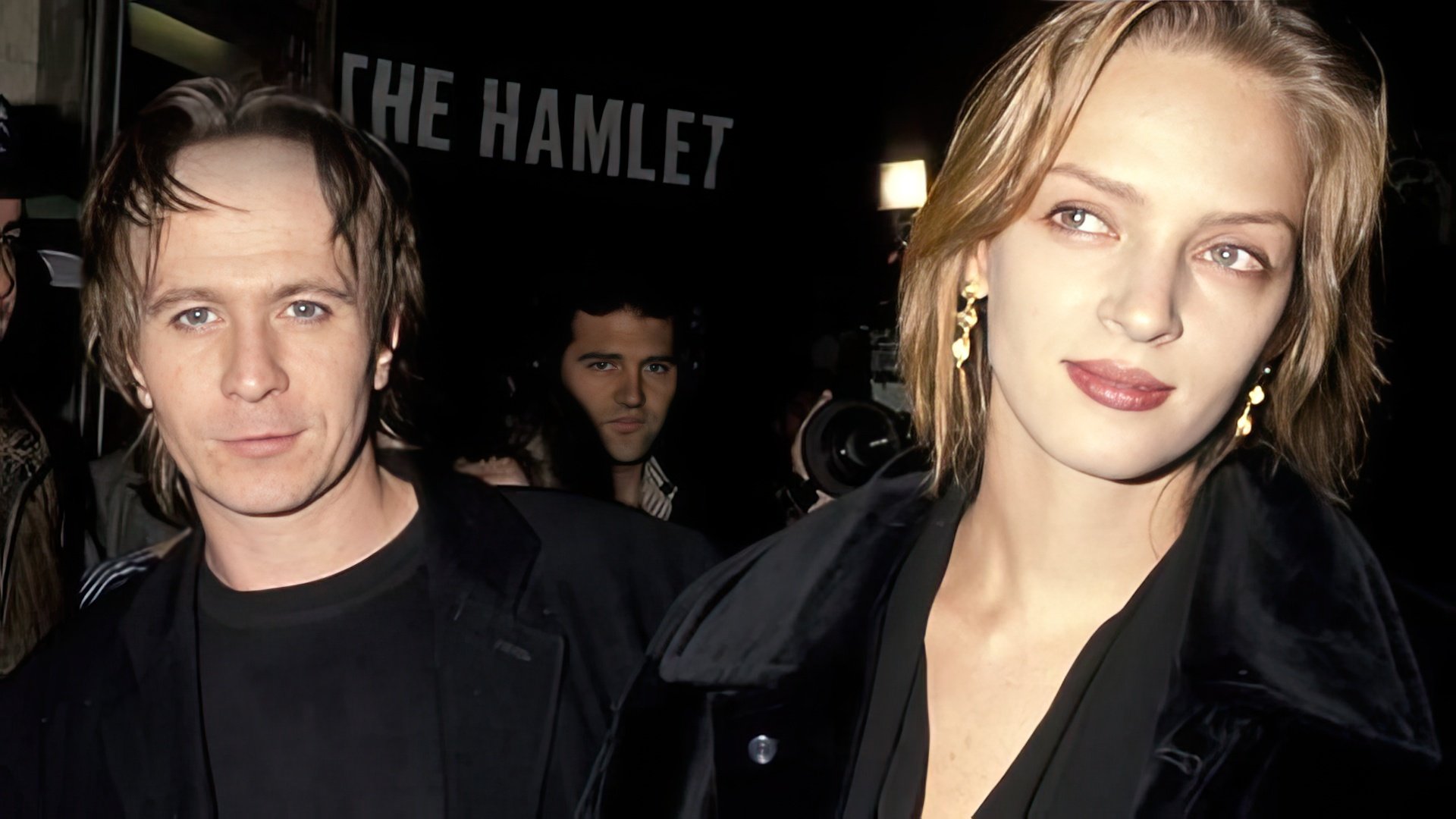 Uma married a fellow actor Ethan Hawke in 1998 and a few months later gave birth to a beautiful baby girl Maya Ray. The couple believed that the family was a priority, nevertheless, they both managed to work and build successful careers. They had their second child, boy Levon Roen in 2002. Although they looked truly happy together, the couple filed for divorce in 2003, after Ethan's one-night stand with a Canadian model. However, Uma and Ethan managed to stay close and have joined custody of their kids.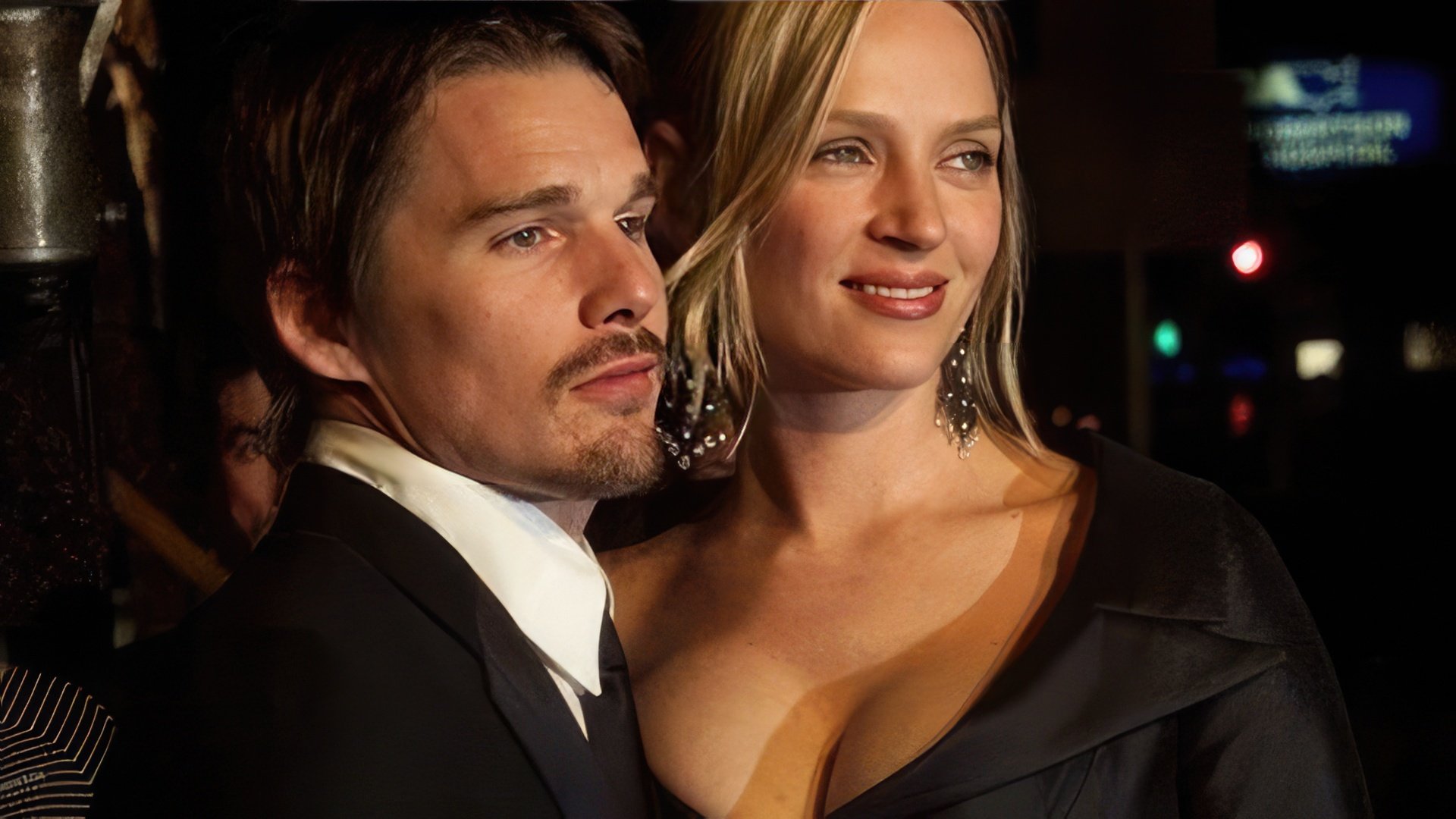 She later began dating a French financier Arpad Busson and had her third child, Rosalind, in 2012.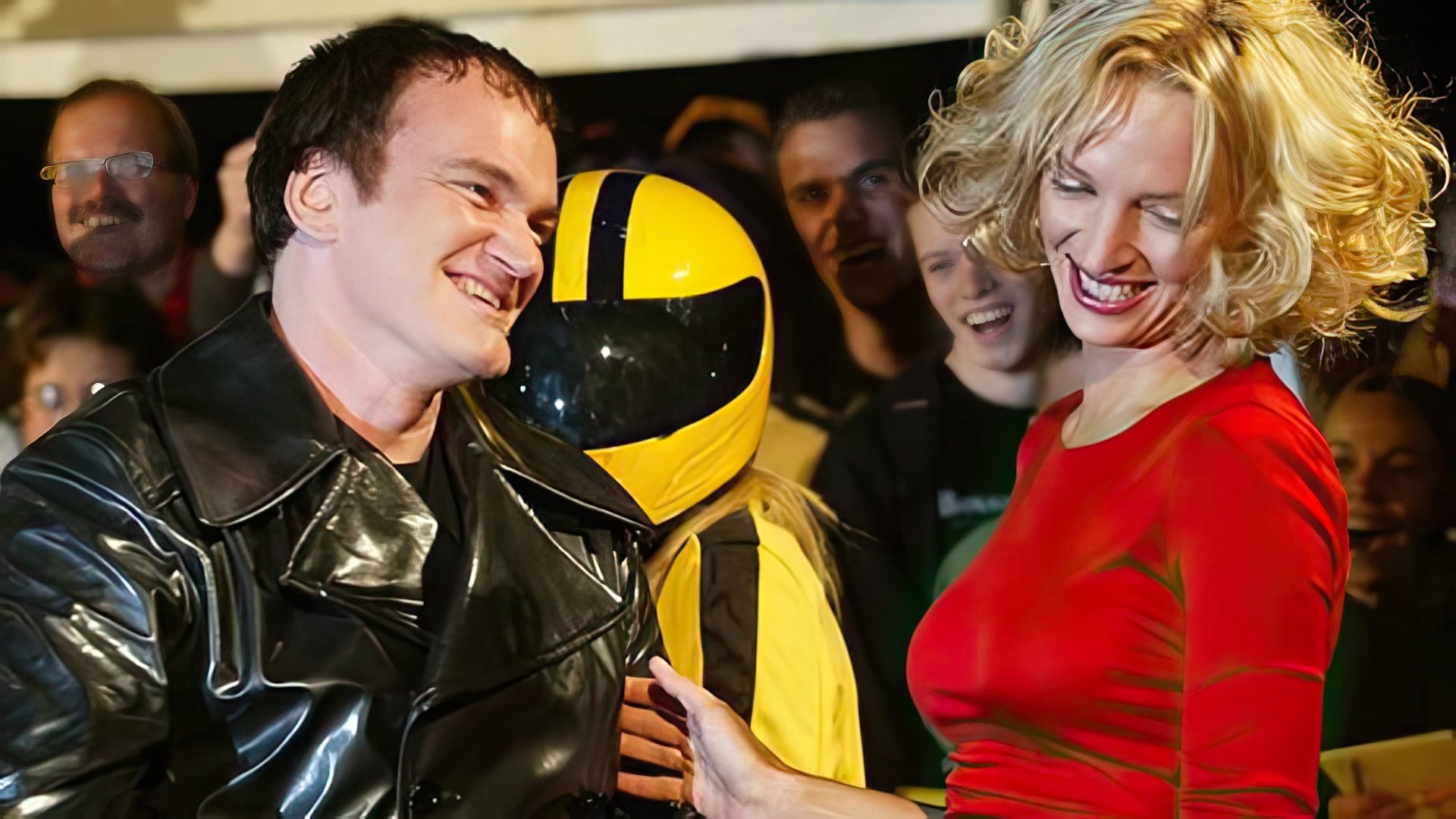 In 2014 the couple split and rumors of Uma's affair with Quentin began circulating in the press. They walked the red carpet of the Cannes film festival together, holding hands that year, and although both were asked about each other in the interviews, laughed it off. The actress and the director never confirmed or denied the rumors of them dating.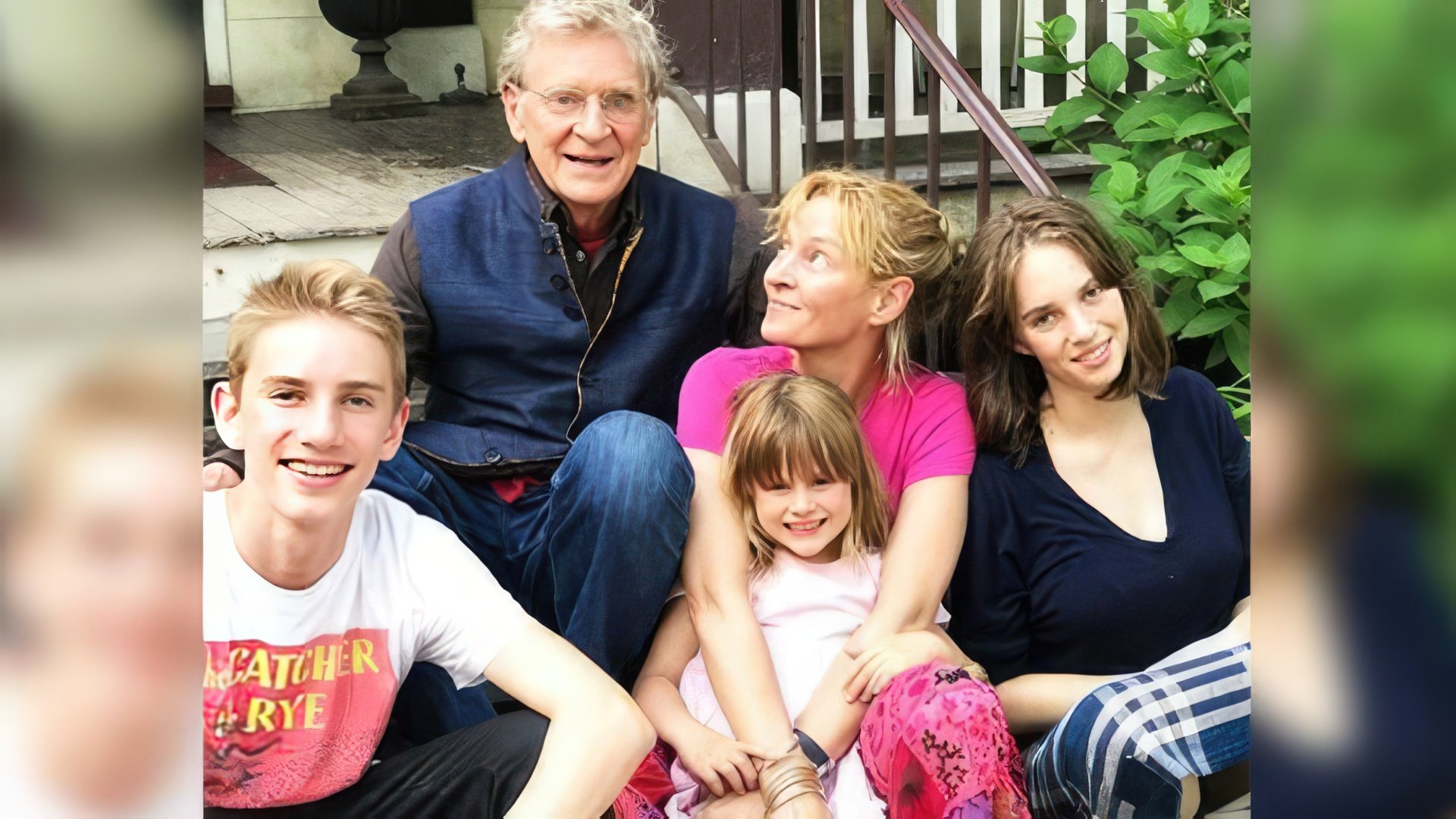 In February 2018, Uma Thurman joined the #MeToo movement and accused a notorious producer Harvey Weinstein of sexual harassment. She stated that she was very dissatisfied with her previous agents, who ignored the humiliating behavior of a well-known producer and couldn't forgive Quentin Tarantino's negligence during «Kill Bill» filming, when, as a result, she got into a car accident.
Uma Thurman Now
In 2019, Uma participated in the creation of the movie "Untouchable", dedicated to Harvey Weinstein and the victims of his harassment. Also rumored that Tarantino plans a third installment of «Kill Bill» with Uma, but all the details are yet to be announced.

In 2020, the actress celebrated her 50th birthday. In quarantine due to the coronavirus pandemic, the actress spends time with her children and regularly shares family photos on Instagram.

In February 2022, the detective series Suspicion by Chris Long and Stefan Schwartz starring Uma Thurman and Georgina Campbell. Uma portrayed an oil company CEO whose daughter was kidnapped. Four unrelated to each other British all under suspicion.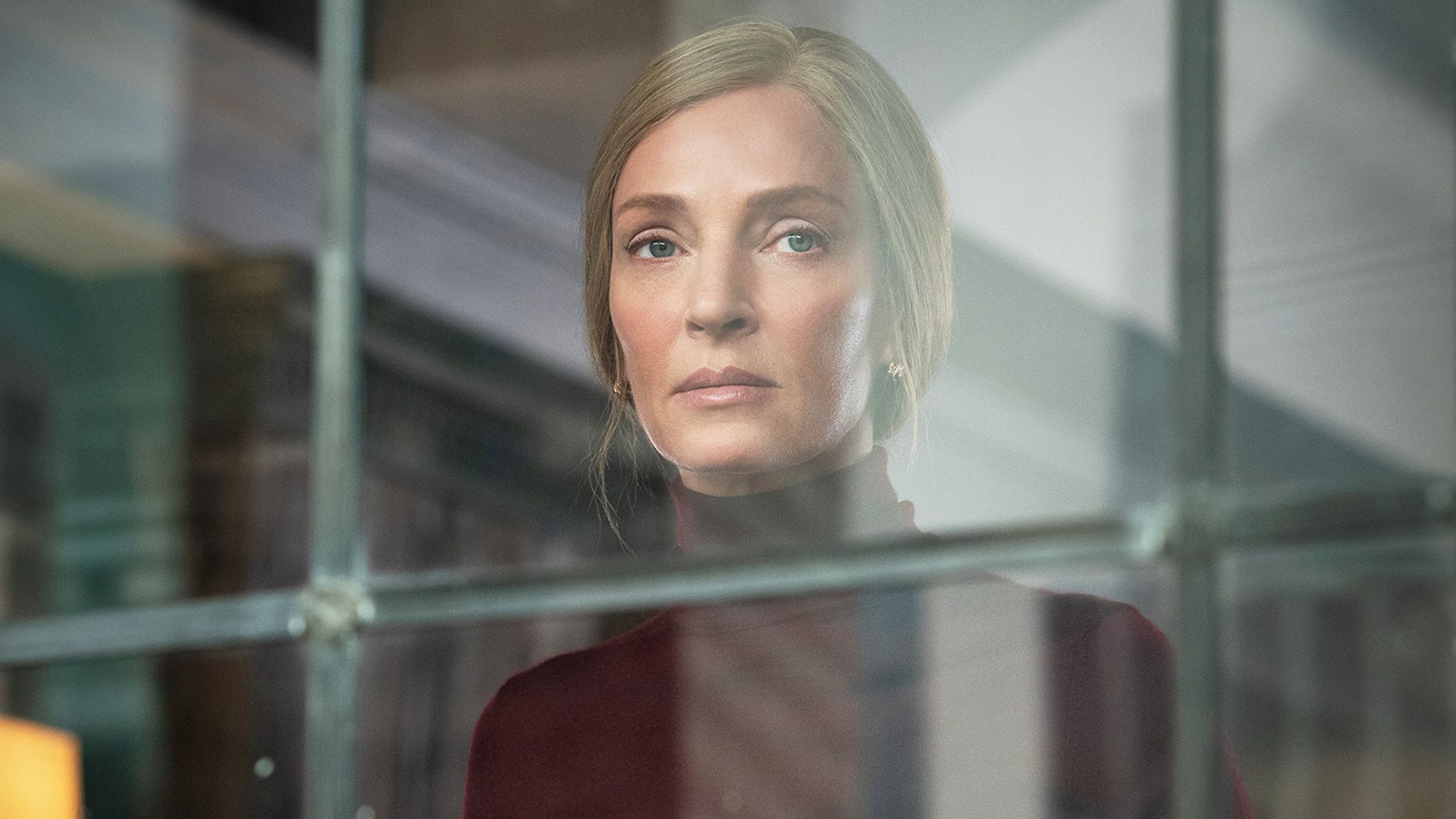 Her character is ready for anything for her company with an unblemished reputation. And it doesn't matter that oil and the entire life of the company have a very bad effect on the climate and ecology. She is even ready to conceal a reliable report on climate change, and even tarnish the reputation of a scientist who made a truthful report. In June, it became known that Uma Thurman will receive a star on the Hollywood Walk of Fame.
Press Ctrl+Enter If you find a mistake