Courtney Cox Biography
Courtney Cox is a Hollywood actress, producer, director, and writer. She rose to fame for her portrayal of Monica Geller in the TV series "Friends," which ran for a decade. Additionally, she starred in several installments of the horror franchise "Scream" as journalist Gale Weathers.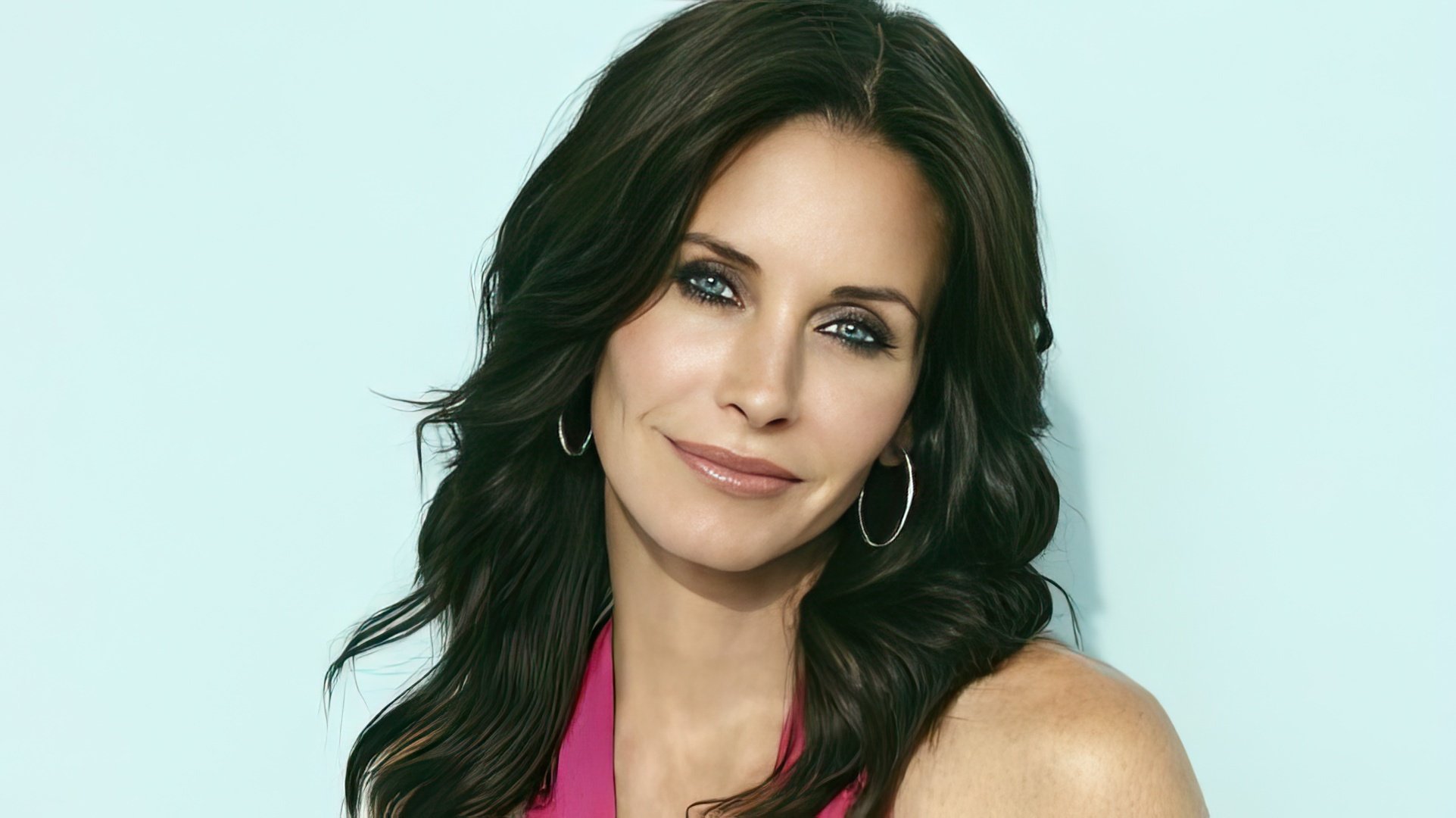 Childhood
Born to businessman Richard L. Cox and housewife Courteney Bass in the summer of 1964, Courtney was the fourth child in the family. With older siblings Dottie, Virginia, and Richard, she grew up surrounded by love and care. The family was well-off, but Courtney was deeply affected when her parents divorced, and her father moved to Florida.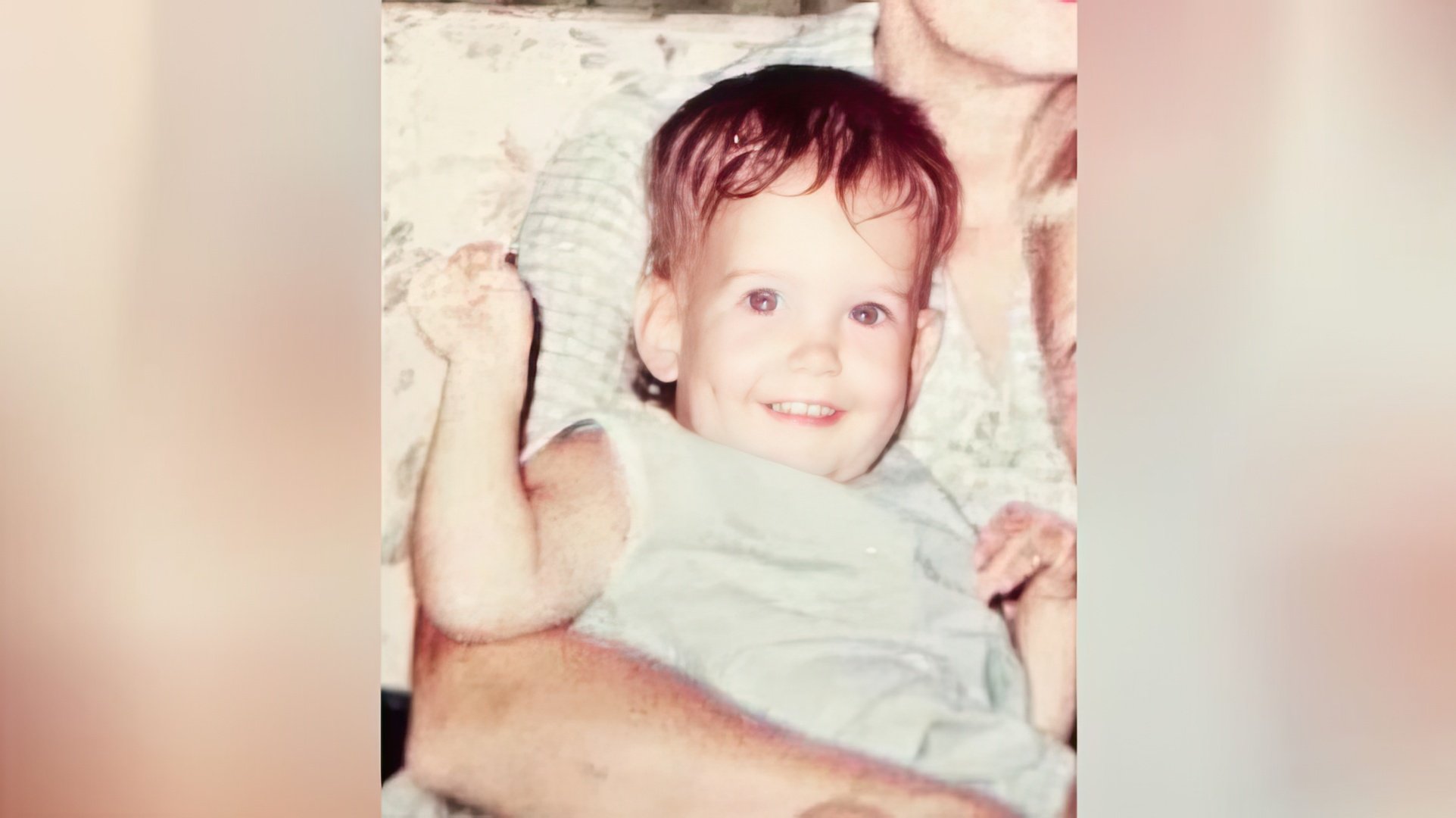 Later, her mother remarried Hunter Copeland, a widower and businessman from New York. For a long time, Courtney struggled to see his nine children from a previous marriage as her siblings. As she grew older, she understood the differences between her parents and stopped blaming her mother for the split. Hunter, being both affluent and sensitive, tried to build a good relationship with all the children.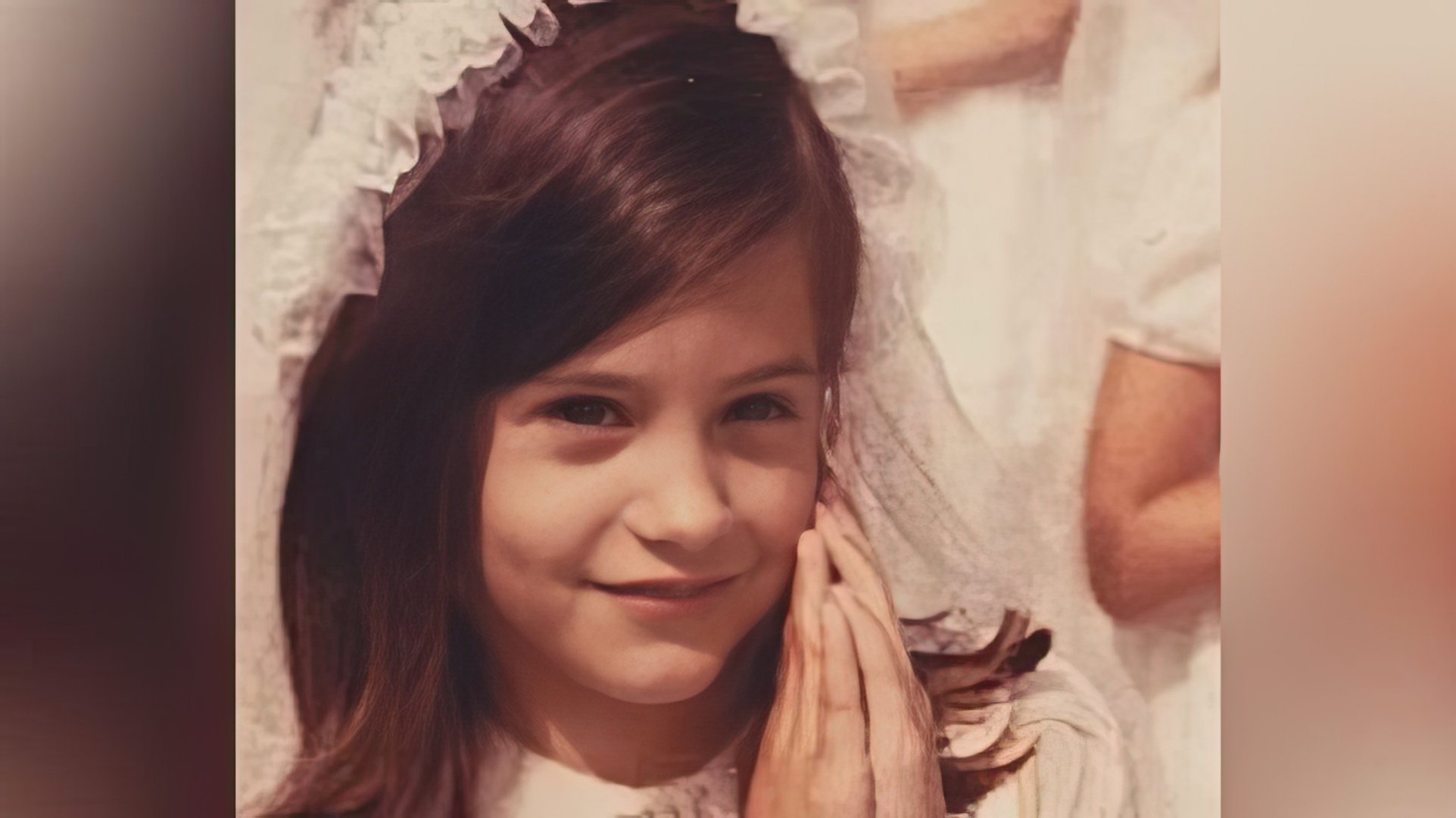 In school, Courtney excelled academically and was active in sports, playing tennis and swimming. She was also a cheerleader. While studying, she took up a part-time job as a salesperson and bought her first car at 16. At that time, she didn't aspire to act but was interested in interior design. In the early '80s, she enrolled in Vernon College in Washington, focusing on architecture.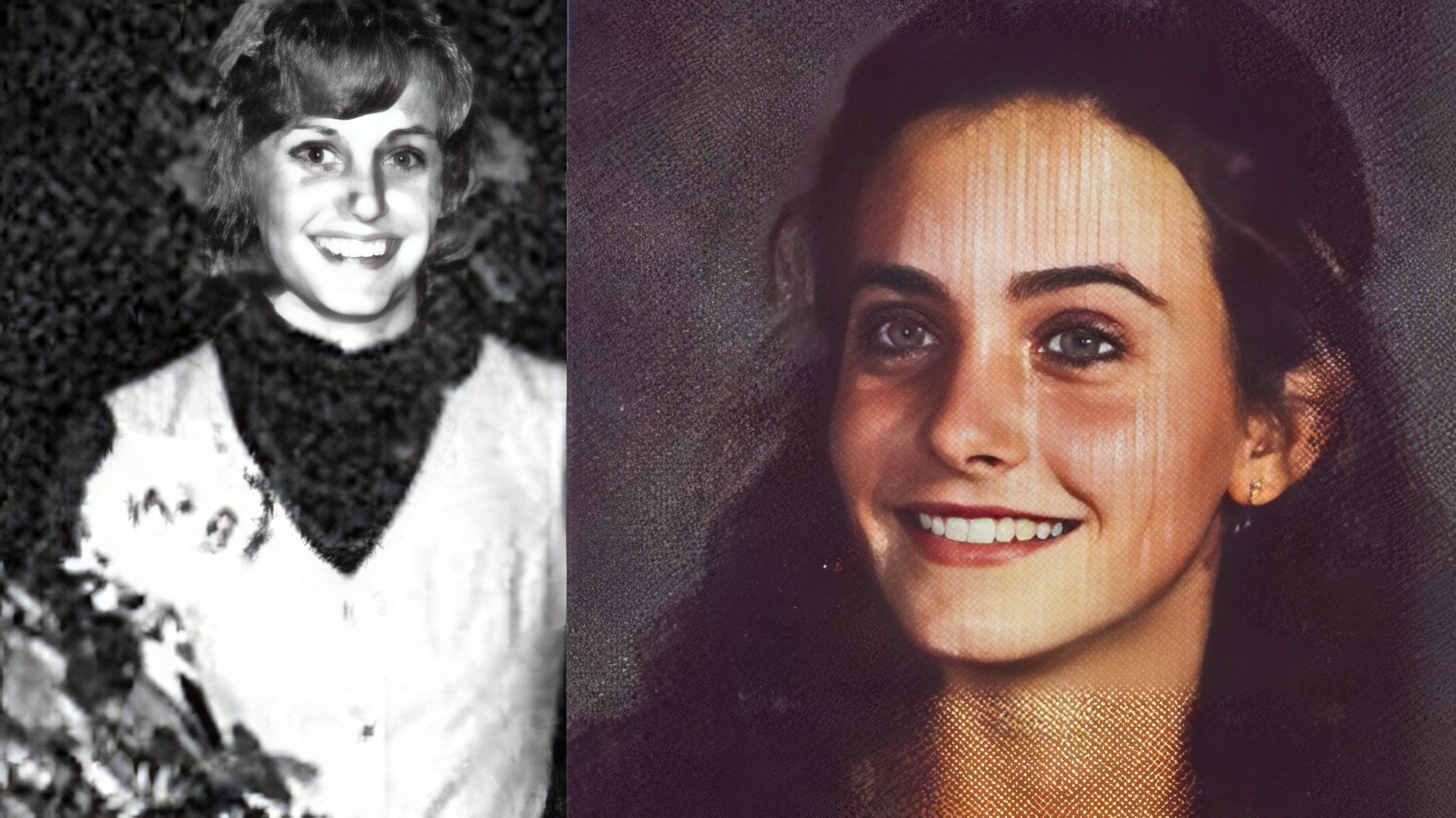 Around this time, tall and slender Courtney caught the eye of her stepfather's nephew, Miles, who had friends in the modeling business. She heeded their persuasion and decided to try her hand at modeling. Within six months, the Ford modeling agency signed her.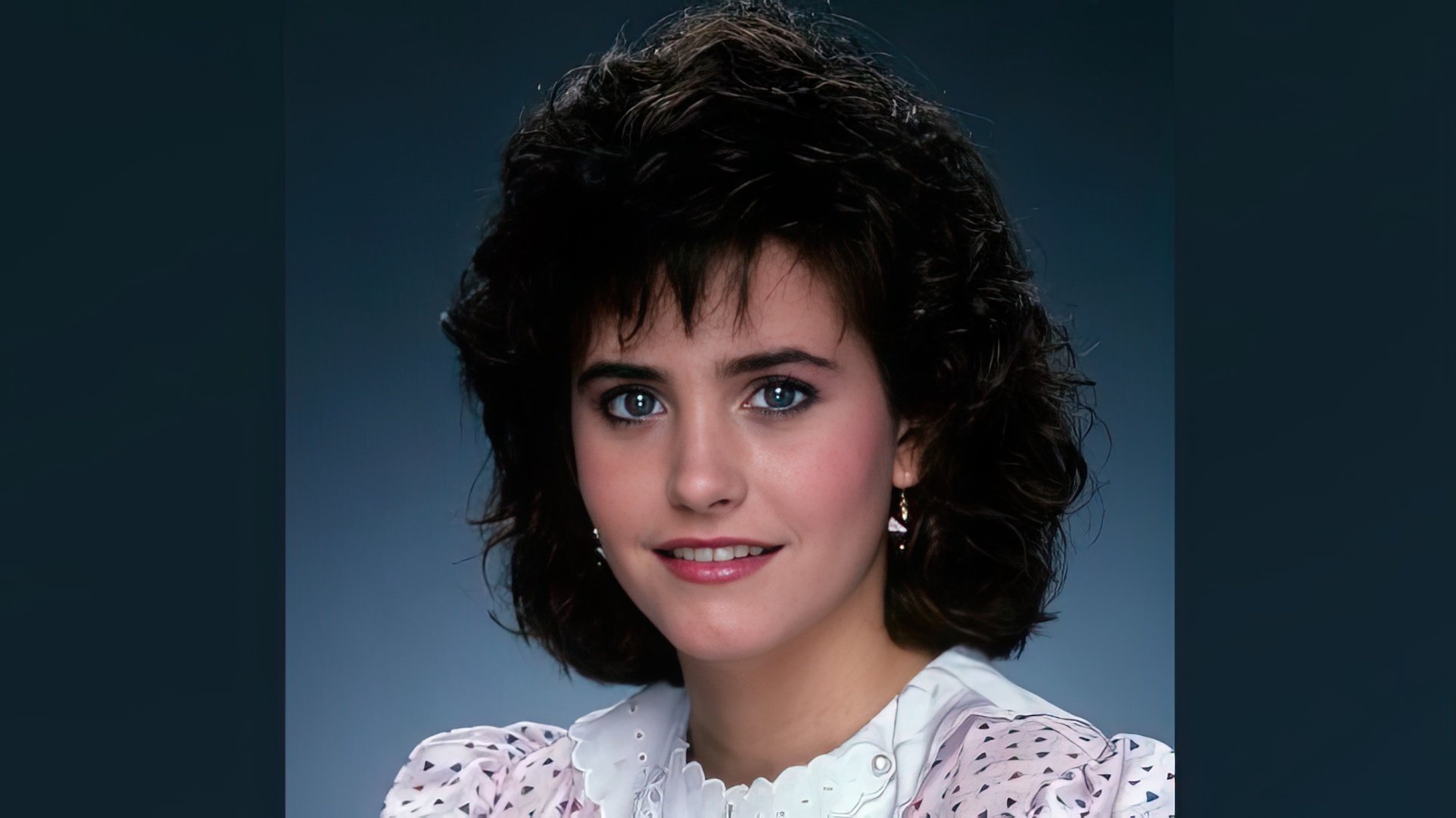 Courtney left college to become the face of Maybelline, frequently gracing magazine pages. To refine her speech and appear in commercials, she took acting classes. In 1985, Courtney made history by being the first to say the word "period" in a Tampax commercial on American television, breaking the stigma around this intimate female topic on Western TV.
Early Roles
In the mid-80s, the vibrant and daring Courteney caught the eye of Bruce Springsteen and he invited her to star in his music video, "Dancing in the Dark". It was during this shoot that everyone took notice of her captivating gaze and unmatched charm. This project marked the beginning of her acting career. Even though Courteney earned only $350 for her first acting gig, it opened doors to hosting a music show and minor roles in TV series. In 1986, Courteney Cox appeared as Gloria Dinallo in "Misfits of Science", Carol in "The Love Boat", Carol Bannister in "Murder, She Wrote", and Lauren Miller in "Family Ties". A year later, she joined the casts of sci-fi movies "Masters of the Universe" and "Cocoon: The Return", working alongside stars like Dolph Lundgren, Don Ameche, and Wilford Brimley.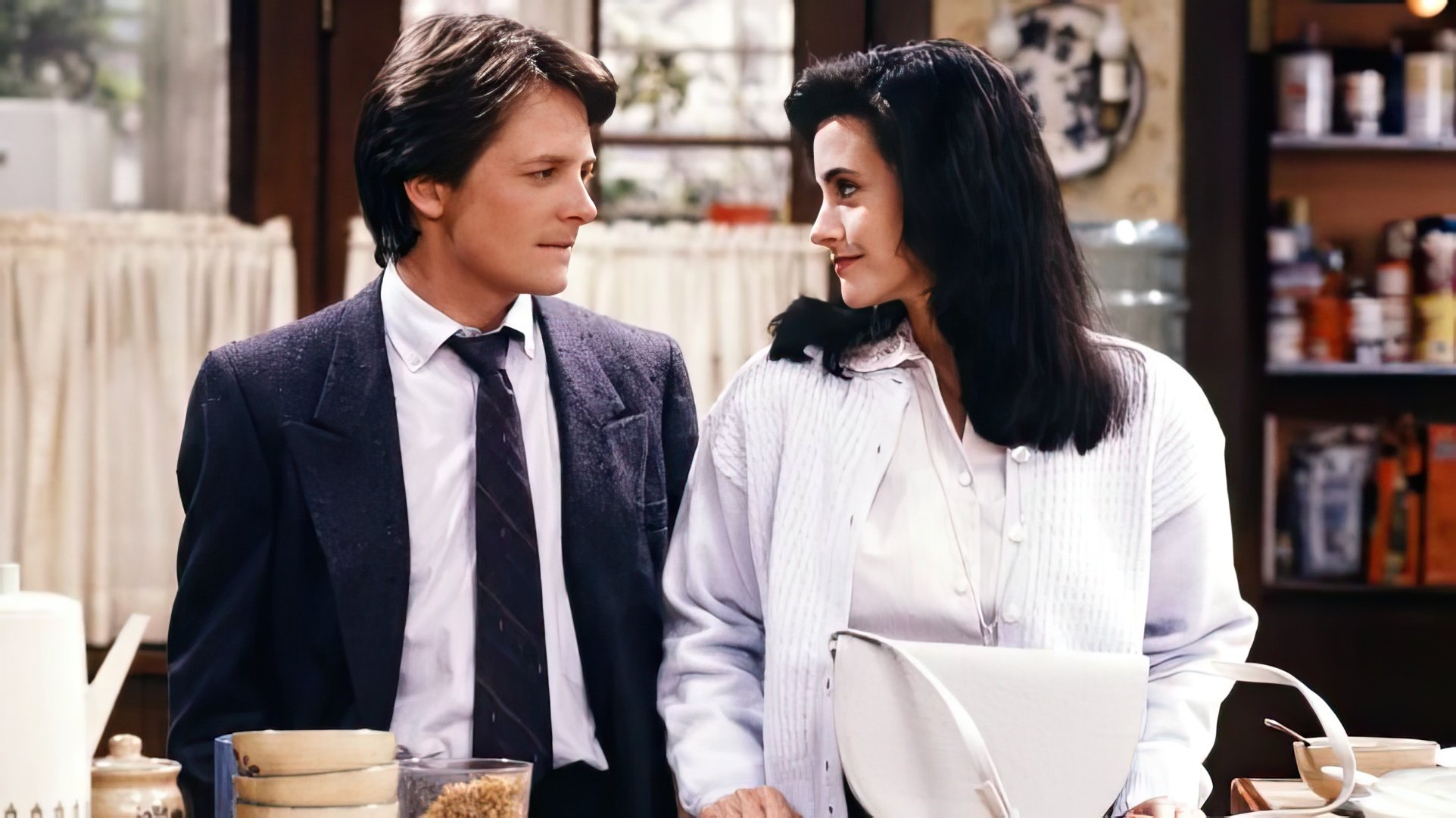 The early 90s saw Cox take on a role in the psychological thriller "Blue Desert" (1990) by Colin Bucksey, followed by portraying Jewel Jagger in "Mr. Destiny" (1990) and Katherine in the drama "Battling for Baby" (1992).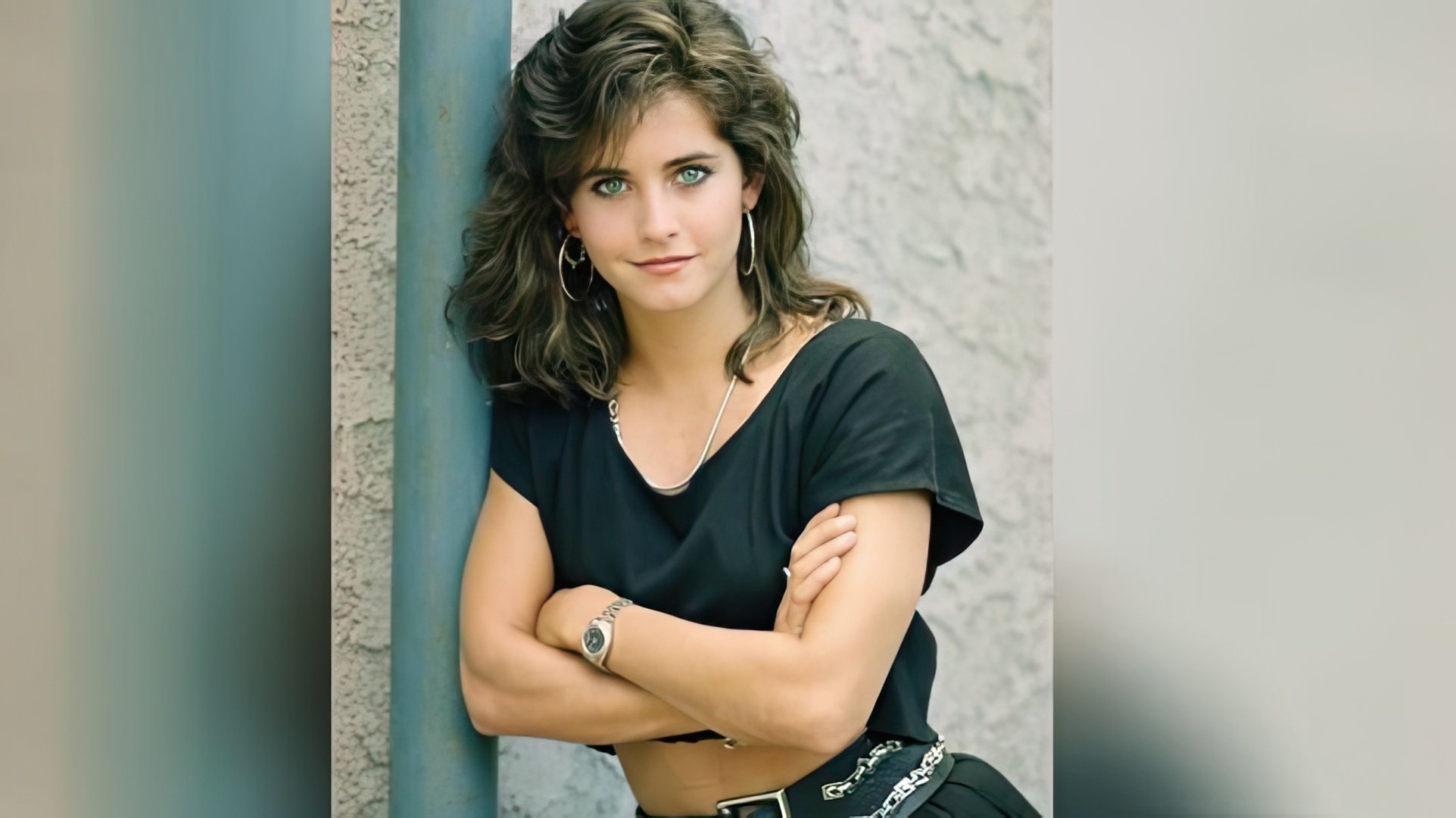 In 1992, she starred alongside Ari Gross in the comedic film "The Opposite Sex and How to Live with Them" by Matthew Meshekoff, and later played the role of Meryl in the TV series "Seinfeld". Her portrayal of press secretary Melissa Robinson in the comedy "Ace Ventura: Pet Detective", who's on a quest to find a missing dolphin named Snowflake, also left a lasting impression on audiences. On set, Courteney enjoyed interacting with the famous Hollywood comedian, Jim Carrey.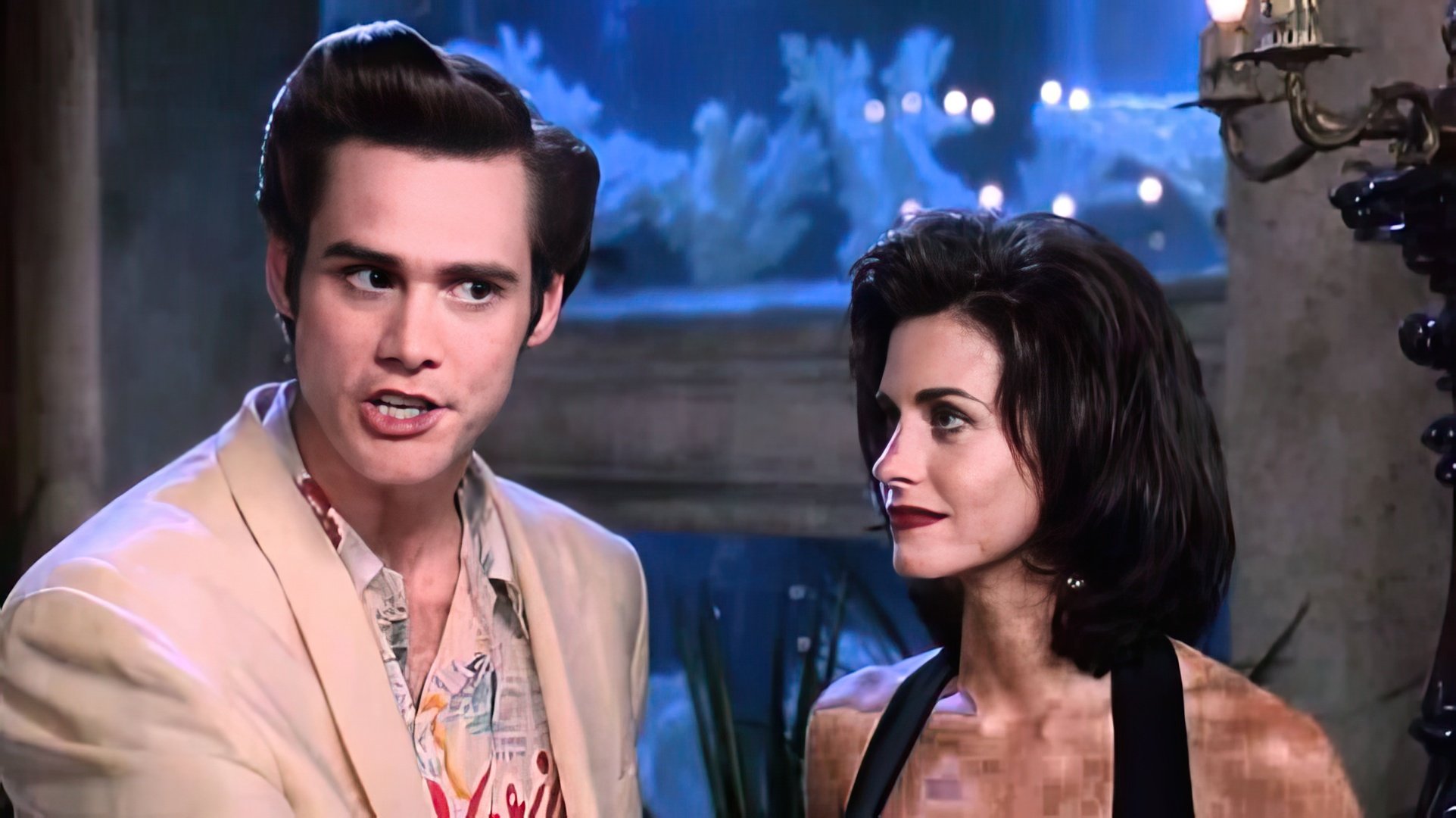 Friends
The role that truly catapulted the actress to fame was in NBC's project titled "Friends." Initially, the producers considered offering her the role of Rachel Green. However, Courteney brilliantly portrayed Monica Geller on screen – a relentless yet utterly charming perfectionist whose apartment became the focal point for many plot events.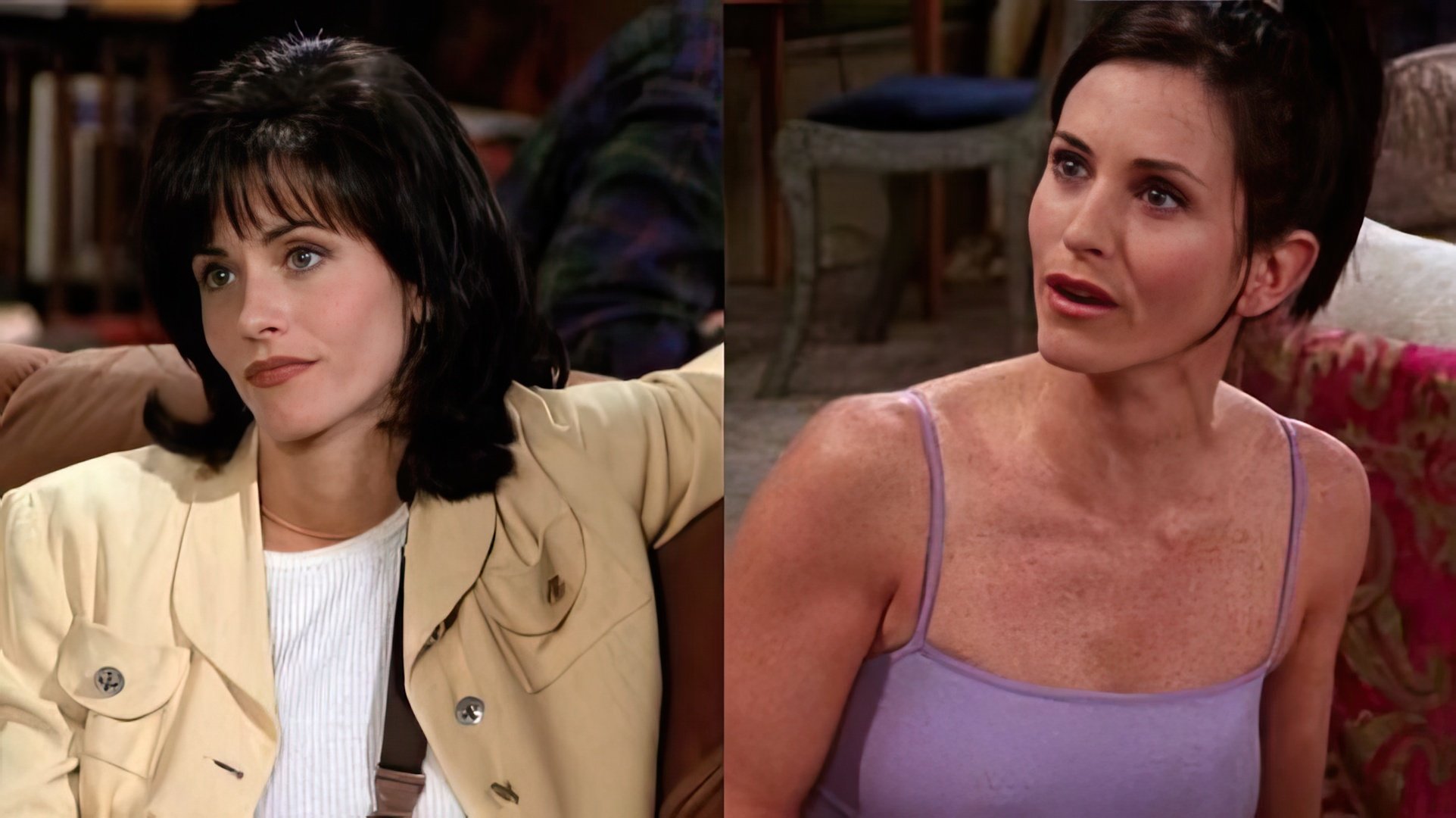 On set, Courteney had to depict a commanding and disciplined woman who loved order. The show frequently addressed Monica's weight, a major issue during her teenage years. Courteney's character also harbored a desire to always be the best, refusing to lose in arguments or competitions with her friends. Despite her distinctive personality, Monica was beloved both by her on-screen friends and the audience.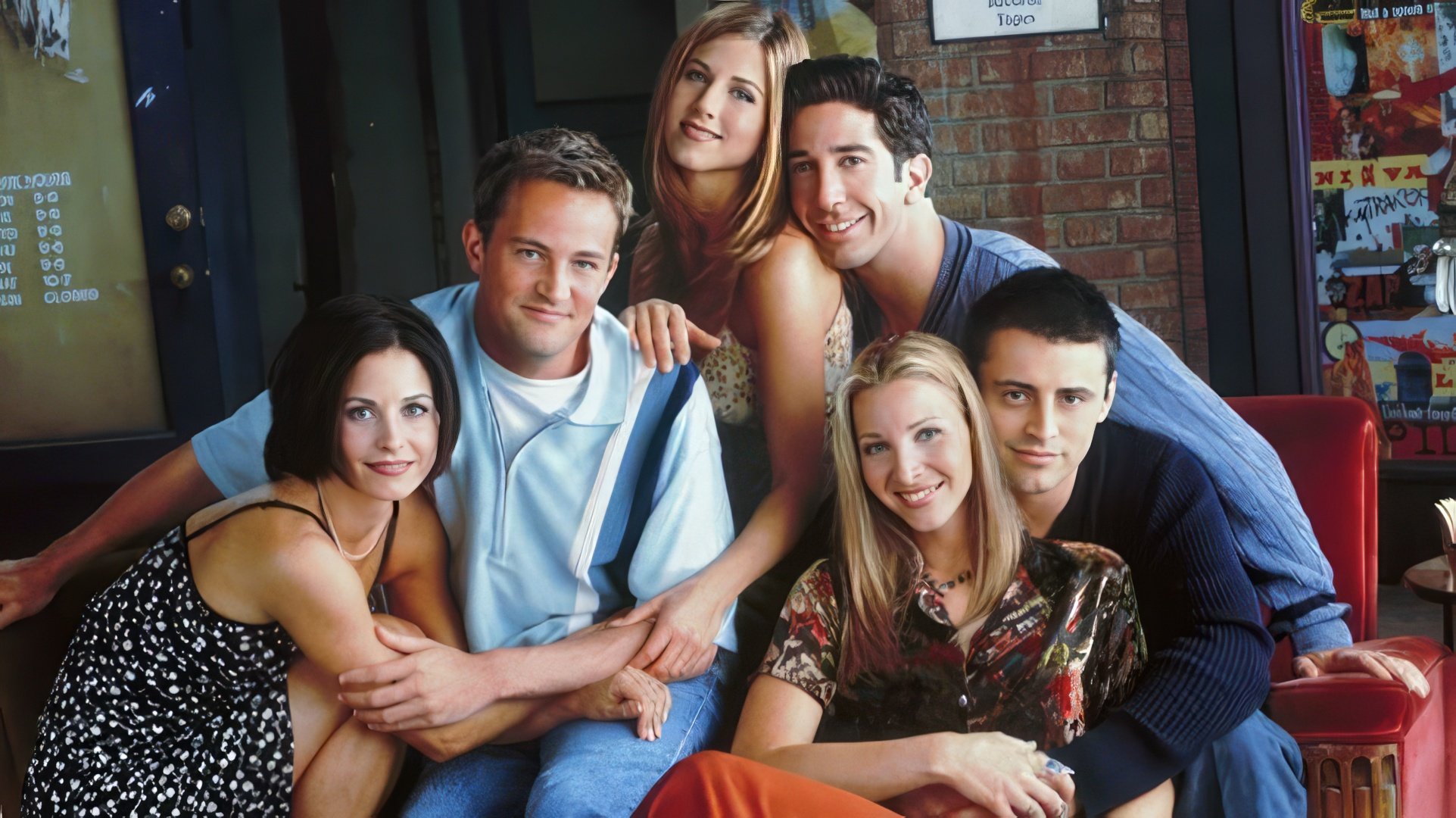 Years after the filming, Courteney admitted in an interview that despite the show's massive success, she barely remembers her time shooting "Friends":
Of course, I remember how much I loved everyone and how much fun we had. I recall that particular period in my life associated with the show, but I don't remember the episodes. I would fail any quiz... I decided to binge-watch 'Friends' since everyone loves it so much! I'm currently on the first season. It's truly great!
The fifth and sixth seasons of "Friends" marked significant changes in Courteney's personal life. In the early 2000s, she married actor David Arquette, taking on the double surname Cox-Arquette. The show's crew had a unique way to congratulate her: they added "Arquette" to all the last names appearing in the credits of one of the episodes. Parallel to filming, the actors were falling in love, getting married, and having children. For instance, Phoebe's pregnancy was incorporated into the plot because Lisa Kudrow was expecting. However, when Courteney became pregnant, she had to hide her growing belly with clothing since Monica and Chandler's storyline centered around their inability to have their own children, leading them to adopt twin babies.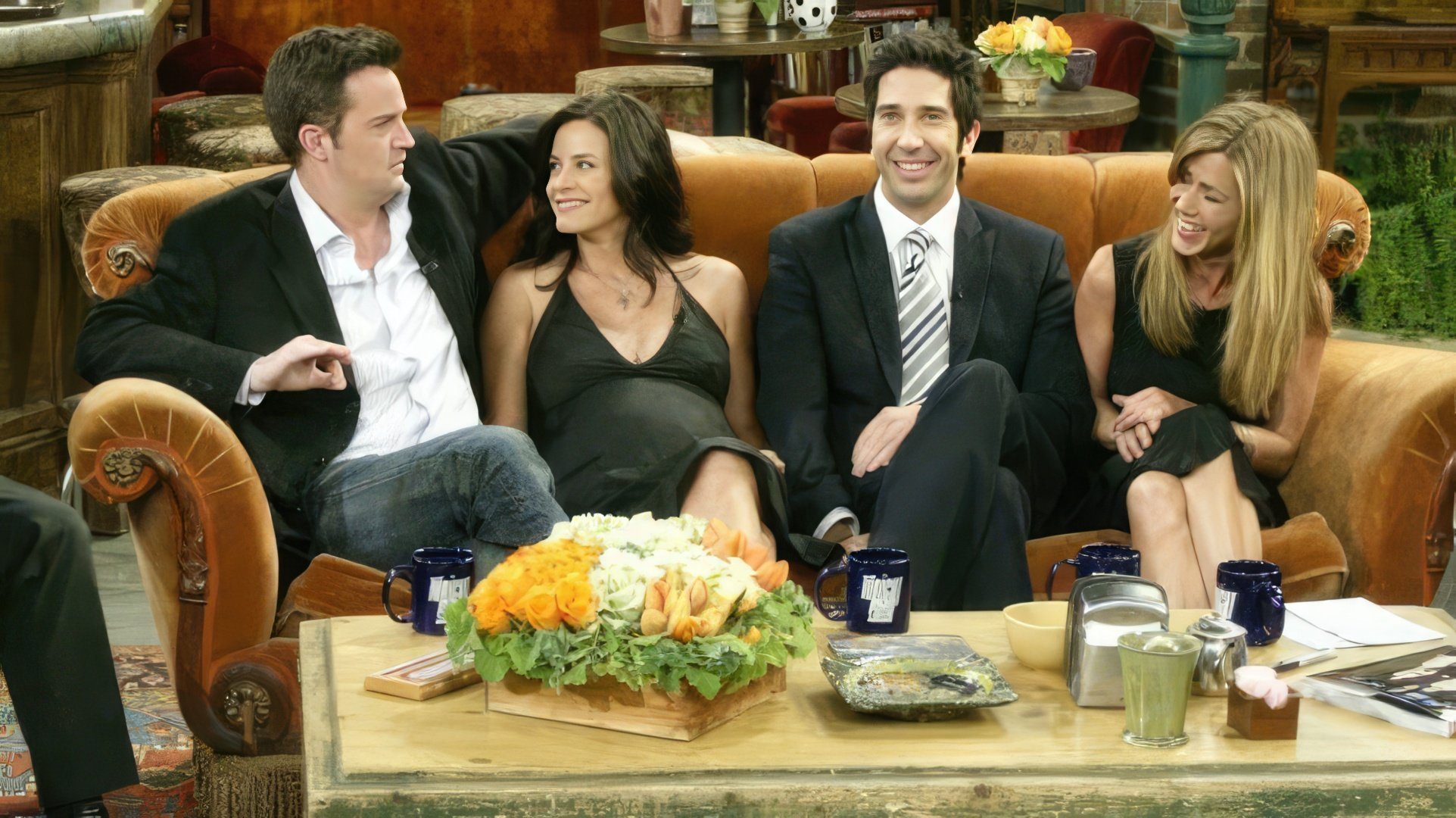 In 2005, Courteney, along with her co-stars Jennifer Aniston and Lisa Kudrow, made it into the Guinness World Records. The trio was recognized as the highest-paid TV actresses, earning almost one and a half million dollars per episode in the show's last two seasons. The most unexpected fact in Courteney Cox's acting biography is her lack of awards for her role in the series. While the entire creative team earned a Golden Globe and six Emmys for the sitcom, Courteney was the only one left without a coveted trophy. Despite this, she fondly recalls the ten years spent filming the series, which brought her not only fame and substantial earnings but also true friends.
Other Works in Cinema
Courteney Cox gained significant recognition for her portrayal of news reporter Gale Weathers in the acclaimed horror films "Scream." These films were shot concurrently with "Friends." Four films were released (1996, 1997, 2000, 2011), and in each, Courteney's character writes novels about the town of Woodsboro, which then inspire horror movies.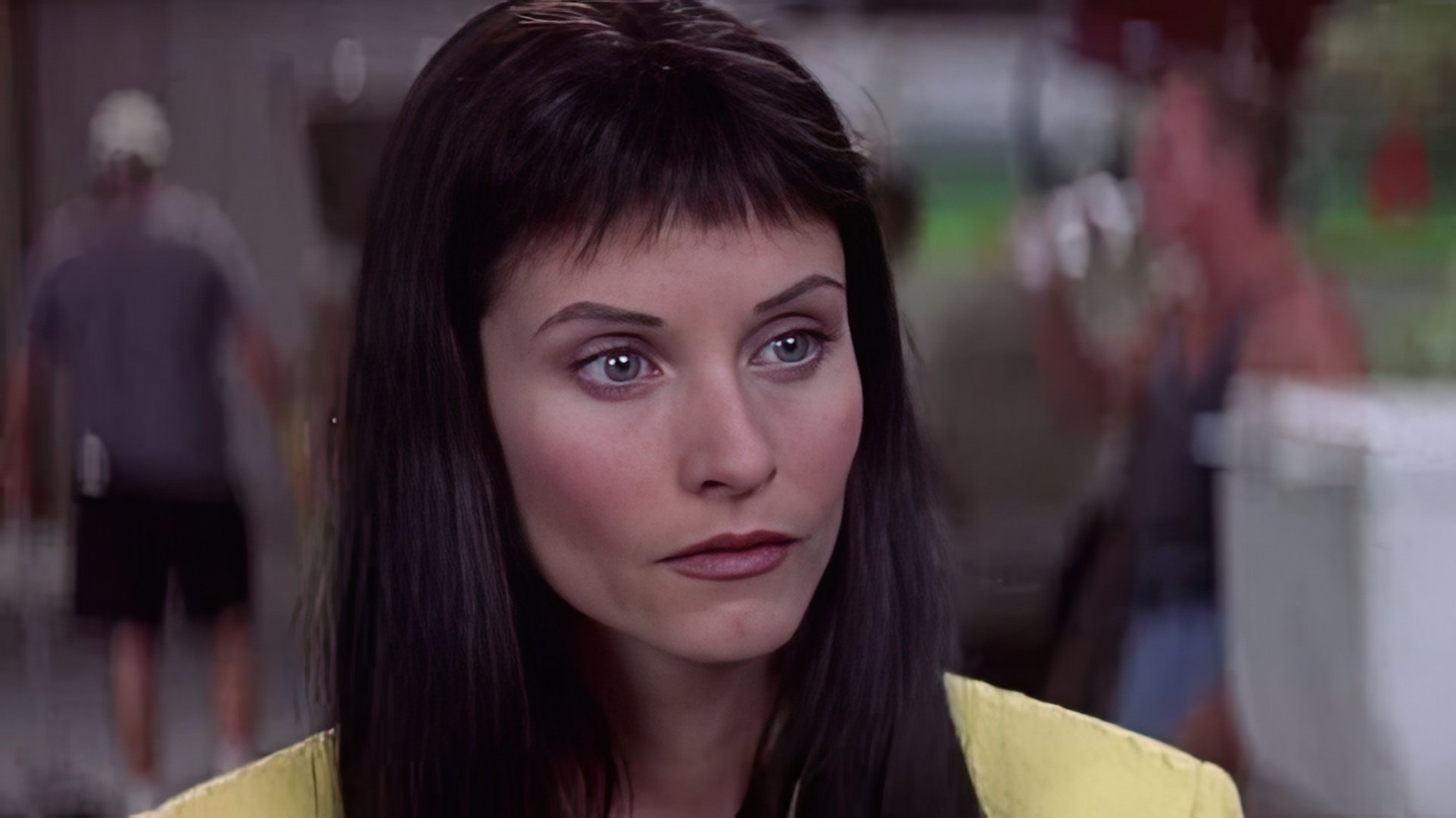 In international releases, some countries nearly banned "Scream" due to its graphic scenes. However, the slasher film attracted a considerable global audience and was profitable for its creators. In 2001, Courteney Cox starred as Cybil Waingrow in Damien Lichtenstein's crime tragicomedy "3000 Miles to Graceland." She shared the screen with Kurt Russell and Kevin Costner. Courteney's husband, David Arquette, also participated in the film. Although the movie didn't succeed and even received a Golden Raspberry nomination, Courteney wasn't too upset as she was already working on her new role, Samantha, in Richard Benjamin's drama "The Shrink Is In."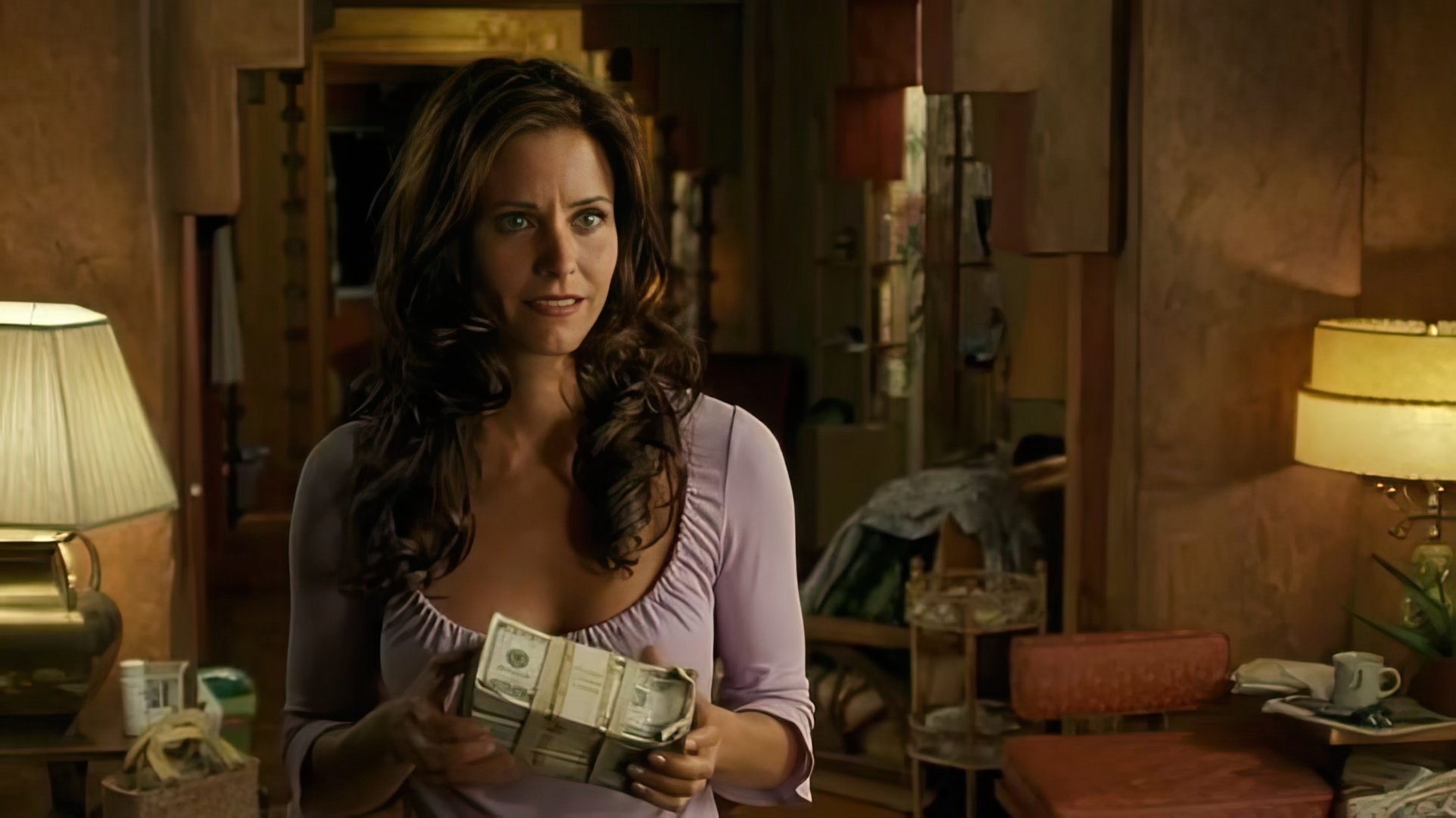 Another remarkable role for Cox was Sophie Jacobs in Greg Harrison's thriller "November" in 2004. She expertly played a photographer deeply affected by her boyfriend's death. Struggling with depression, Sophie blurs the lines between fantasy and reality.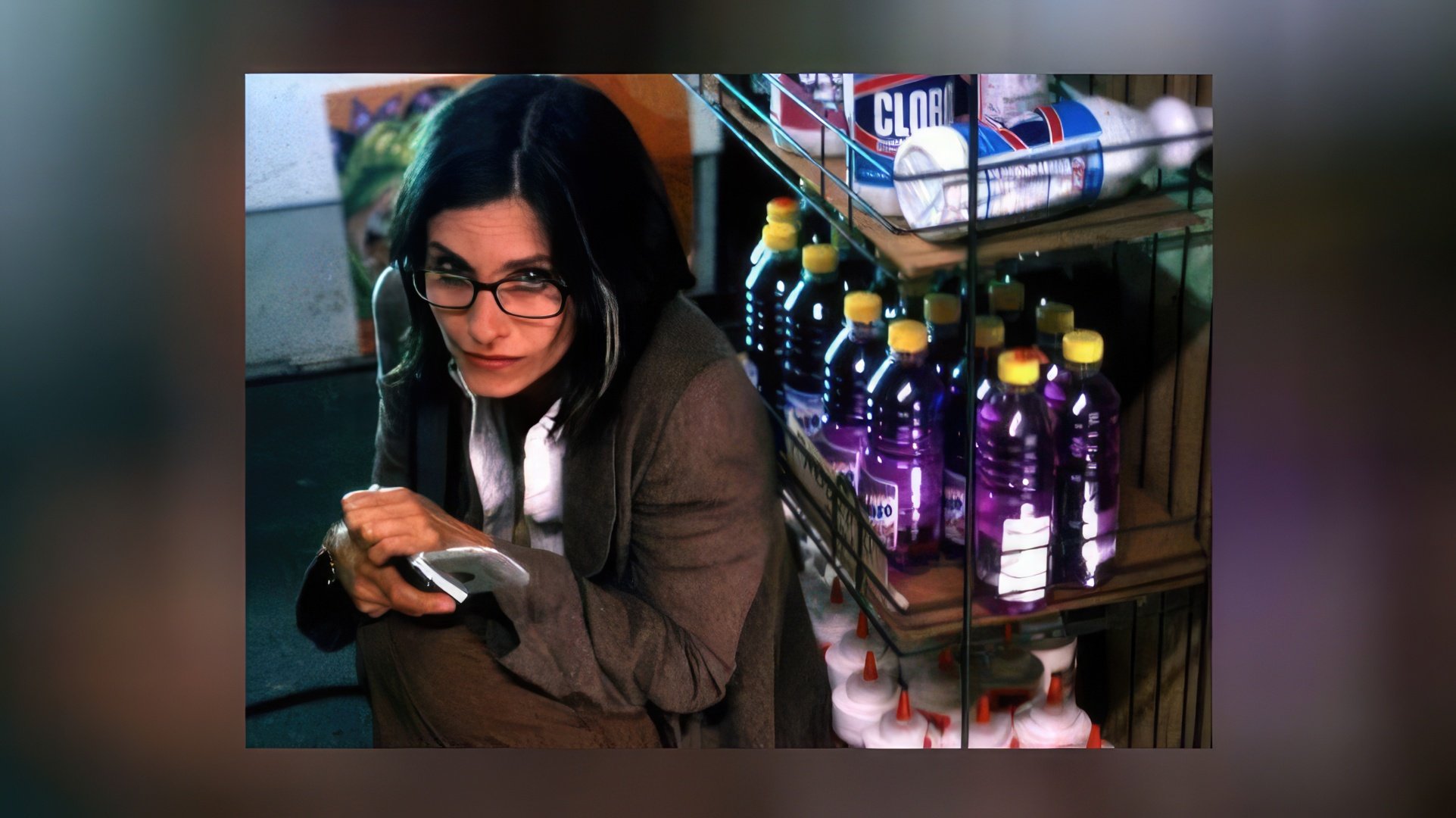 In 2005, Courteney appeared in "The Longest Yard" starring Adam Sandler. A year later, she was in the horror comedy "The Tripper," directed by her husband.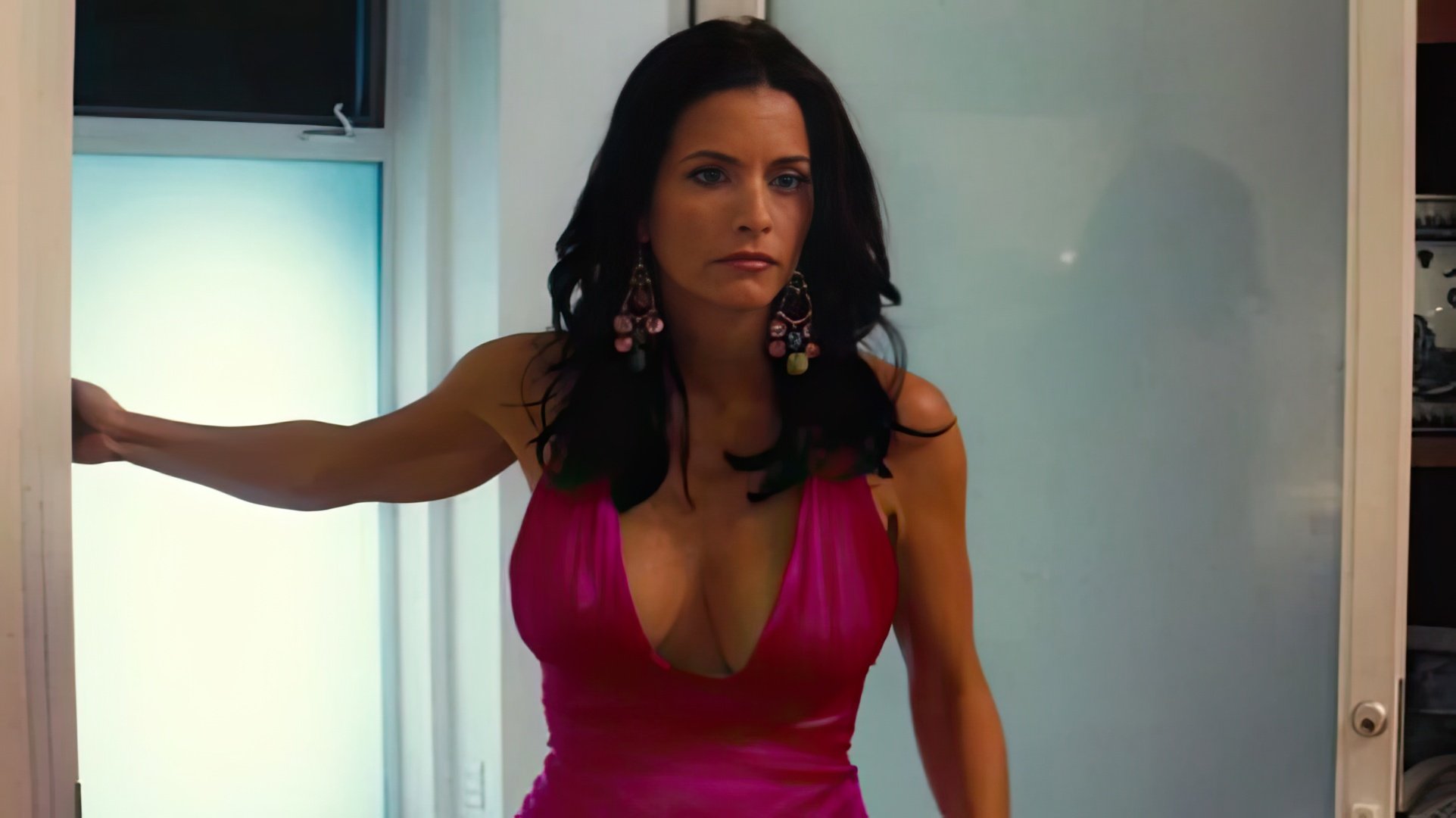 In 2009, Courteney landed the lead role of Jules Cobb in John Putch's series "Cougar Town" and played it for six years. For her stellar performance, Courteney received a Golden Globe nomination for Best Actress in a Comedy Series. In 2008, Courteney played the endearing Wendy in Adam Shankman's family comedy "Bedtime Stories." Three years later, she worked on "Go On" and "Drunk History." Besides, Courteney successfully voiced animated characters like Daisy in "Barnyard."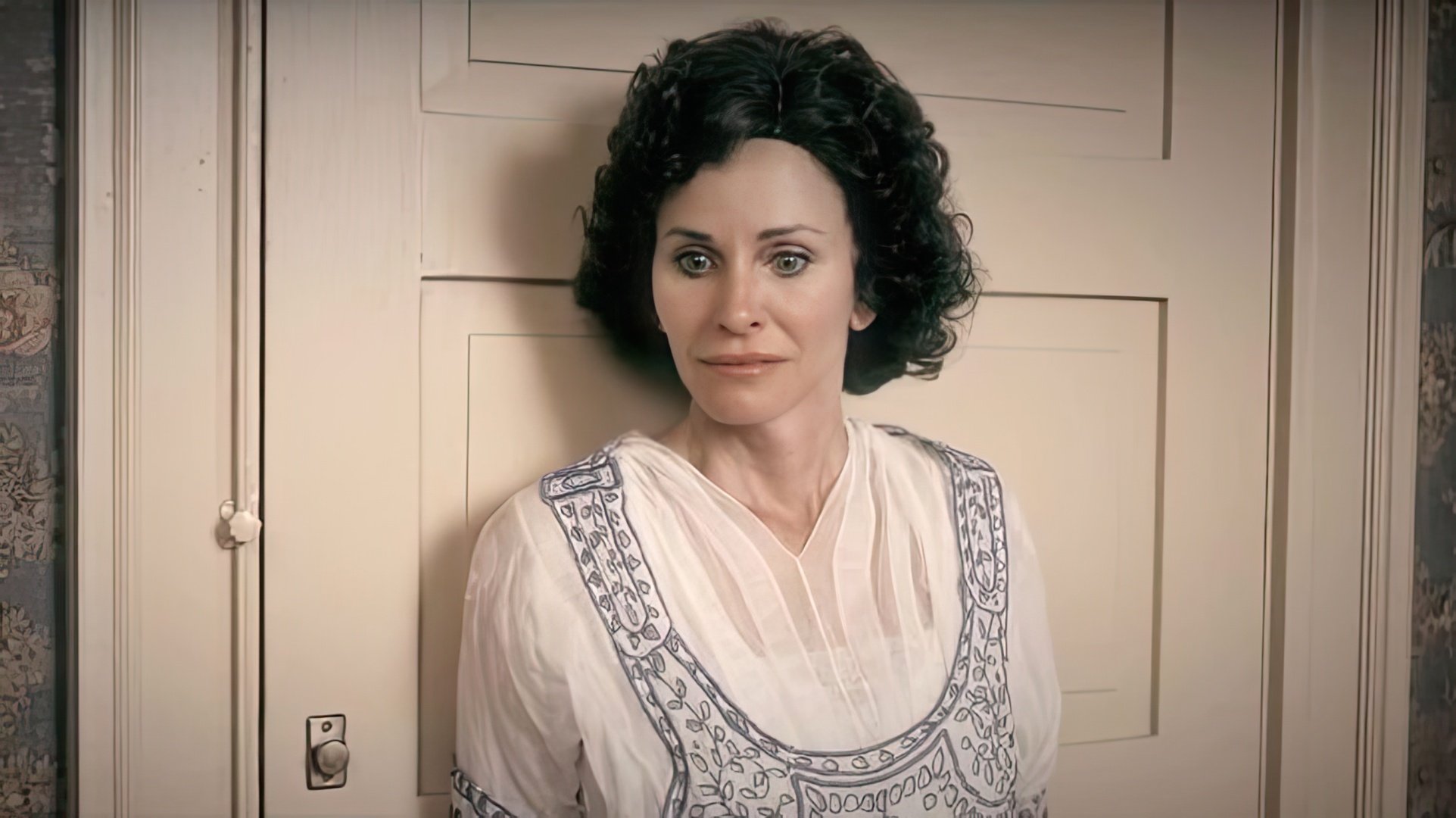 Courteney delivered a poignant performance as Beth in Paul Duddridge's drama "Mothers and Daughters," (2016), focusing on the relationships between mothers and daughters. That same year, she appeared in the TV film "Charity Case" and several episodes of "Scrubs."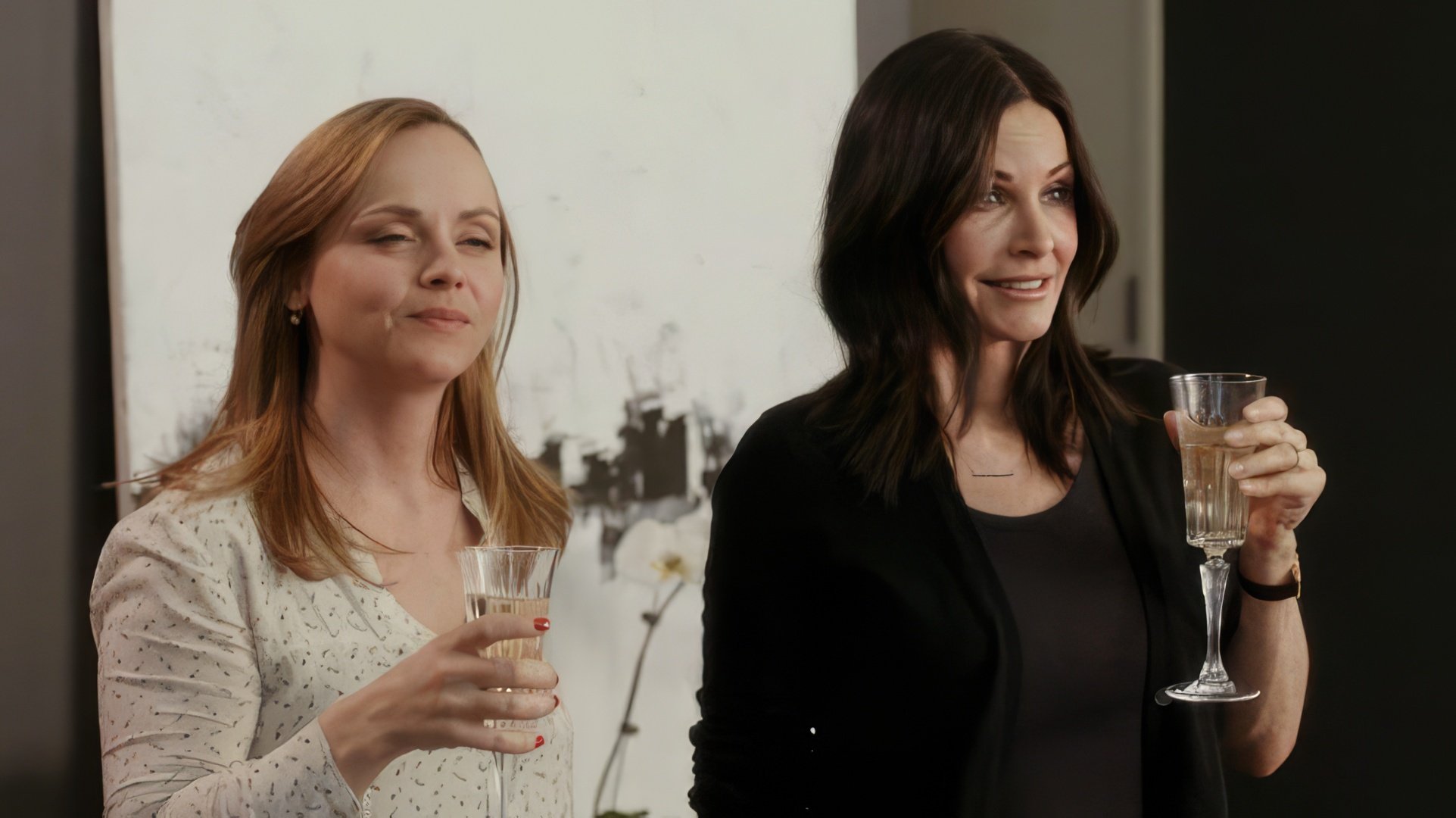 In 2018, Courteney featured in the British comedy-drama "Shameless" about the residents of the fictional Chatsworth district. Later, in 2020, she made a cameo in the comedy series "Modern Family."
Courteney Cox's Personal Life
In her youth, besides having a crush on her stepfather's nephew, Ian Copeland, Courteney had relationships with the musician Adam Duritz (who also dated Jennifer Aniston), Paul Brown, and actor Michael Keaton. Over the years, rumors linked her with Jason Statham and Kevin Costner.
Courteney's true feelings emerged during the filming of the popular horror movie "Scream", where she met David Arquette, who played a charming and modest sheriff in the movie. They married in 1999. David and Courteney's first attempts to have a child faced heartbreak. Initially, they struggled to conceive, and in 2001, Cox had a miscarriage. In 2004, after many attempts, the couple welcomed their daughter, Coco Riley. Jennifer Aniston, Courteney's friend and co-star from the series, became Coco's godmother.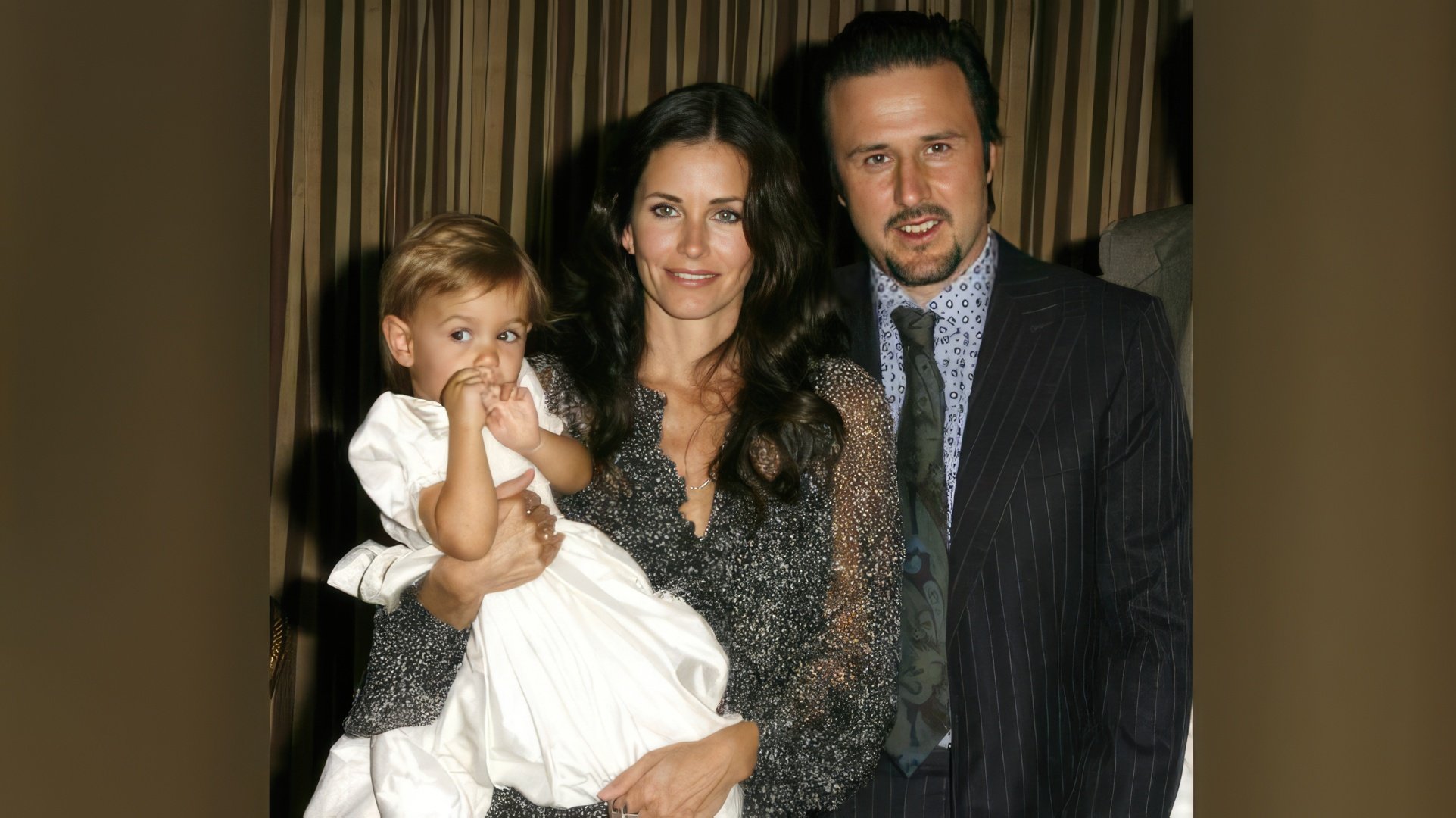 The marriage between Cox and Arquette had its ups and downs. The couple often acted in the same films, so they didn't feel the loneliness that many acting families experience. However, David's desire to have many children became a source of contention. Courteney, according to various sources, suffered eight miscarriages.

In 2010, when Courteney experienced her last miscarriage, the actors decided to separate, but they didn't file for divorce until 2013. Courteney expressed that the breakup was tough for both:
When you love someone, you wish them happiness, even if they're not with you. Of course, after a long marriage, it's hard to part without regrets. But over fourteen years, we tried multiple times to save our family. No one can blame us.
Courteney moved on and in 2013 began dating Irish musician Johnny McDaid. After officially breaking up with David, in 2014, Courteney announced her engagement to Johnny. However, by the end of the year, some media reported that Johnny couldn't handle Courteney's strong character and they split up.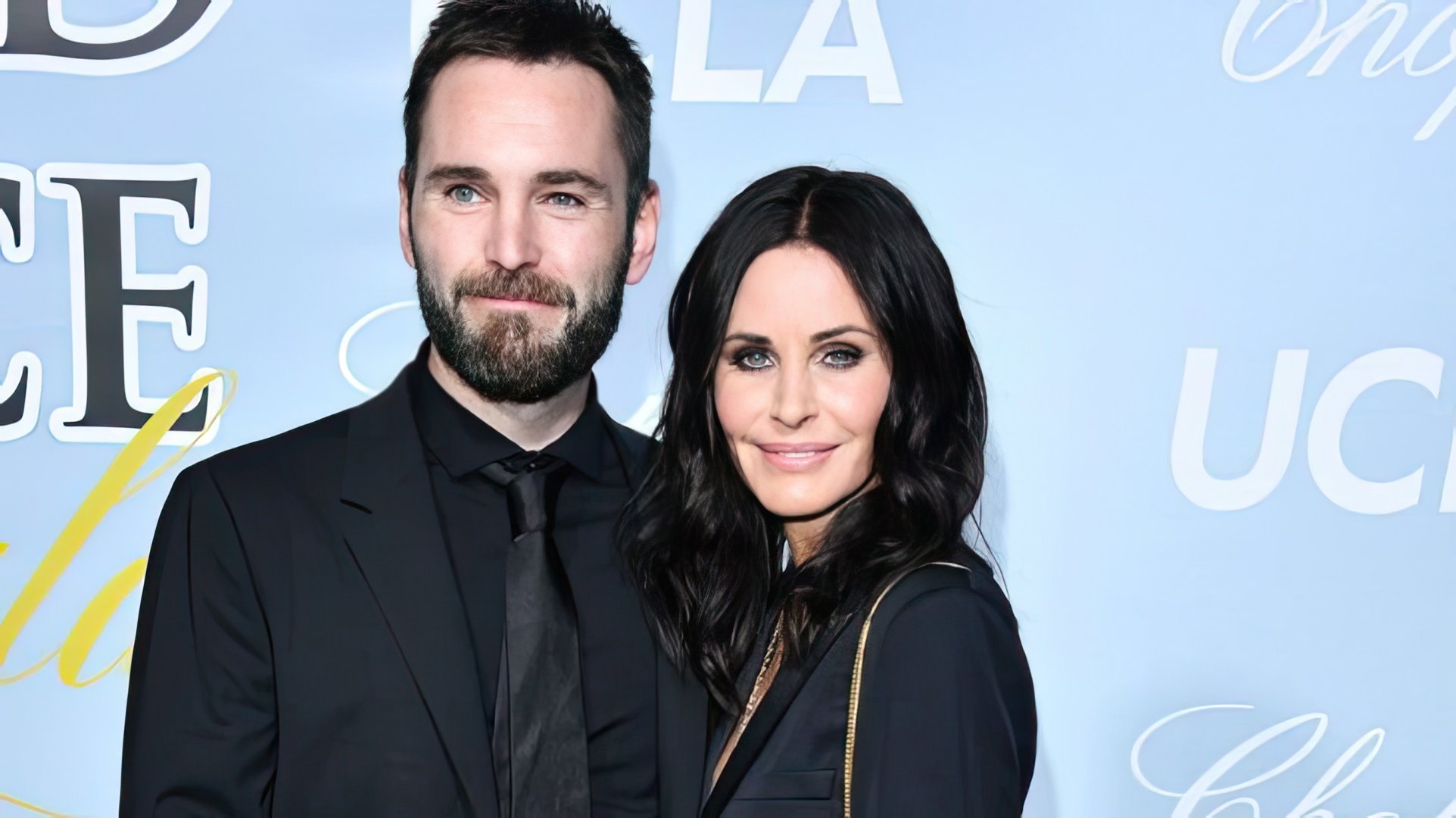 In 2015, paparazzi captured Courteney with "Friends" co-star Matthew Perry several times. Fans of the series eagerly hoped for a romantic relationship between their favorites, but the actors insisted they shared only a friendship.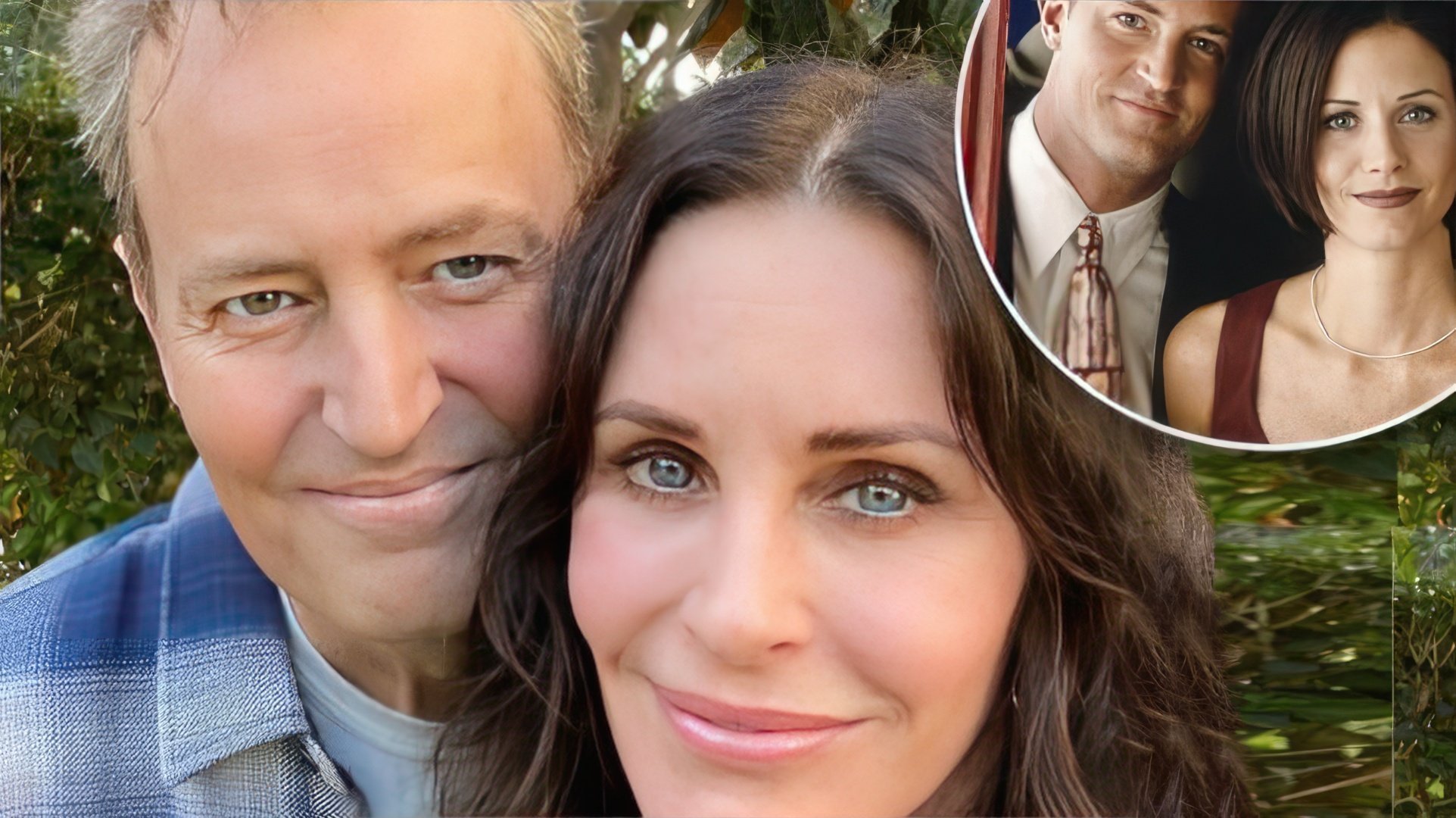 Three years after their breakup, Cox reconciled with McDaid and even moved to London with her daughter to live with him.

A brown belt holder in karate-do, Courteney is in excellent shape. Apart from that, she revealed that she has added yoga and music to her list of hobbies. She frequently plays the piano and practices on drum sets.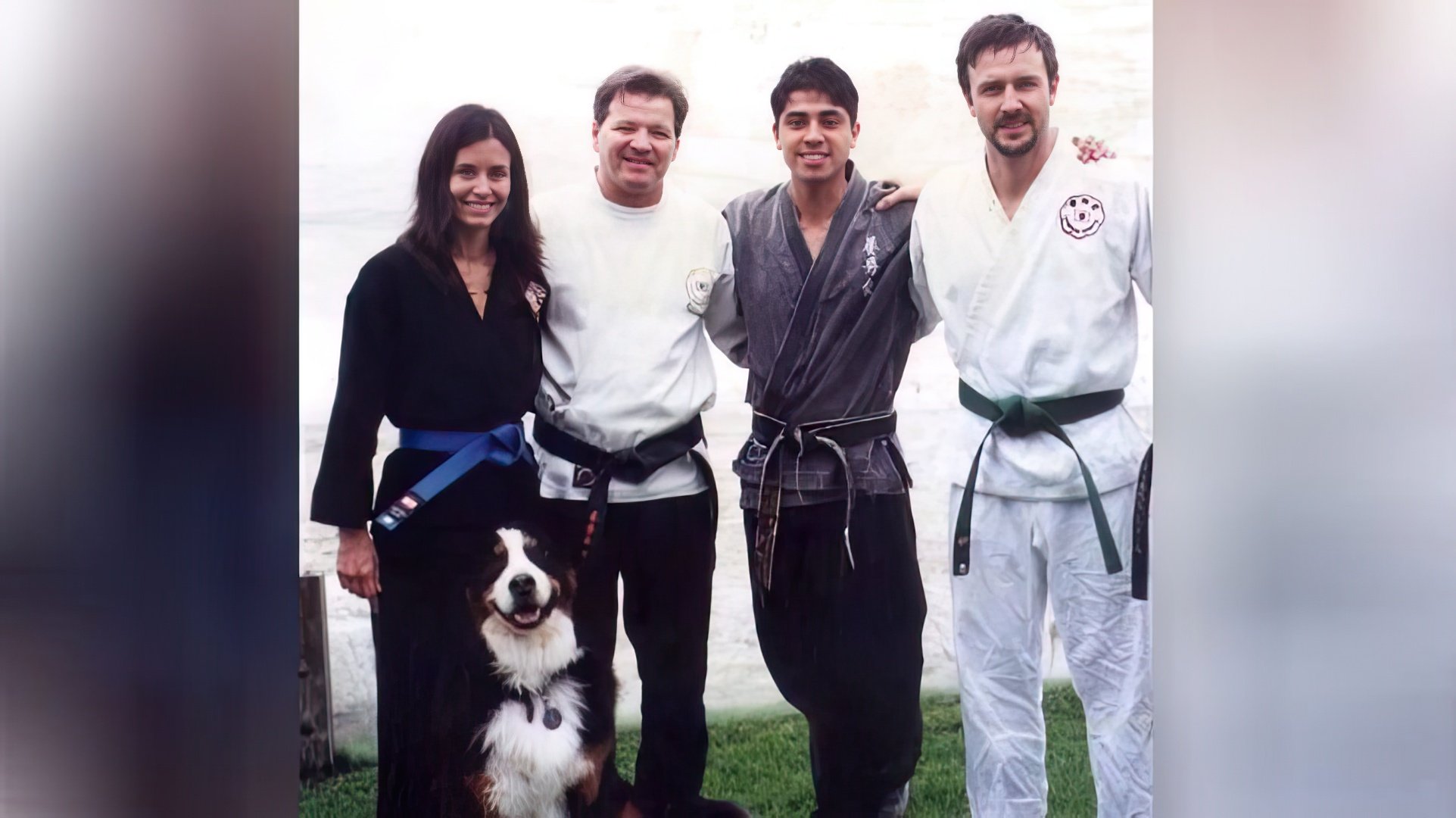 In her quest to maintain her youth, Cox admitted to undergoing four plastic surgeries, which, in her opinion, were unsuccessful. Later on, the actress declared her intention to abandon rejuvenating surgical procedures and expressed her desire to have a child with McDaid. For this seemingly wild idea, she would need a donor egg, but her wish to have a baby with her loved one at fifty-six was stronger. Shortly after, news emerged that the couple is preparing to legalize their relationship.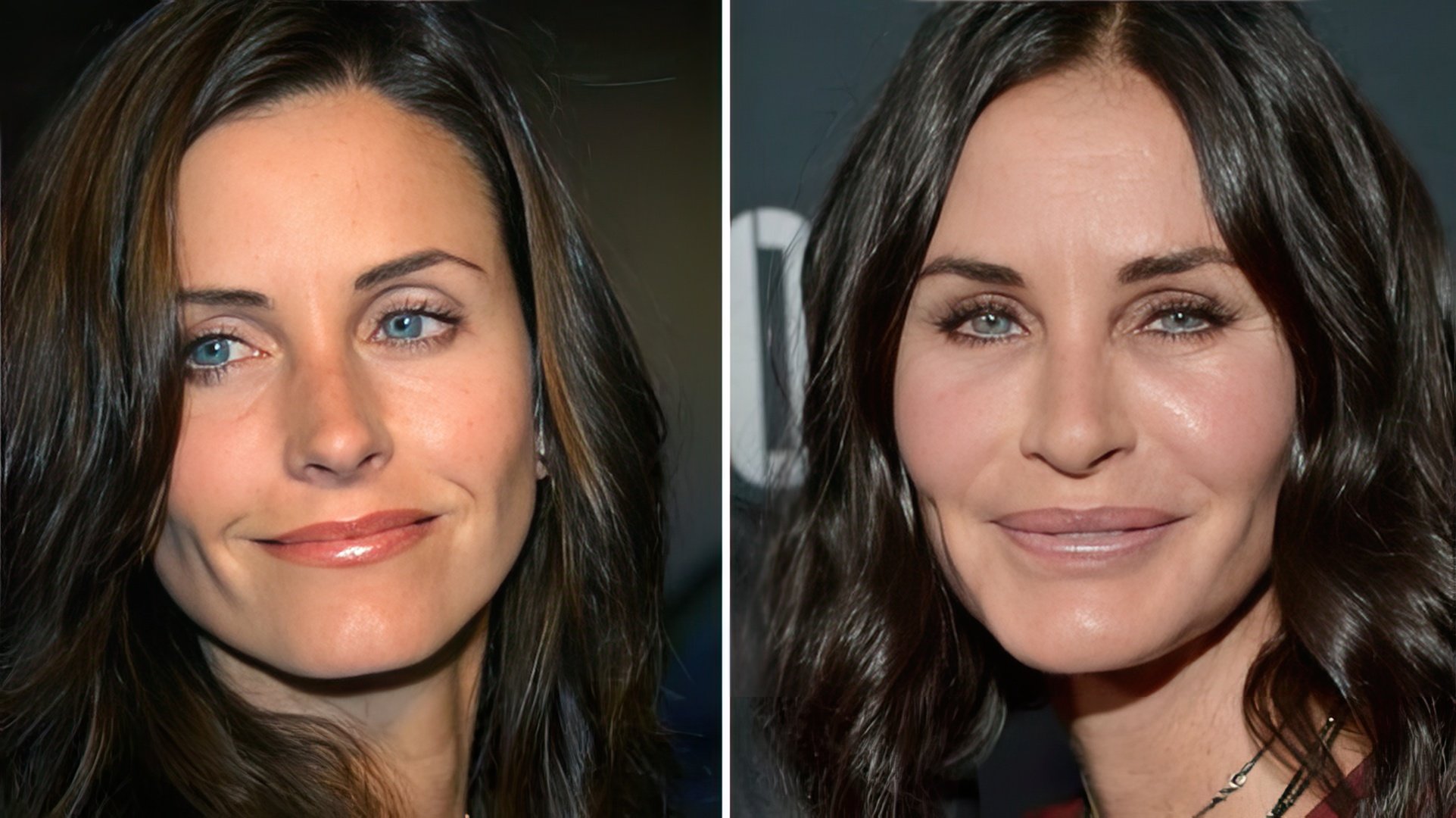 Meanwhile, her ex-husband David Arquette called for a review of the custody terms for their shared daughter, who reportedly complained to him about her mother's overly strict control. As a result, Arquette filed a lawsuit seeking to limit some of Cox's parental rights.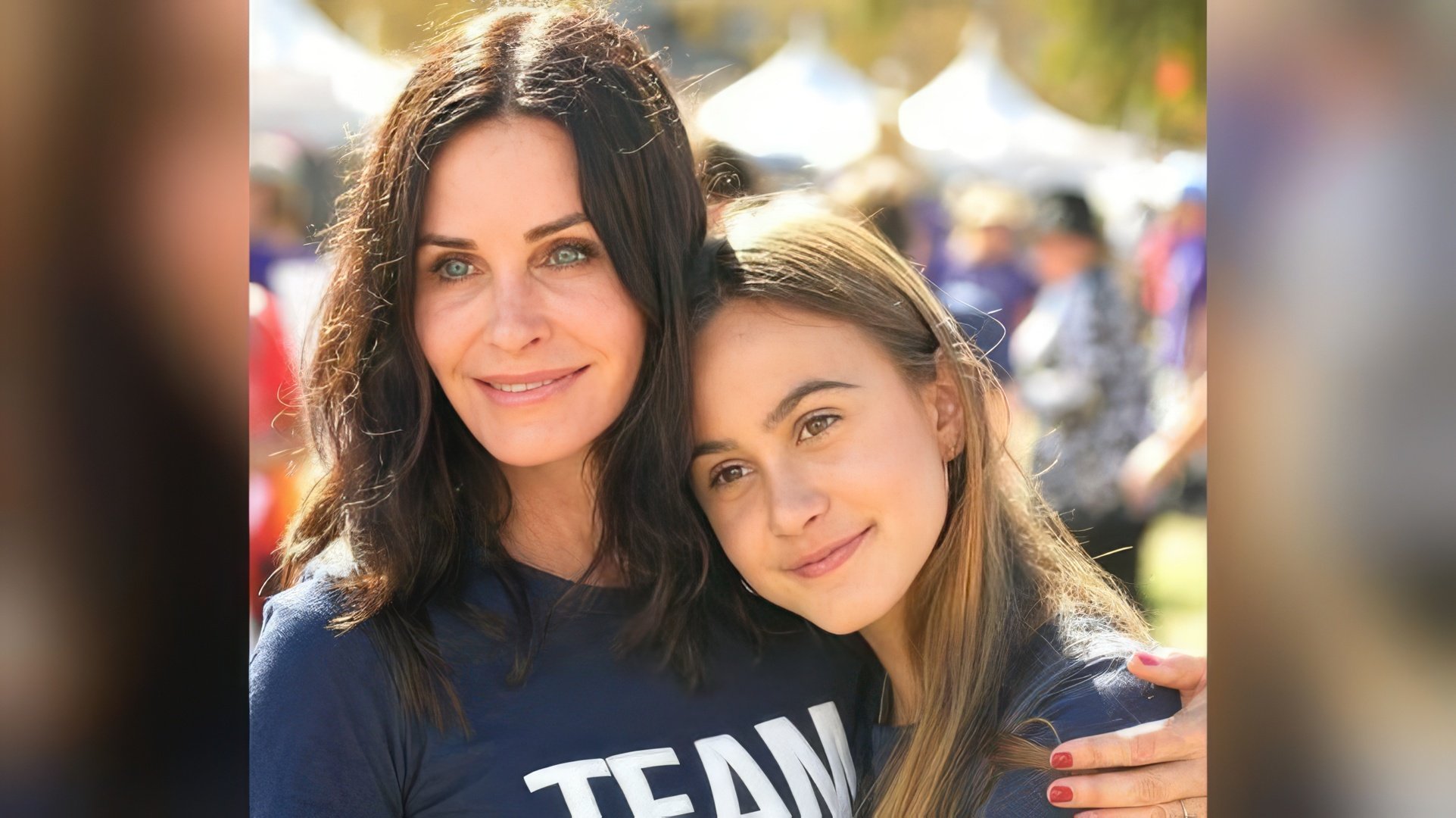 Courteney is proud of her daughter's achievements. Coco Arquette has a beautiful singing voice, which Courteney showcased in a video on her Instagram.
Courteney Cox Now
In 2020, Courteney joyfully shared news about a long-anticipated reunion of the six friends in a 60-minute episode. "Friends" would return to screens, and for this, the main cast members met twice for dinner.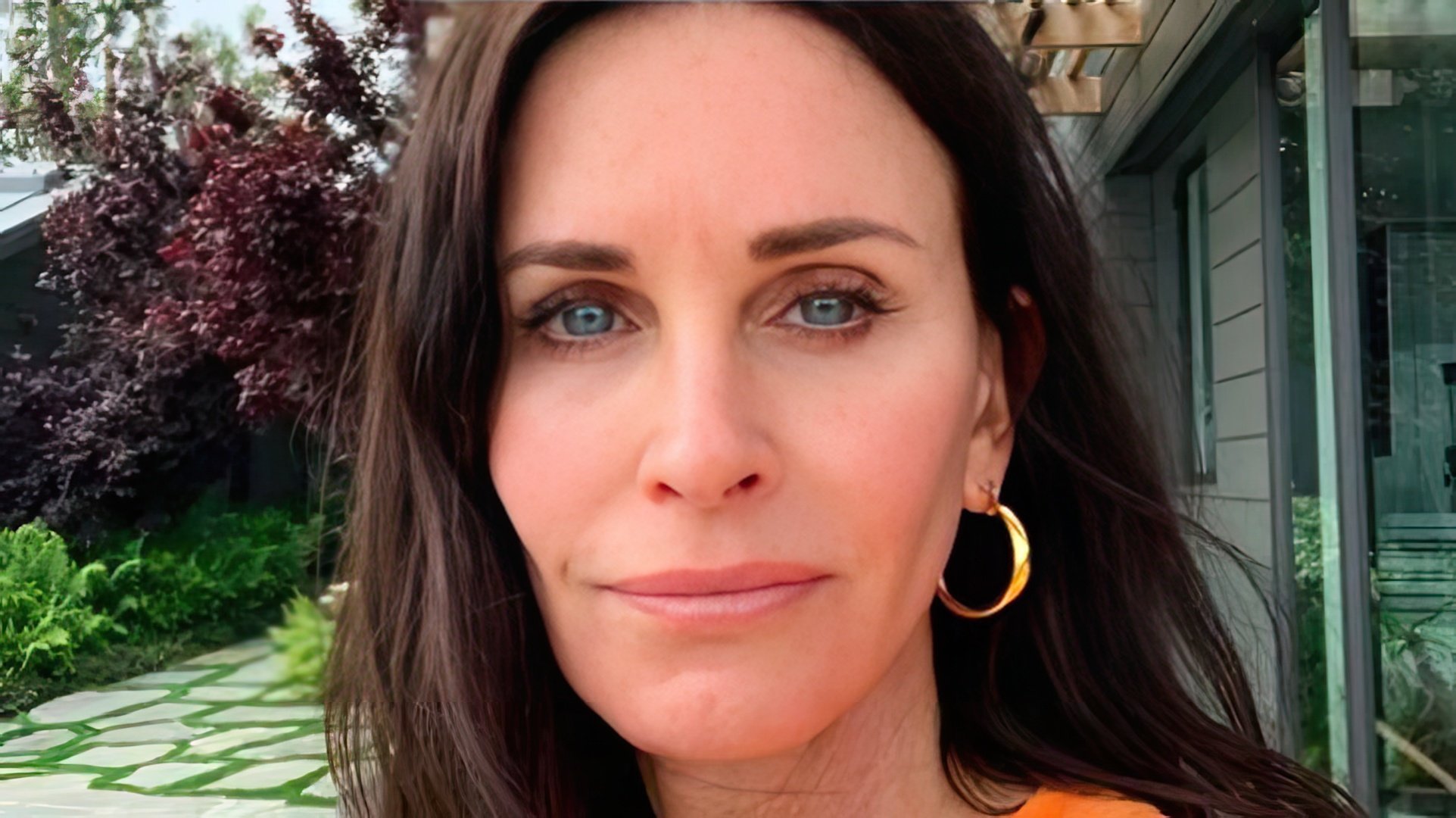 The first dinner took place at Courteney's house, while the second was at her friend Jennifer Aniston's. The actors hadn't gathered together in over fifteen years, but according to Cox, they had an incredible time:
The most exciting part is that we'll all be together in a room for the first time, discussing the show. It will be available on the streaming service HBO MAX. I'm so thrilled. I'm sure we'll have a fantastic time. It's going to be amazing. We met to discuss everything and reminisced about the incredible experience we had. The launch will be fantastic!
In January 2022, the movie "Scream 5" was released, with Courteney Cox returning to the role of Gale Weathers. On the "Drew Barrymore Show," the actress explained that the new "Scream" isn't a remake or a reboot of the franchise, but the first installment of a new franchise. In March 2023, "Scream 6" was released.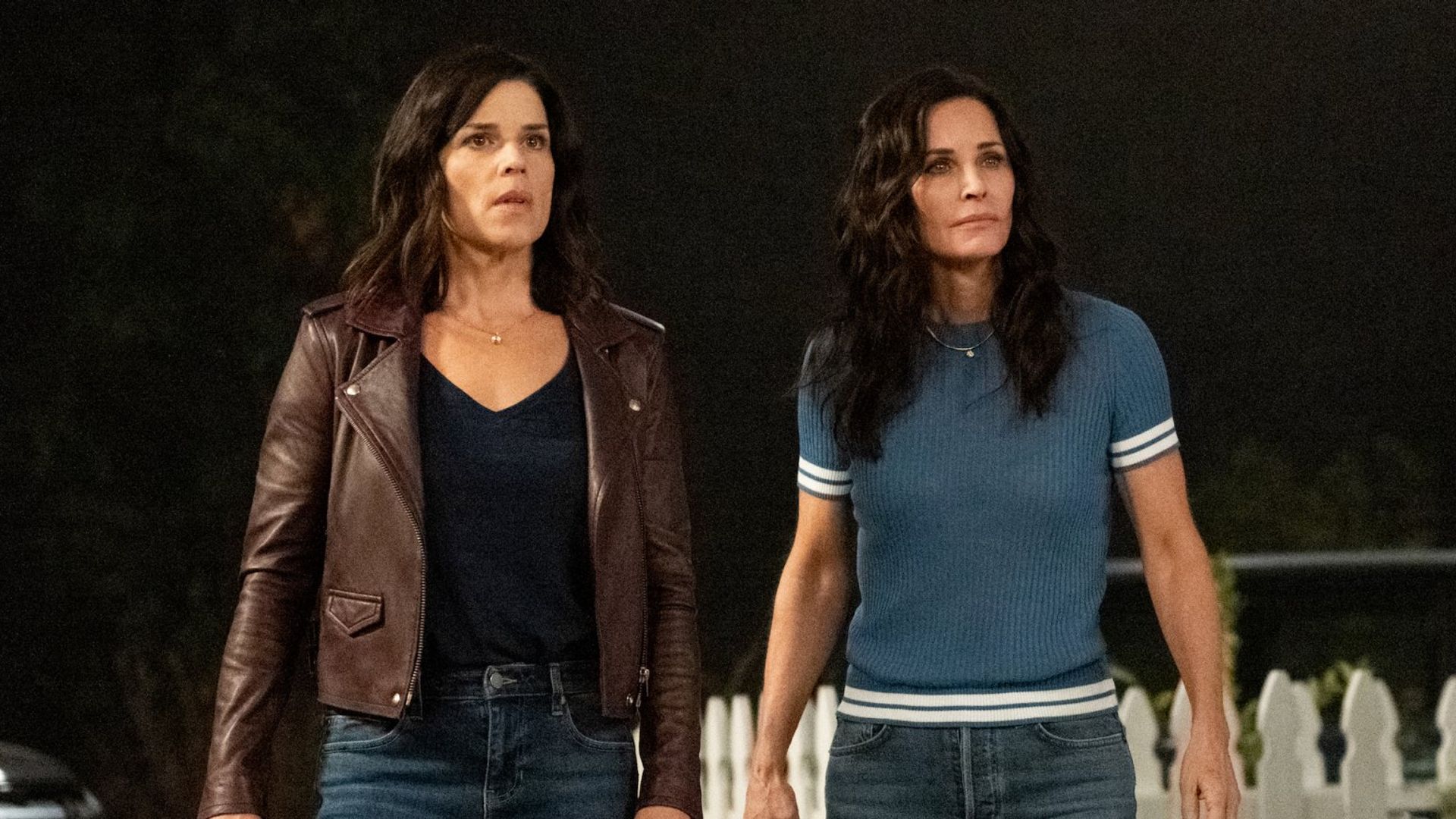 Press Ctrl+Enter If you find a mistake