Emilia Clarke
When
Emilia Clarke
's parents complained that her character Daenerys Targaryen didn't get enough screen time in the 6th Season of the Game of Thrones, the actress put them on to watch the great and significant episode for her, where Daenerys appears without clothes from the burning temple. Later in an interview she said that her dad, seeing his daughter naked, exclaimed: What? again?
Dakota Johnson
Before the release of the Fifty Shades of Gray Melanie Griffith said that her daughter,
Dakota Johnson
had forbidden her to watch the picture. Griffith explained that she's quite not interested in such films.
Johnson said her mother might someday be able to watch the film, but Melanie insists it will be too embarrassing. A mother doesn't need to see her child tied up and spanked like a sex beast, the actress explained. A year after the film was released, Griffith admitted that she saw some parts, but not nude scenes.
Margot Robbie
Margot Robbie
was practically unknown until The Wolf of Wall Street. Her amazing play in the film declared her the main talent in Hollywood, at the same time securing for her the image of a sexy beauty.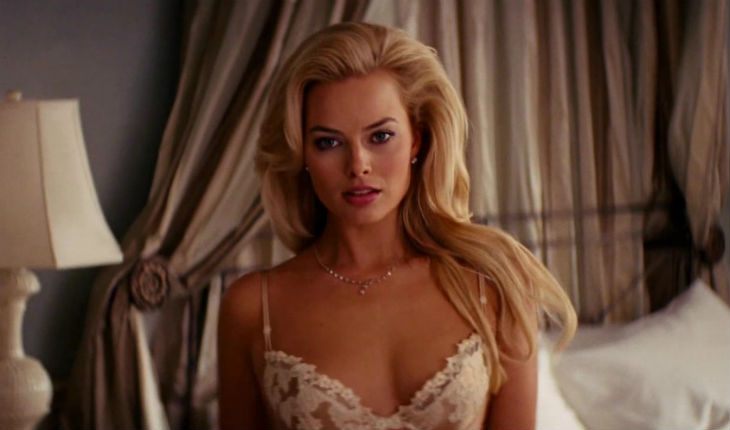 Before The Wolf of Wall Street was released, Robbie lied, telling her family living in a small Australian town that they were not filming nude scenes and that all the rumors they heard were not true.
Understanding that it was not the best plan, Robbie lied again, persuading her parents that the film uses computer graphics: I said that in fact it's a double body and the filmmakers just put my head on someone else. The actress explained that her family has nothing to do with the entertainment industry, so they were simply surprised at the cinema possibilities and believed it.
Sophie Turner
When
Sophie Turner
began acting in the Game of Thrones, she was still a child. Mom accompanied her to Croatia for the first three years of the series, which meant that she had witnessed directly multiple sex scenes. Turner said that her parents were at first shocked by the number of 18+ scenes: They knew that this was a high-quality show and not just an adult film, but they would still be happy if there were no such scenes.
Unfortunately, the first time her father appeared on the set, he witnessed the rape of Turner's character. Surprise, Dad! It was awkward, - said Turner in an interview.
Zac Efron
Zac Efron
visited the screening of Nicholas Spark's novel The Lucky One in 2012 with his mother Starla Baskett. Zach recalls: We watched the movie together and I was writhed out and embarrassed a bit. Despite the fact that my mother was at a distance of several seats from me, I tried to hide during bed scenes, because it was too embarrassing for me.
Zac's mom just laughed at the picture, exclaiming: This is my boy! Efron is sure that his mother is proud of him, even if she was strange to watch some scenes. My mom is my biggest fan.
Mila Kunis
Natalie Portman
and
Mila Kunis
embodied the fantasy of many men around the world with their sex scene in The Black Swan. But not everyone became awkwardly excited in cinemas. Mila's father, Mark Kunis, was terrified.
Mila said in an interview: If I'm not mistaken, he left during the sex scene. He doesn't want to imagine that his daughter does such things. I'm not sure if he watched other films with me after that.
Nina Dobrev
When
Nina Dobrev
was shot in the Vampire Diaries, her mother Michaela Konstantin visited the set from time to time and once caught a sex scene. Despite the fact that it was uncomfortable to act in front of her mother, it was even stranger that her mother advised how to behave in intimate moments.
Bend your back more. It will look sexier if you arch it, - said Nina's mom when she was lying in bed with her boyfriend Ian Somerhalder.
Kristen Stewart
Kristen Stewart
started her career in films full of bed scenes, she was really nude and a lot on the screen. The actress herself is sure that the 2010 Welcome to the Rileys film was perhaps the hardest one for her parents. It shook me too and I think my parents probably felt the same way. But we never discussed it, - said Kristen.
But the love scenes in the On the road drama were appreciated by her parents. Stewart's mom visited the Cannes after watching it and was very proud.
Shailene Woodley
In 2014

Shailene Woodley

starred in the White Bird in a Blizzard, where there was more than one bed scene.

Woodley recalls: It was insane. But I felt great while shooting. I was naked and without retouching. Nothing extra, as I am just 22. My breasts looked beautiful. My parents watched the picture, of course, they were embarrassed but both really enjoyed it.

If you have ever watched sex scenes on TV or in films with parents then you know how awkward the moment is. Now imagine that you are watching a bed scene with your participation. Actors and actresses have difficult times. Zoomboola.com collected the reactions of parents to the most notable nude scenes of famous children.