Ellen DeGeneres's biography
Ellen DeGeneres is an American TV host, comedian, actress, writer, producer and LGBT-activist. She's been hosting her own talk show, The Ellen DeGeneres Show, since 2003. Net worth: $330 million.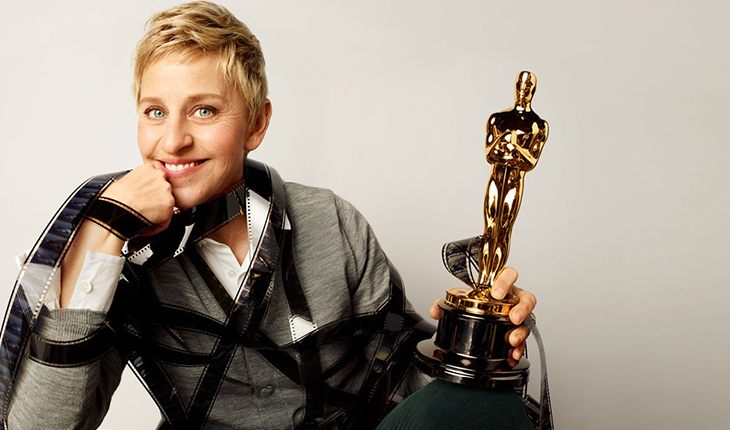 Childhood and youth
Ellen Lee DeGeneres was born on the 26th of January 1958 in Metairie, Louisiana. Her mother, Elizabeth Jane (nee Pfeffer, born in 1930) was a speech therapist and her father, - Elliott Everett DeGeneres (1925-2018) was an insurance agent. Ellen has a brother named Vance, who also works on television and is a pretty talented musician.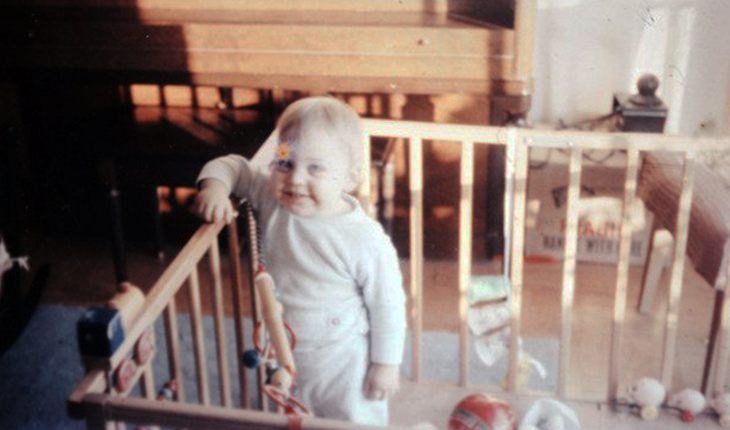 Ellen's of French, English, German and Irish descent. Among her relatives there are royalties as well: in 2011, Ellen found out that her distant cousin is no other than Kate Middleton, Duchess of Cambridge.

Her parents divorced when she was 15 years old. Soon enough, her mother got remarried to salesman Roy Gruessendorf and they all moved to Atlanta, Texas. Vance stayed with his father.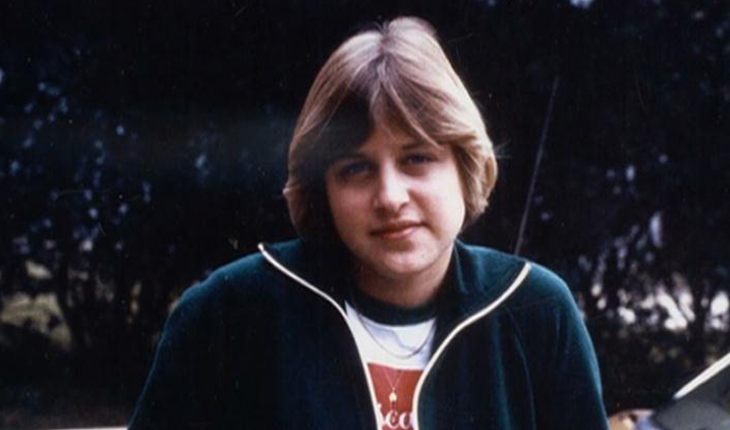 In Atlanta, DeGeneres graduated from middle school, and then she came back to Louisiana where she attended the University of New Orleans, majoring in communication studies. Actually, her studies didn't last more than a year – Ellen abandoned her university studies and went to do clerical work at a law firm with her cousin. Moreover, young Ellen got to work as a waitress, sales assistant, house painter, hostess and barman.
TV career
Her substantial life experience, excellent sense of humor and oratorical abilities brought Ellen DeGeneres on stage: at the end of the 1970s, she started doing stand-up comedy in small clubs and coffee shops, influenced by the work of Woody Allen and Steve Martin.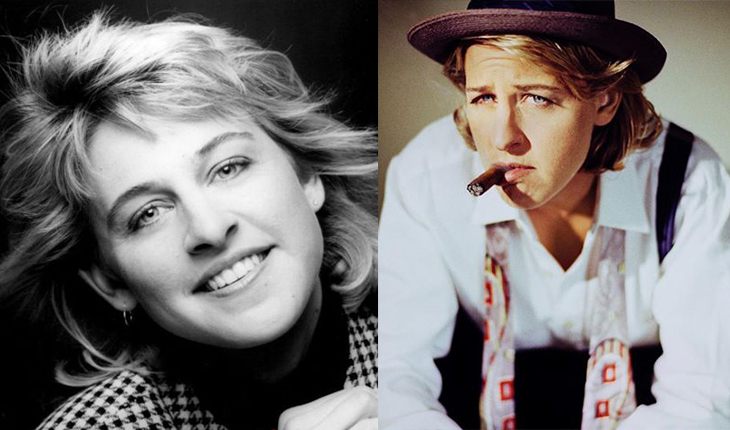 Towards 1981, she had already become a host at a comedy club and had been doing tours all around the country. In 1984, Ellen was a celebrity all around the US and the channel Showtime named her America's funniest person.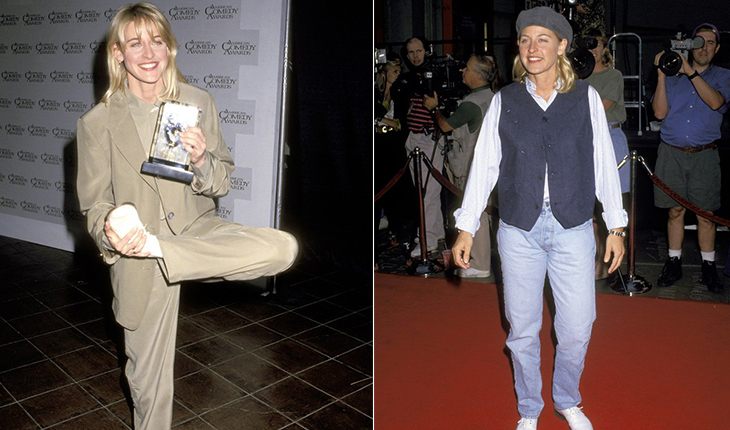 In between the 80s and 90s, DeGeneres was playing a role in the comedy series Coneheads, alongside Dan Aykroyd, Jane Curtin and Adam Sandler. She then got a bigger role in the series of the same period called Open House and in a bunch of other series, but her real fame surfaced after the successful released of the sitcom Ellen, which was broadcast on ABC from 1994 to 1998. The plot revolved around a middle-aged bookshop owner (Ellen DeGeneres) and her friends.
Ellen rose to fame in the April of 1997, when she came out admitting to being a lesbian on the show of Oprah Winfrey.
Her character from the sitcom made a similar confession during a therapy session, played by Oprah Winfrey. The episode named The Puppy Episode, was one of the highest-rated episodes of the series, even though, in time, the show lost its popularity. Some people believe that during that time, The Walt Disney Company, owner of ABC channel, felt uncomfortable investing in a show with a lesbian as a leading character. Finally, the show was cancelled and Ellen returned to comedy.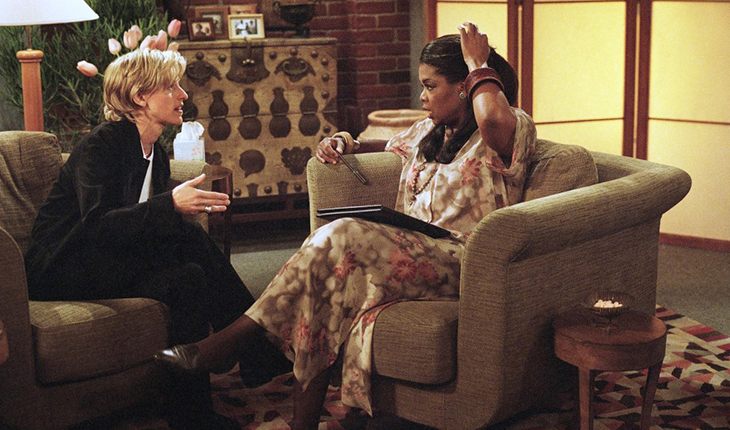 In September 2003, DeGeneres released her talk show The Ellen DeGeneres Show. One of the first guests on the show were the music manager Sharon Osbourne and comedian Rita Rudner, and that was only the beginning. The ratings kept on growing, earning the show 11 Emmy award only for its first season and some 14 more for the next two. The viewers loved Ellen for her easy-going way of talking to her guests, for her dancing and singing with the viewers, and for the cool prizes from sponsors.

Towards the mid-2000s, Ellen became America's symbol, with every person dreaming to be featured on her show. She was remarkable for her absolute spontaneity. For instance, in 2006, Ellen made a secret appearance at the opening of the Tulane University in New Orleans and came up to the tribune after the speech of George Bush, Sr. and Bill Clinton, wearing a bath robe and slippers. Both the students and the professors loved her entrance.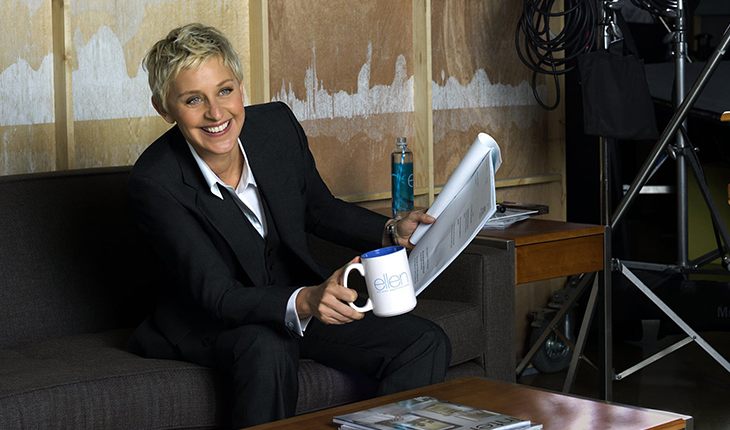 Nothing could ever stop DeGeneres: in 2007, she had a torn ligament on her back, but she went on with the show from her hospital bed, with her guests being on similar beds too.

A truly remarkable moment in Ellen's career was the 79th Oscars Award, which took place on the 25th of February 2007. DeGeneres was the event's first LGBT host. During the event, she said:
What a spectacular night, such a diversity among the audience – and in the year where there has been a lot of negativity going on about race, religion and sexual orientation. So, I just want to say this: if there were no black people, no Jews and no gays, there wouldn't have been any Oscars either, or nobody with the name of Oscar, if you think about it.
Another Oscars event became outstanding thanks to a selfie. During the 86th award ceremony in the March of 2014, Ellen took a selfie that became the second most popular Instagram post in history. DeGeneres declared that she would like to pay her respect to Meryl Streep's 17 Oscars nominations, and invited actors – Bradley Cooper, Julia Roberts, Brad Pitt, Kevin Spacey, Jennifer Lawrence, Channing Tatum and others – to join her group photo. The selfie was subject to many parodies and became a sort of trademark of the modern Oscars. On May 1, 2009, DeGeneres celebrated the release of her show's 1000th episodes, inviting Oprah Winfrey, Justin Timberlake, Paris Hilton and other famous people on her show.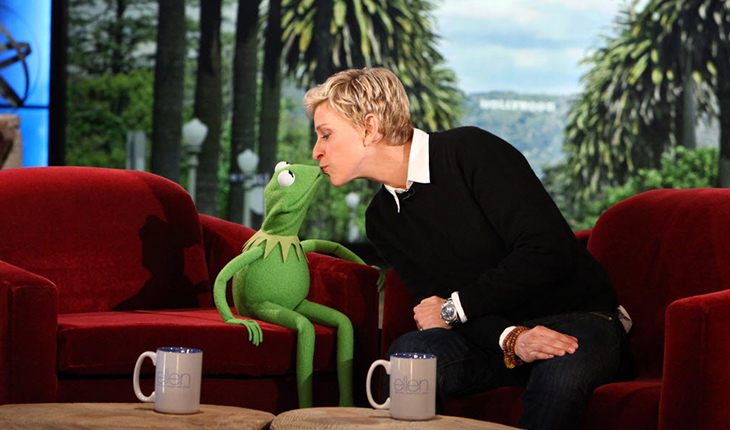 The following year, Ellen replaced Paula Abdul and became a judge on the 9th season of the show American Idol. Even though Ellen signed a contract for five seasons, she's only been on one, saying that the show isn't exactly her thing. Further on she confessed that taking part in American Idol was one of the worst decisions in her career. From 2017, Ellen has been hosting the game show Ellen's Game of Games on NBC. The show is based on the fun games from her talk show.
Ellen DeGeneres's personal life
Ellen DeGeneres's coming-out in 1997 was a huge subject of interest for American tabloids and it shook her mother, taking her quite the long time to come to terms with the fact. Her father, on the contrary, accepted it wholeheartedly. He was never judgmental about it, - Ellen recalls.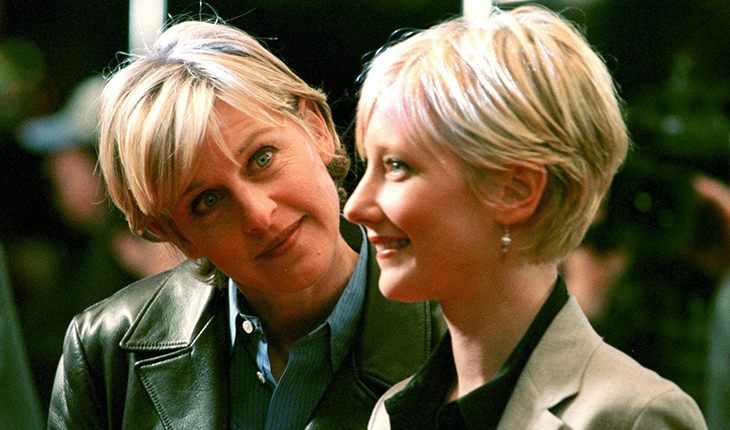 The same year, DeGeneres got into a relationship with actress Anne Heche, their affair going on for about three years. During the first half of the 2000s, Ellen was dating producer and photographer Alexandra Hedison. The couple even made an appearance on the cover of the LGBT-magazine The Advocate – however, it was after they split.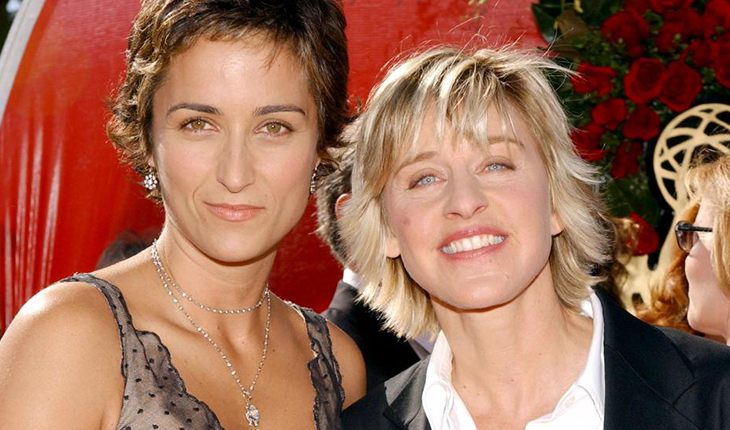 From 2004, Ellen has been in a serious relationship with Australian-American actress Portia De Rossi (born in 1973). Before that, Portia was married to producer Mel Metcalfe. According to the actress, their marriage was fake: she needed a Greencard. Portia herself came out to her parents at the age of 16.

According to Zoomboola.com, in 2008, after the ban on same-sex marriage was lifted in California, DeGeneres and De Rossi had a got married and had a modest wedding reception at their house in Beverly Hills, where they both live with four dogs and three cats. In 2010, Portia took her wife's last name.

Both Ellen and her wife are vegan and huge animal lovers. DeGeneres launched a site advertising veganism (Going Vegan With Ellen), and she also planned on opening a vegan tapas-bar in Los Angeles, but her intention failed, for some reason. Moreover, Ellen is a member of the PETA organization (People for the Ethical Treatment of Animals) and an activist of the Wildlife Trust. In order to support the activity of the latter, DeGeneres put up T-shirts with the same name on sale.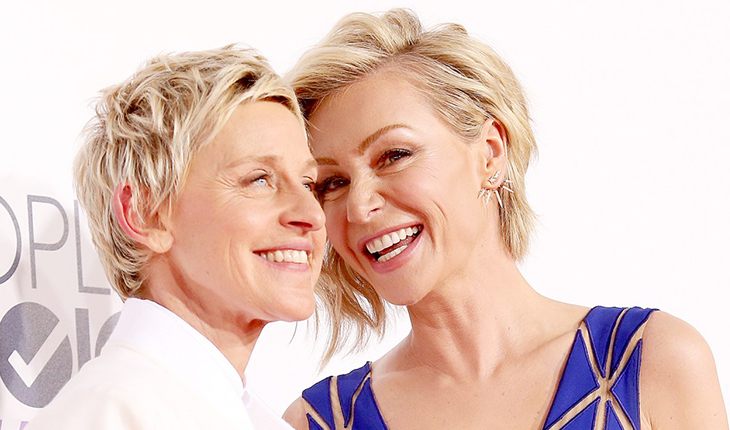 In January 2018, on her wife's 60th anniversary, Portia gave Ellen a gorilla reserve in Rwanda as a present, opened from the host's name for the local fund. Today, the fund is called The Ellen DeGeneres Wildlife Fund.
Ellen DeGeneres now
The woman continues to host her TV show, which has remained popular among the American audience for many years. In 2020, the TV program was involved in a scandal. The reason for this was the dismissal of many program employees and the delay in salaries during the quarantine. As a result, the problem was resolved, and the program, bypassing the scandal, continues to exist.

Also, Ellen DeGeneres became the producer of the American animated series Green Eggs & Ham. The series is based on Doctor Seuss's children's book from 1960. Thirteen episodes, half an hour each, were released on Netflix in 2019.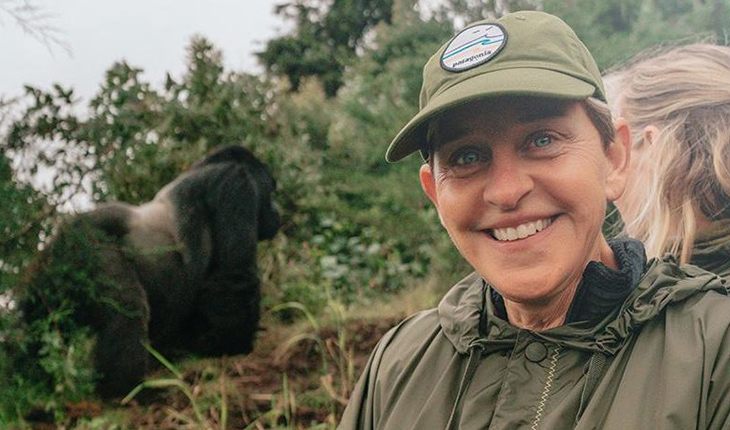 Ellen is also the co-producer of Katt Shea's mystery movie Nancy Drew and the Hidden Staircase, based on the novel with the same name from 1930. Sophia Lillis, Sam Trammell, Laura Slade Wiggins, and others starred in the movie. The film premiered in 2019.
Press Ctrl+Enter If you find a mistake