Ellen DeGeneres Biography
Ellen DeGeneres is an American TV host, comedian, actress, writer, producer, and LGBTQ+ activist. From 2003 to 2022, she hosted her own talk show, "The Ellen DeGeneres Show."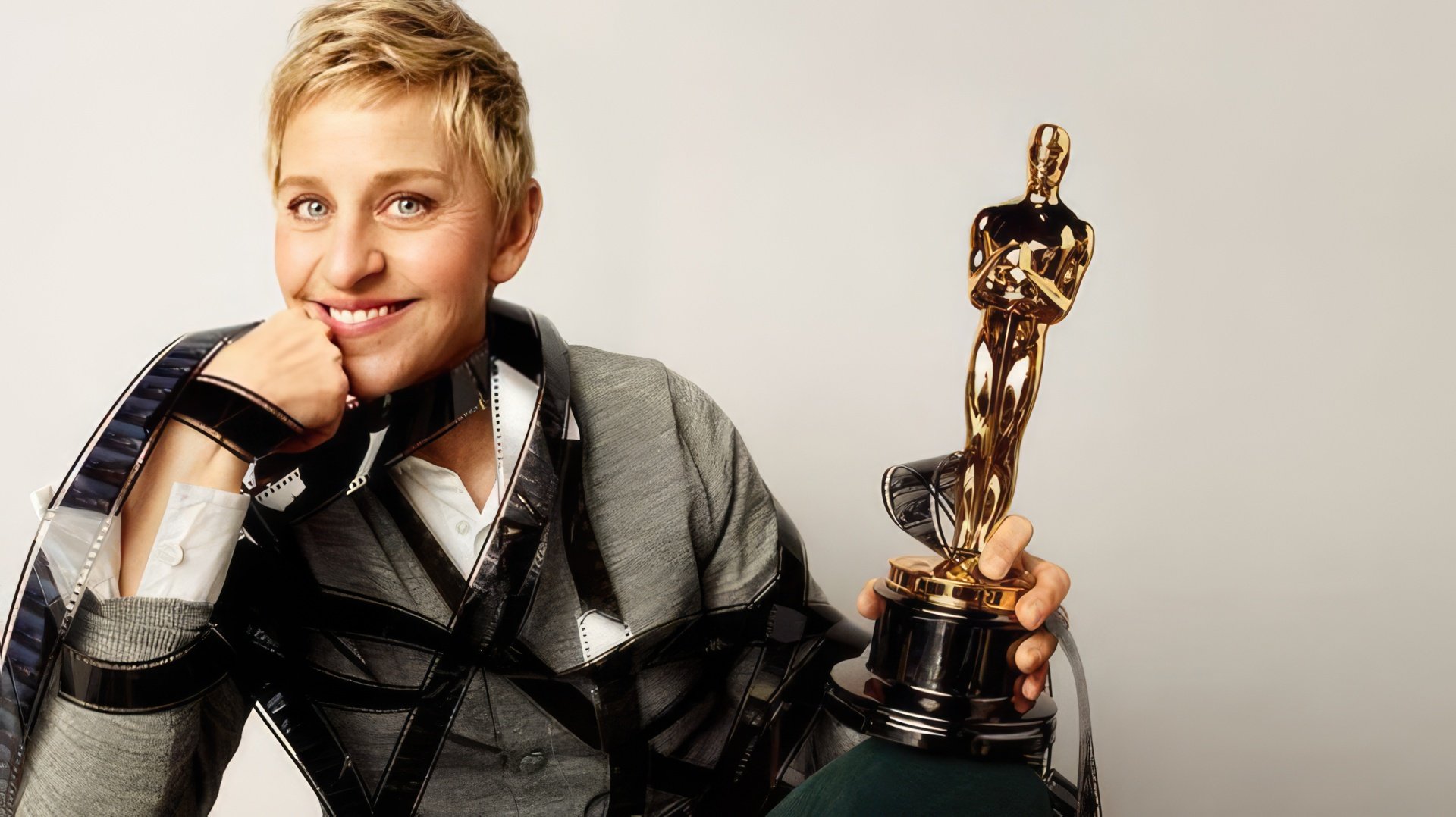 Early Life and Youth
Ellen Lee DeGeneres was born on January 26, 1958, in Metairie, Louisiana. Her mother, Elizabeth Jane (Pfeffer, born 1930), was a speech therapist, while her father, Elliot Everett DeGeneres (1925-2018), worked as an insurance agent. Ellen has a brother named Vance who also works in television and is a talented musician.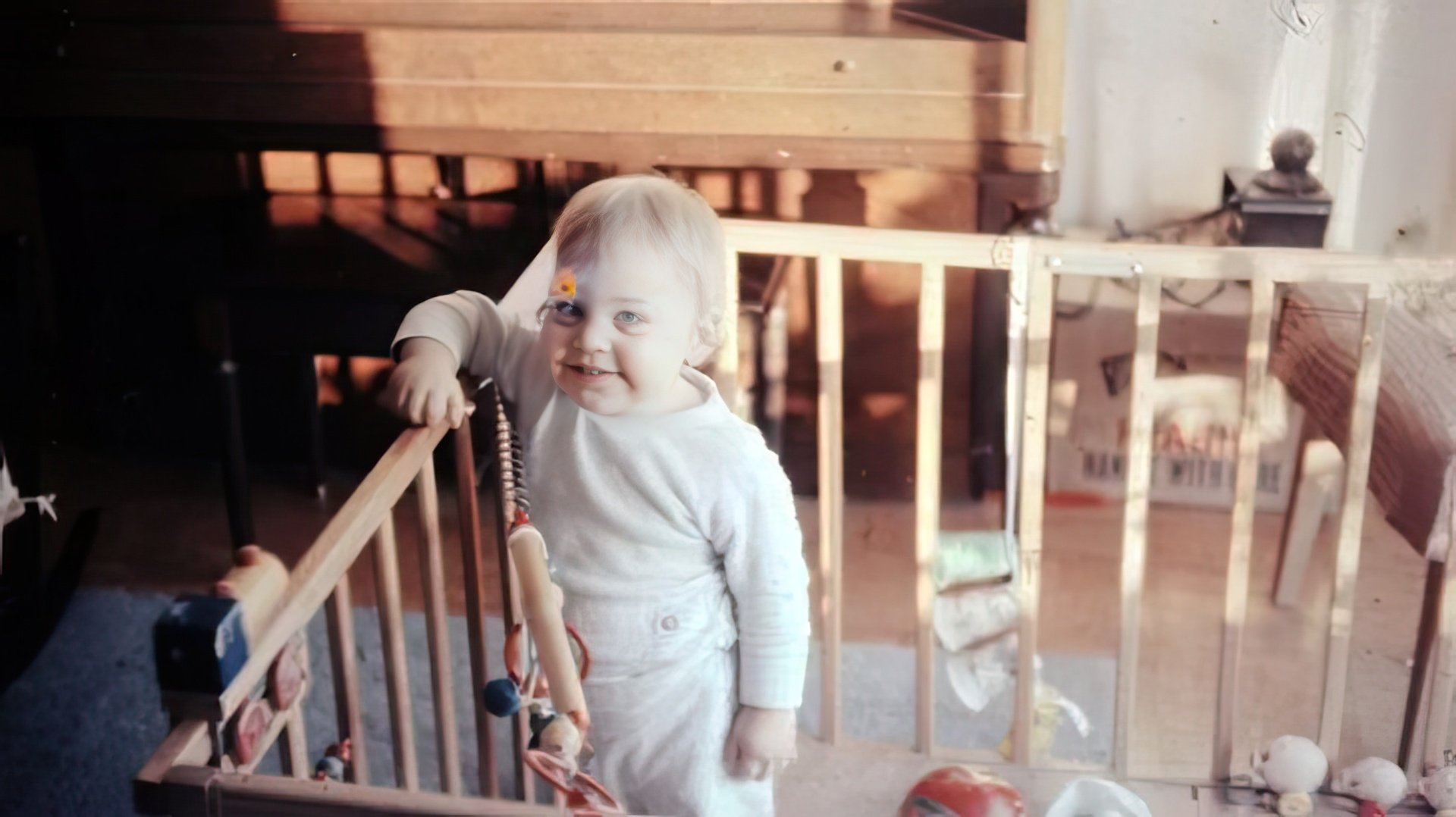 Ellen has French, English, German, and Irish ancestry. Among her relatives, there's even royalty: in 2011, Ellen discovered she is a distant cousin of Kate Middleton, the Duchess of Cambridge.

Ellen's parents divorced when she was 15. Shortly after, her mother remarried a salesman named Roy Gruessendorf and moved with Ellen to Atlanta, Texas. Vance stayed with their father.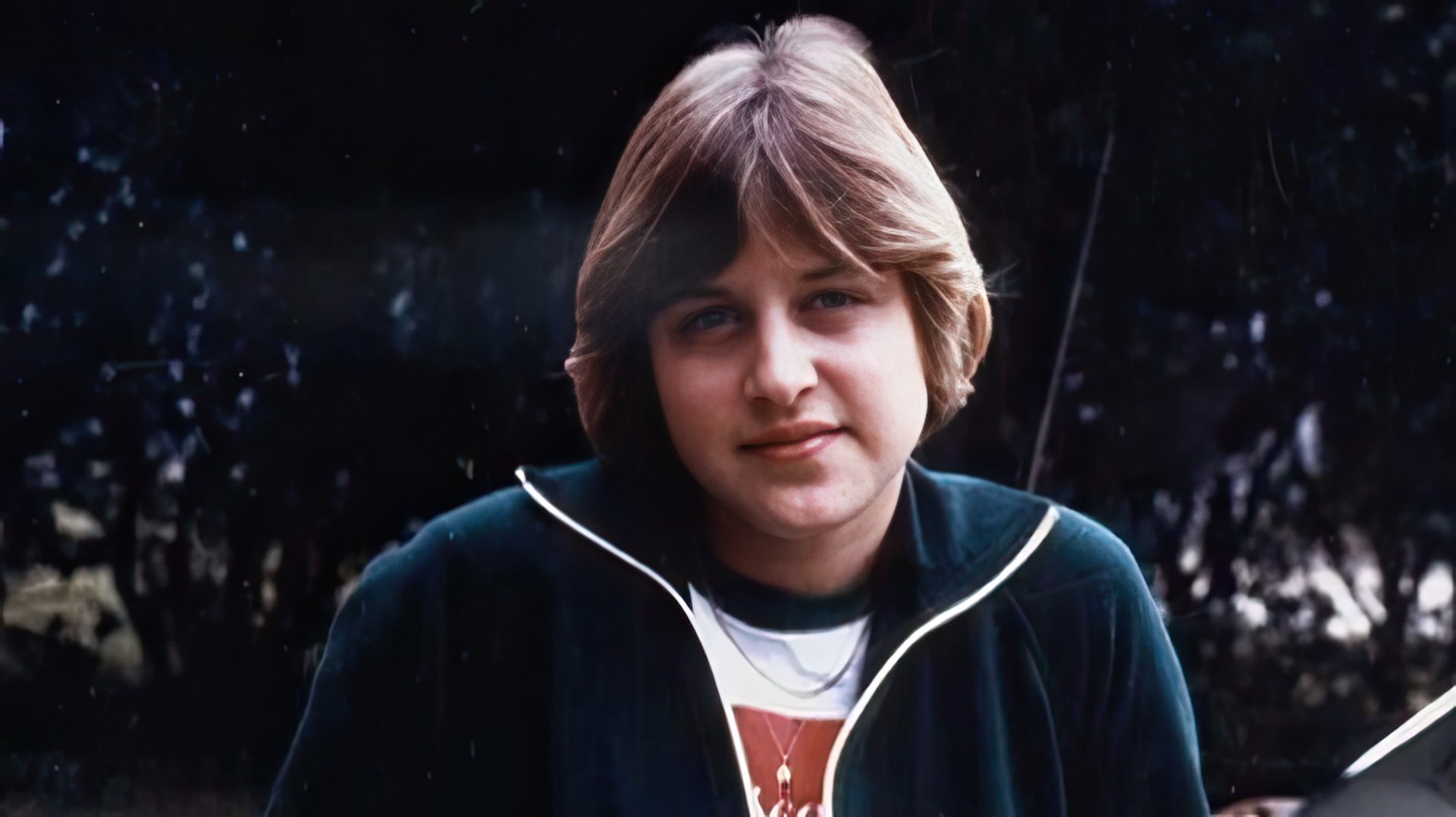 In Atlanta, DeGeneres finished high school. Later, she returned to Louisiana to attend the University of New Orleans, where she studied communication. However, after only a year, Ellen left the university to work as a clerk at a law firm alongside her cousin. Additionally, in her youth, DeGeneres held various jobs, including waitress, salesperson, painter, hostess, and bartender.
TV Career
Rich life experience, a keen sense of humor, and a knack for storytelling propelled Ellen DeGeneres to the stage. In the late 1970s, she began performing stand-up comedy monologues in small clubs and cafes, drawing inspiration from artists like Woody Allen and Steve Martin.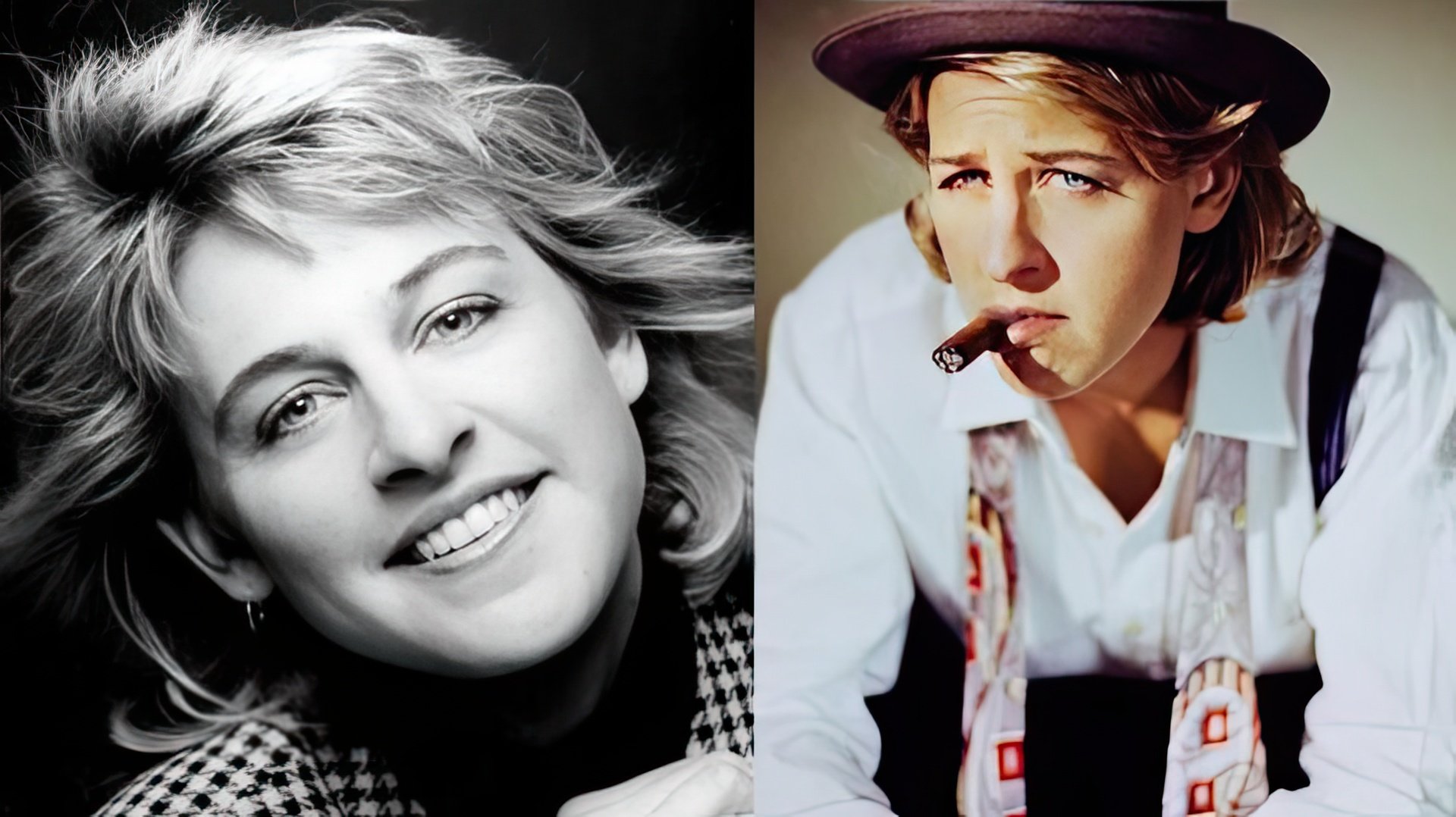 By 1981, she became a regular host at a comedy club and started touring nationwide. By 1984, Ellen had gained national recognition and was named "The Funniest Person in America" by the popular TV channel Showtime.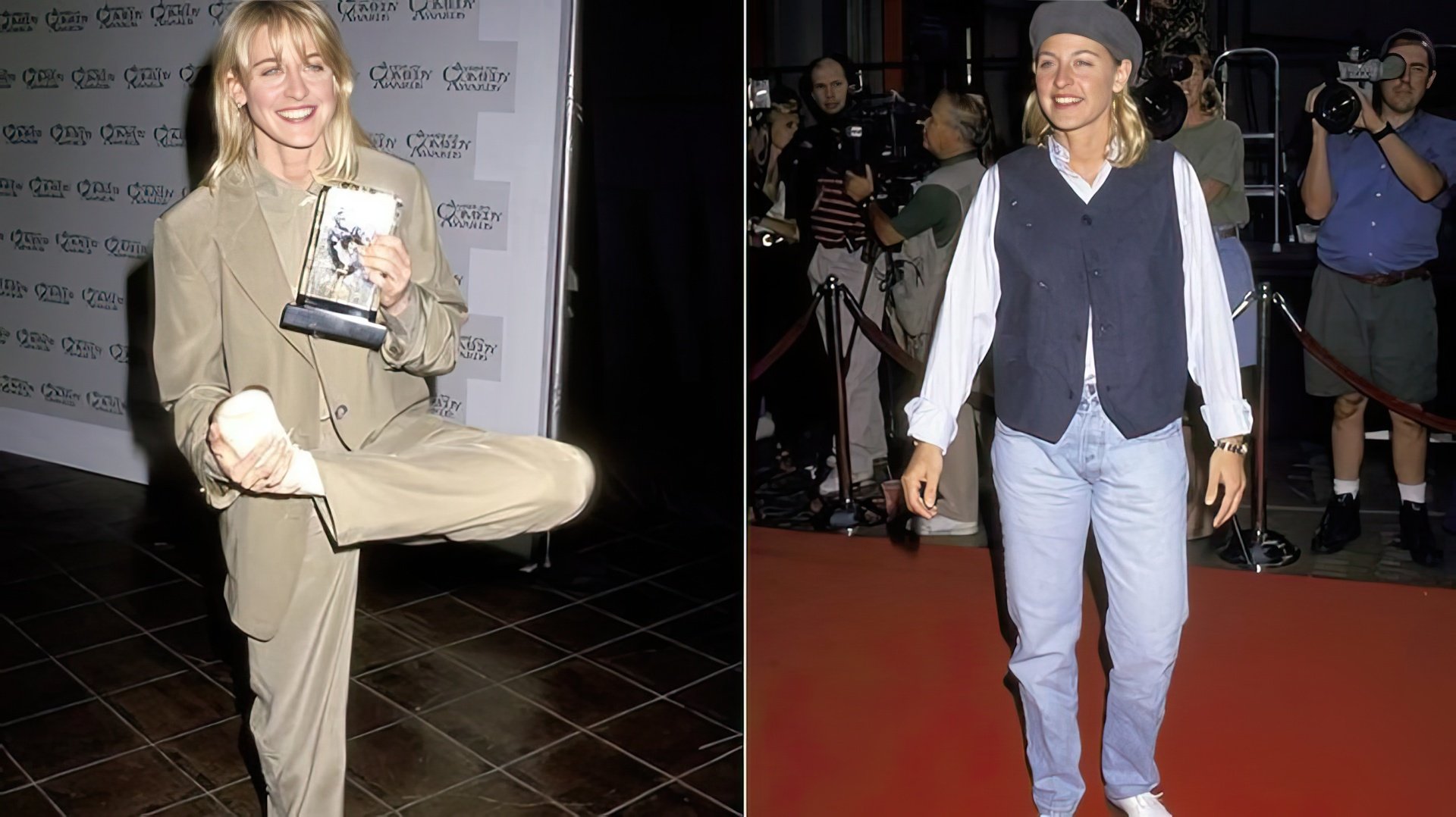 In the transition from the 80s to the 90s, DeGeneres starred in the comedy show "Coneheads" alongside Dan Aykroyd, Jane Curtin, and Adam Sandler. She landed a more prominent role in the same era's show "Open House" and several others, but her real breakthrough came with the sitcom "Ellen," broadcasted on ABC from 1994 to 1998. The show revolved around a middle-aged bookstore owner (played by Ellen) and her friends.
A massive surge of popularity came for Ellen in April 1997 when she publicly came out on The Oprah Winfrey Show.
Her character on "Ellen" also came out during a session with a therapist, played by Oprah Winfrey. This episode, titled "The Puppy Episode," became one of the show's highest-rated episodes. However, its ratings soon declined. There's speculation that during that time, The Walt Disney Company, owner of ABC, was uncomfortable promoting a show with a lesbian lead. As a result, the show was canceled, and Ellen briefly returned to stand-up.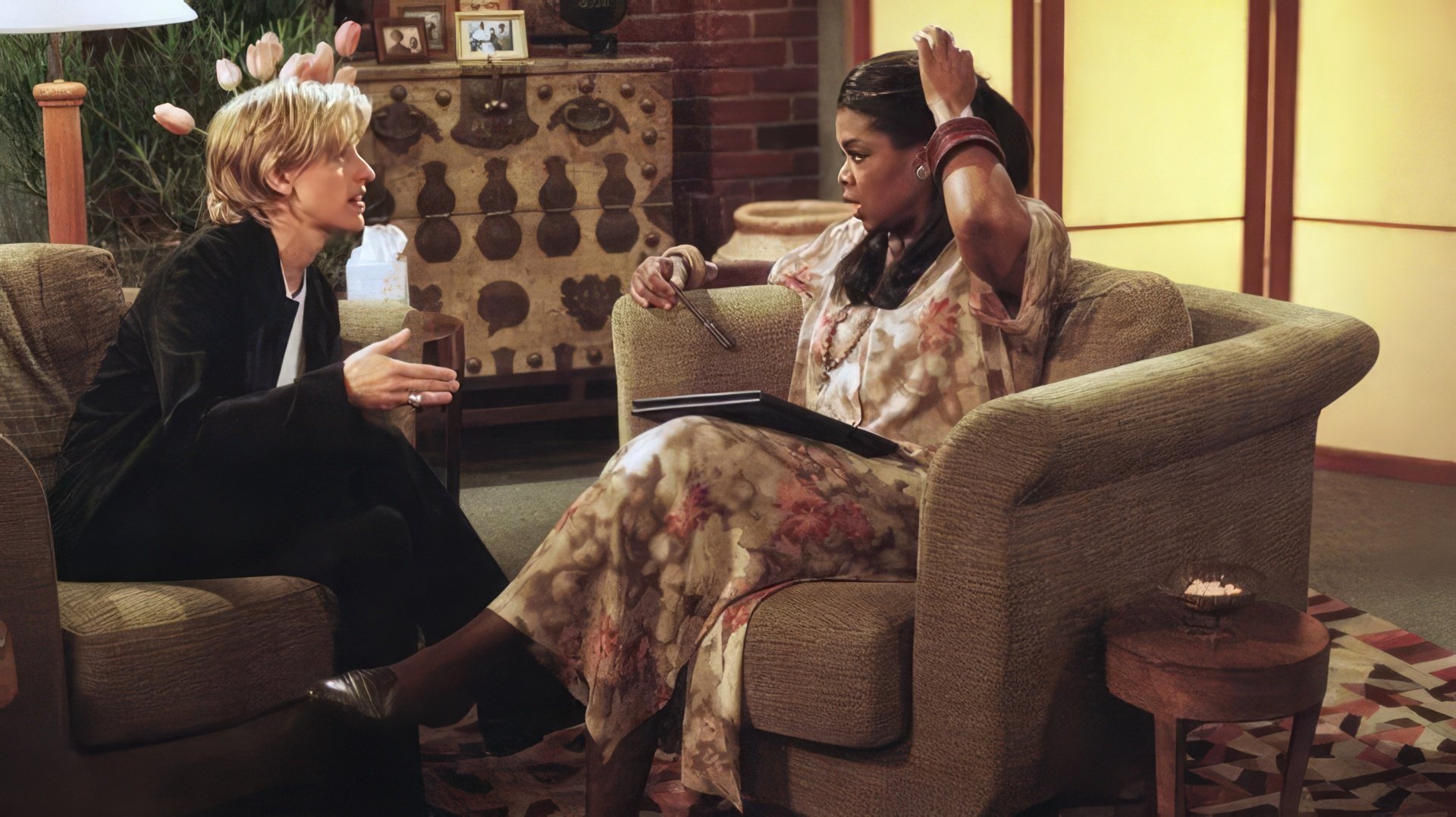 In September 2003, DeGeneres launched her daytime talk show, "The Ellen DeGeneres Show." Her first guests included music producer Sharon Osbourne and comedian Rita Rudner. Ratings consistently climbed, with the show securing 11 Emmy Awards in its first season alone and 14 more over the next two. Viewers loved Ellen's relaxed interview style, dancing with the audience, singing, and the enticing prizes from sponsors. By the mid-2000s, Ellen had become an American icon. Her show was a coveted platform for anyone in the country. She was unpredictable and full of surprises. For instance, in 2006, Ellen secretly attended Tulane University's opening in New Orleans. She took the stage after speeches by George H.W. Bush and Bill Clinton, dressed in a bathrobe and fluffy slippers, delighting both students and faculty.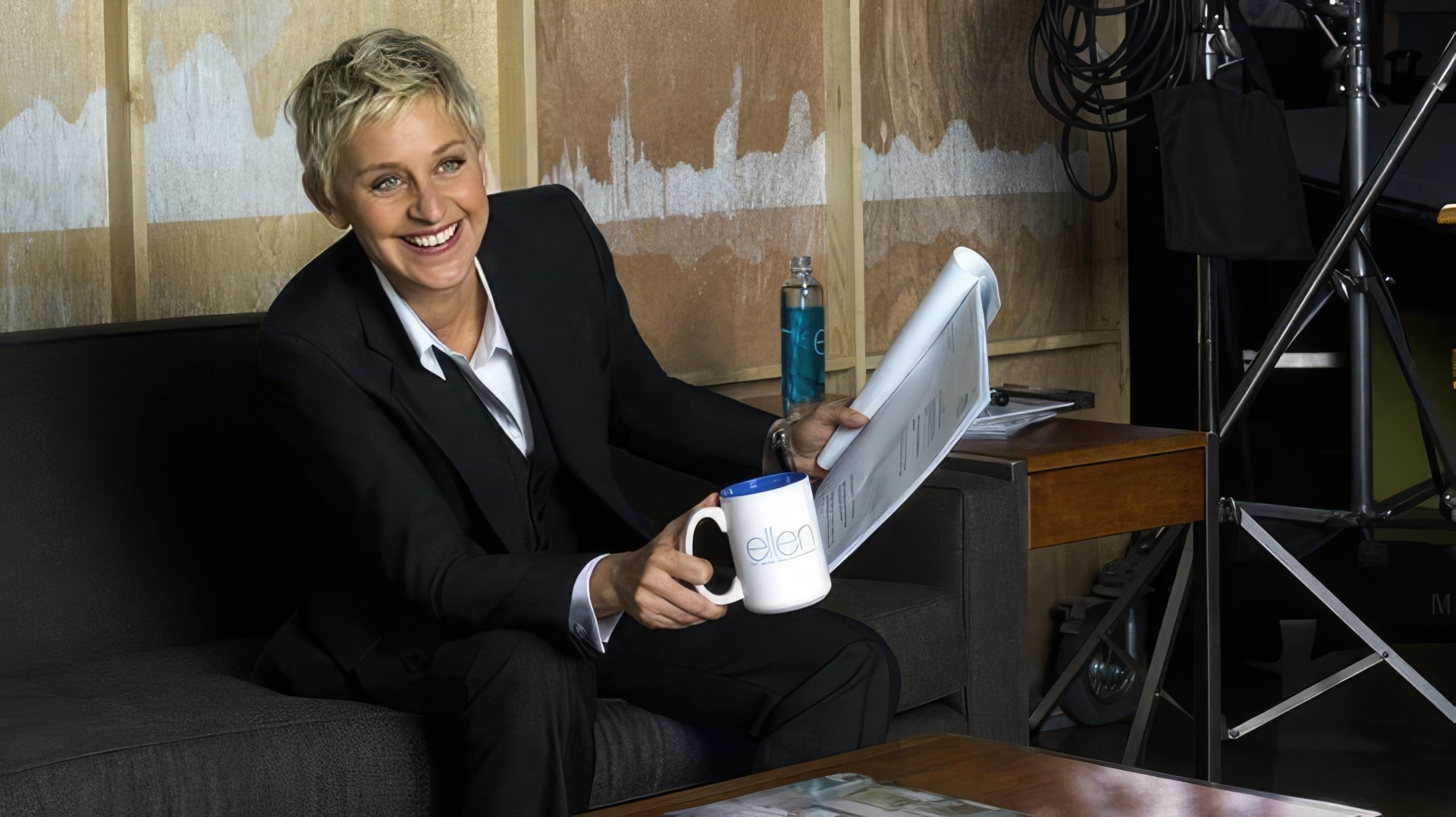 DeGeneres's perseverance shone when, in 2007, she suffered a back injury. Despite the pain, she continued to host her show from a hospital bed, with guests also seated on hospital beds.

A significant moment in Ellen's career was the 79th Academy Awards held on February 25, 2007. DeGeneres became the first openly LGBT-host of the event. Another memorable Oscar moment involving Ellen was a humorous selfie. During the 86th ceremony in March 2014, Ellen took a selfie that became the second most popular post on Instagram ever. DeGeneres said she wanted to honor Meryl Streep's 17th Oscar nomination and invited actors Bradley Cooper, Julia Roberts, Brad Pitt, Kevin Spacey, Jennifer Lawrence, Channing Tatum, and others to join the group photo. The selfie was parodied many times and became an iconic representation of modern Oscars.

On May 1, 2009, DeGeneres celebrated the 1000th episode of her show, inviting Oprah Winfrey, Justin Timberlake, Paris Hilton, and other celebrities to the studio.

The following year, Ellen replaced Paula Abdul and became a judge on the 9th season of "American Idol". Even though DeGeneres signed a contract for five seasons, she only stayed on the show for one, feeling it wasn't a good fit for her. She later admitted that joining "American Idol" was the worst decision of her career. Since 2017, DeGeneres has been hosting the game show "Ellen's Game of Games" on NBC. The show features fun games that originated on her talk show.

Ellen DeGeneres produced the American animated series "Green Eggs and Ham". The series is an adaptation of the 1960 children's book by Dr. Seuss. Thirteen half-hour episodes were released on Netflix in 2019.

Ellen also produced the mystical teen film by Katt Shea, "Nancy Drew and the Hidden Staircase", based on the 1930 book of the same name. The film starred Sophia Lillis, Sam Trammell, Laura Slade Wiggins, and others.
Ellen DeGeneres' Personal Life
Ellen DeGeneres' coming out in 1997 sparked significant attention from American tabloids and deeply affected her mother, who took some time to come to terms with it. In contrast, Ellen's father immediately accepted the news. "He didn't show a hint of judgment," Ellen recalls.

That same year, DeGeneres began a romantic relationship with actress Anne Heche that lasted about three years.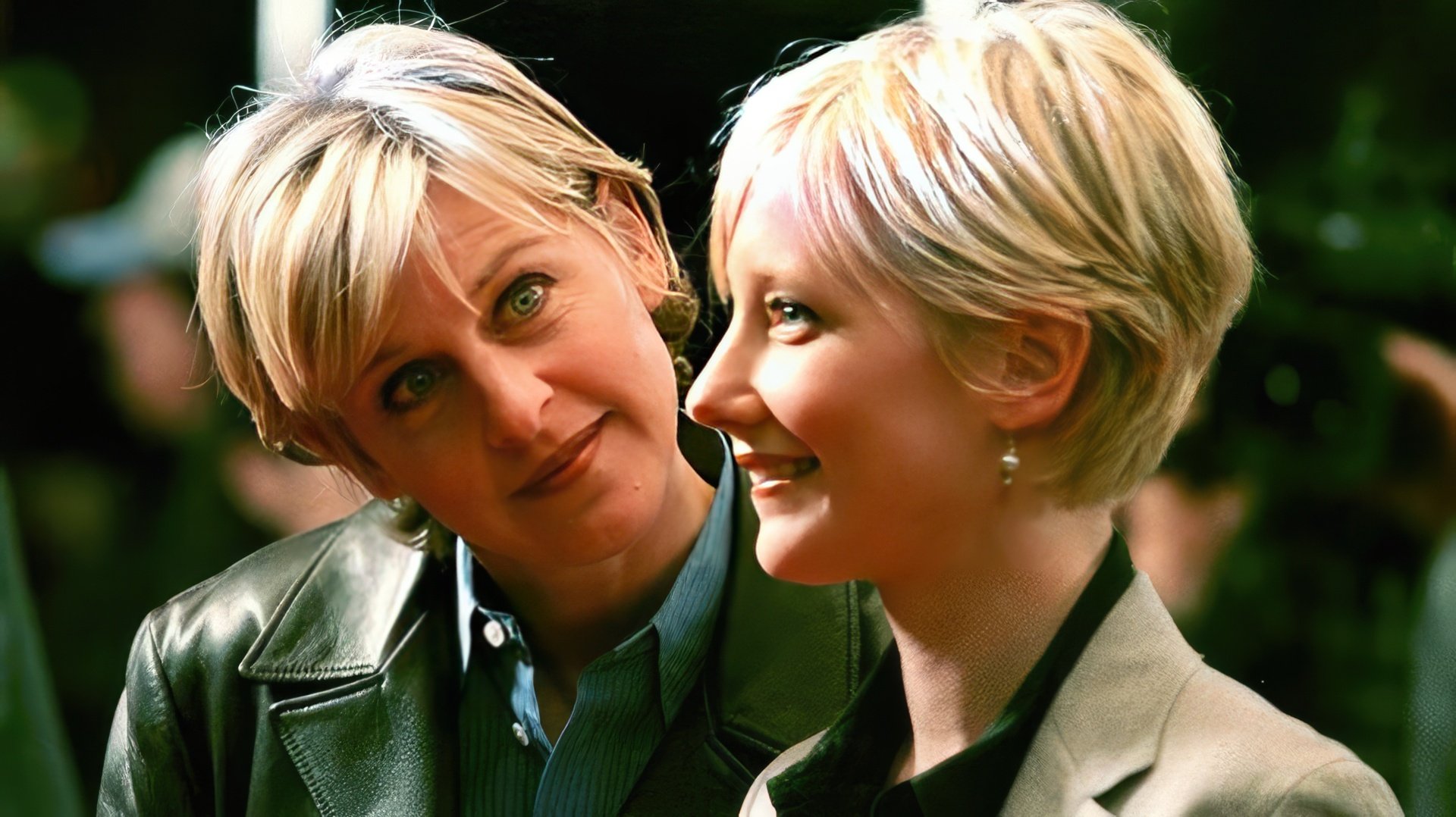 In the early 2000s, Ellen dated director and photographer Alexandra Hedison. The couple even graced the cover of the LGBT magazine "The Advocate" – although they had already split by then.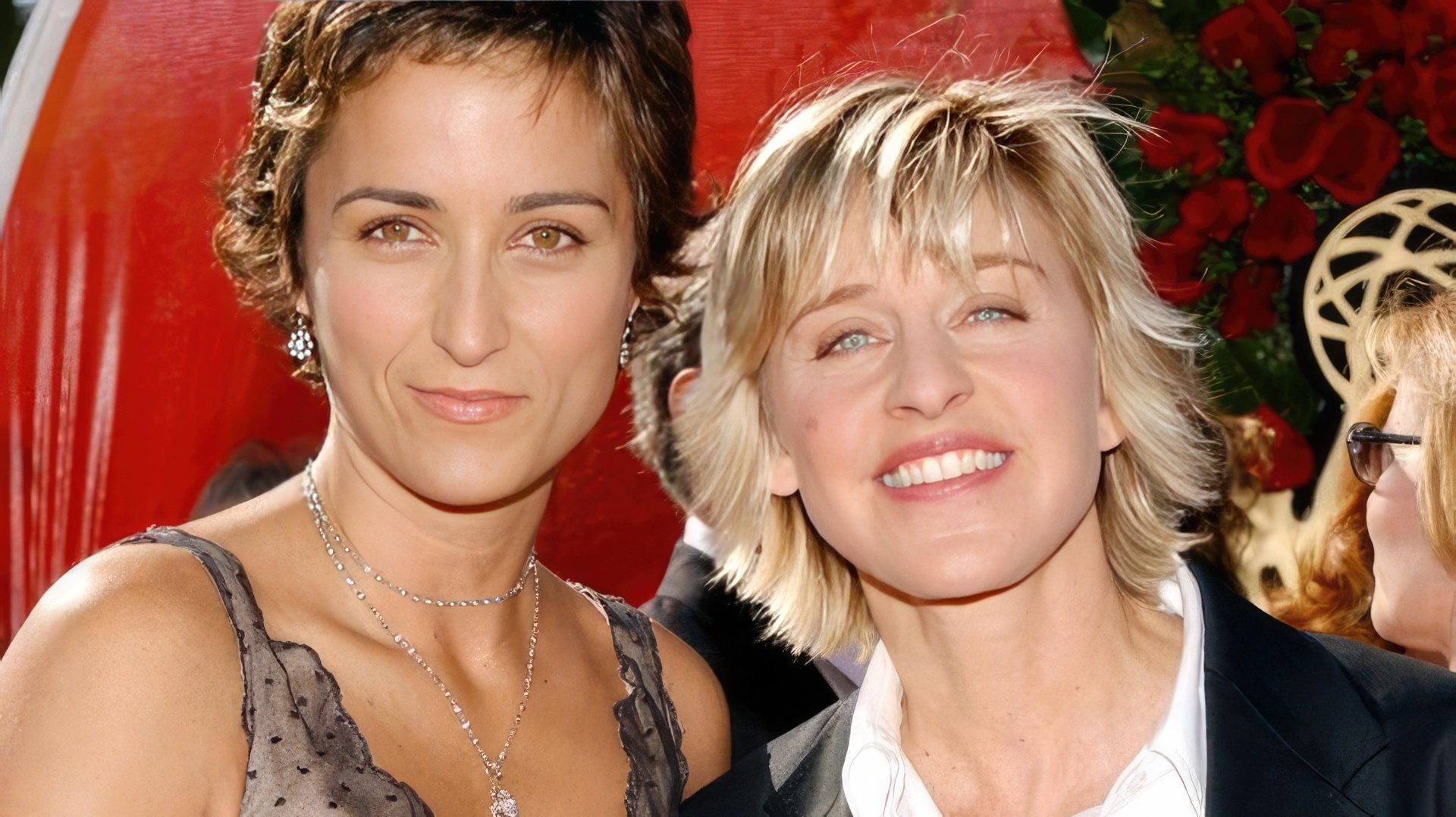 Since 2004, Ellen has been in a committed relationship with Australian-American actress Portia de Rossi (born 1973). Before this, Portia was married to director Mel Metcalfe. According to de Rossi, the marriage was a sham, primarily for her to get a green card. Portia came out to her parents about her sexuality when she was just 16. In 2008, following the lifting of the same-sex marriage ban in California, DeGeneres and de Rossi had a private wedding at their Beverly Hills home, where they live with four dogs and three cats. In 2010, Portia took her spouse's last name. Ellen and her wife are vegans and avid animal lovers. DeGeneres created a website promoting veganism titled "Going Vegan With Ellen." She even had plans to open a vegan tapas bar in Los Angeles, but for some reason, it didn't work out. Moreover, Ellen is a member of PETA (People for the Ethical Treatment of Animals) and an activist for the Wildlife Trust. To support the latter's mission, DeGeneres launched her line of branded T-shirts.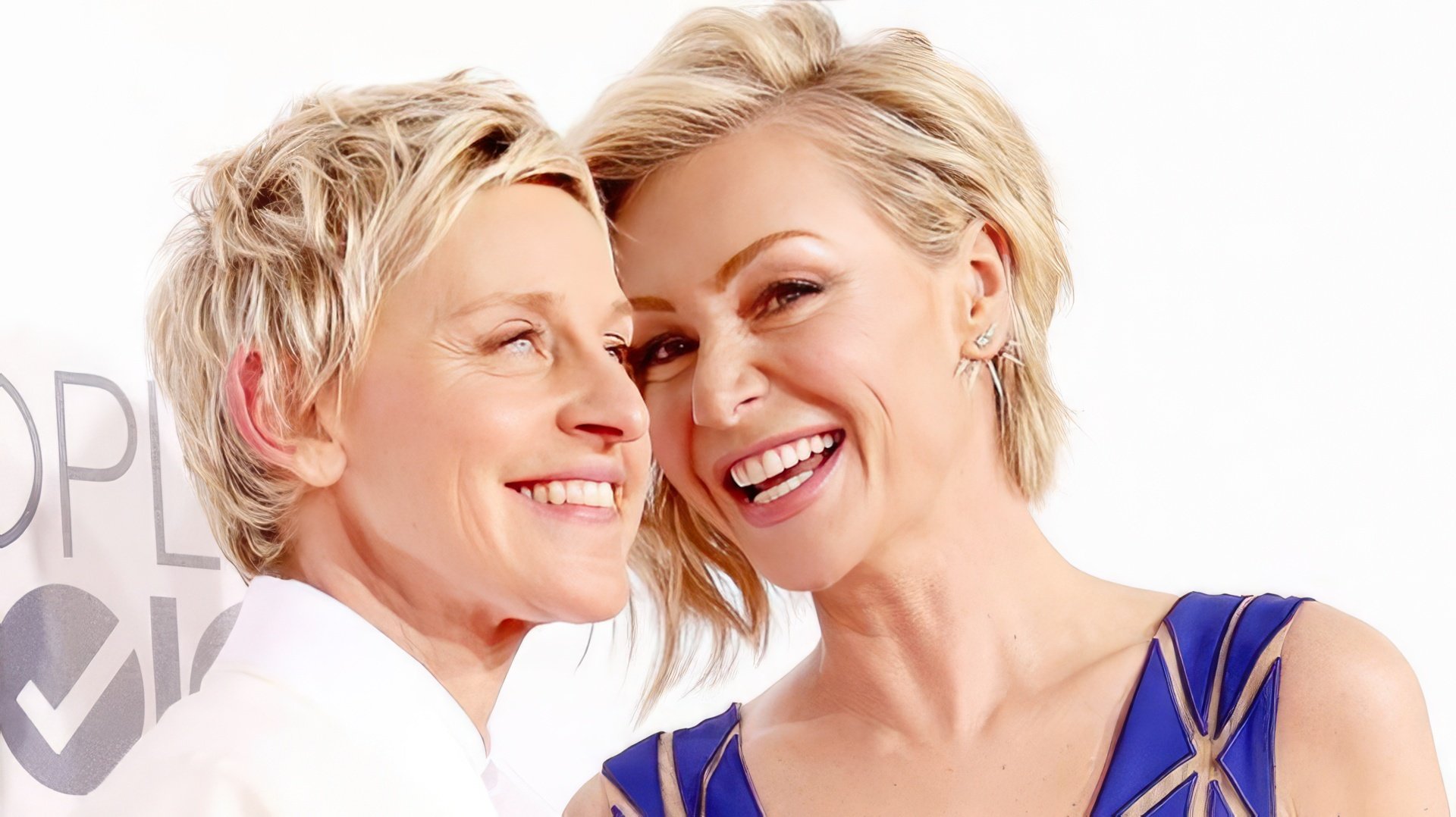 In January 2018, for Ellen's 60th birthday, Portia gifted her a gorilla sanctuary in Rwanda, named after the TV host for a local foundation. Today, the foundation goes by the "Ellen DeGeneres Wildlife Fund."
Ellen DeGeneres Now
On May 26, 2022, the final episode of The Ellen DeGeneres Show aired. The last episode featured Jennifer Aniston, Pink, and Billie Eilish. Ellen announced her plans to end the show in May 2021. According to her, she had been considering it for a while because the show "no longer served its original purpose."
When you're a creative person, you constantly need to be challenged -- and as great as this show is, and as fun as it is, it's just not a challenge anymore.
Tabloids speculated that the show's end was due to a scandal: DeGeneres faced accusations of creating a toxic workplace environment and mistreating staff. However, the host denies that the show's closure is linked to these allegations but admits the incident hurt her deeply.
Press Ctrl+Enter If you find a mistake