The 26-year-old model rolled her Luggage through the airport terminal and was wearing a long pink coat with faux fur, which contrasted with the student sweatshirt and corduroy pants, embellished with golden and green stripes. Meanwhile, the girl's feet had boots on the platform. As many celebrities do in public, Waterhouse hid her face behind dark glasses and had wireless headphones on her head.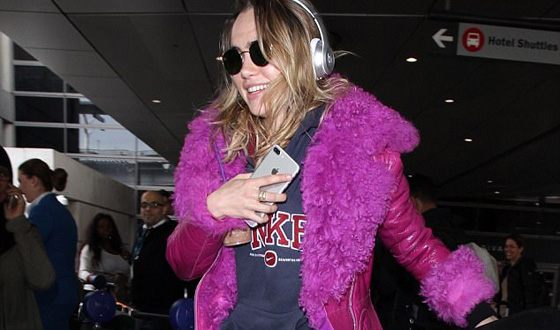 Suki Waterhouse

may be familiar to viewers by the films «Love, Rosie», «Pride And Prejudice And Zombies», and «Divergent». In addition, Suki is the face of Burberry and Redken brands. Also, she was shot for the commercials of the brands Tommy Hilfiger, Swatch, and H&M in different periods. For a long period, the model was dating with actor

Bradley Cooper

.

Recently we wrote about the actress

Zoe Kravitz

, who wowed the audience with her look when flying out from Los Angeles. The daughter of a famous musician also showed casual style and hid her eyes behind dark glasses.

The English model Suki Waterhouse has amazed fans with her exquisite look. On Monday she was shot at Los Angeles International Airport.