Probably she did not want to attract attention and appeared wearing dark sunglasses, baggy coat, and a very shabby t-shirt at Los Angeles International Airport. Reportedly, the actress returned to New York after the Golden Globe Awards ceremony and related parties.
Interestingly, Zoe was noticed in the company of rapper Drake at the Globes Ceremony party. In 2013-2014, as suggested by the tabloids, the pair had a love affair. It is unknown whether it was true.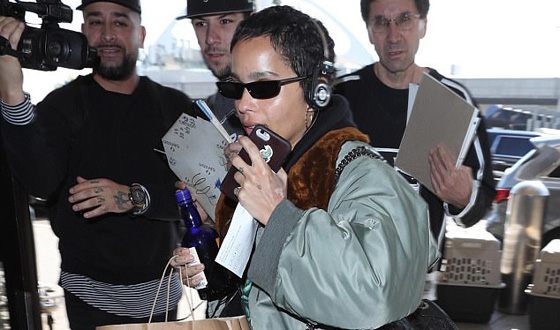 Zoe Kravitz

is a daughter of the famous musician Lenny Kravitz and model Lisa Bonet. The young actress came into the movie world at the age of 18. To date, she has played in dozens of movies, the most famous of which is «X: First Class», «Mad Max: Fury Road», and «Divergent».

It should be noted that the personal life of the actress is in full swing: in the past, apart from the already mentioned Drake, she was dating Michael Fassbender, her partner in «X-Men», as well as with the actor Penn Badgley. In addition, she is credited with an affair with a young actor

Ezra Miller

, who starred with her in the film «Beware the Gonzo».

Recently the young actress and singer Zoe Kravitz shocked fans and journalists by her dressing.