Liam met the beautiful Natasha Richardson on the set on Broadway in 1993, 6 years after breaking up with
Helen Mirren
. The actor had already recovered from the divorce and wanted to fall in love again, but Natasha was not ready to give vent to her feelings - she was hindered by the ties of marriage with Robert Fox.
For a year, the courteous
Liam Neeson
was still able to win her - in 1994, the lovers got married, and a year later they had their first son, Michael Richard Antonio. Family life was so successful that the couple without hesitation had a second child, and in 1996 the second boy, Daniel Jack, was born.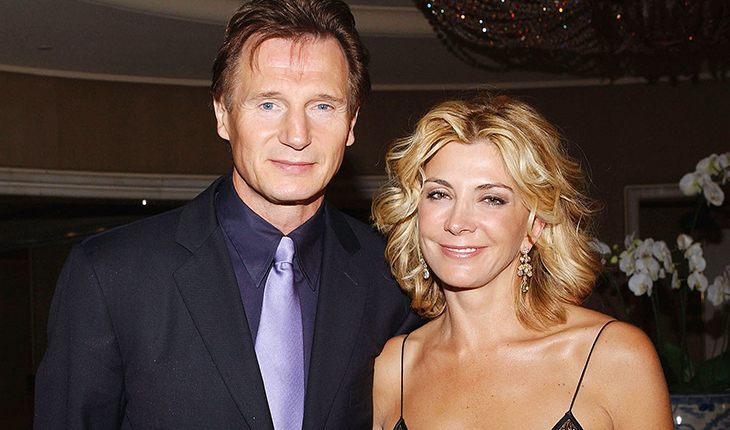 Natasha and Liam became one of the few Hollywood couples who managed to combine home life and career: in the late 90s and early 2000s, they starred in films that turned them into world-famous actors. Natasha is in The Parent Trap and Mistress Maid, and Liam is in Star Wars and The Hostage.

Liam's fate was forever changed in March 2009. Then the whole Nison family went to a ski resort in Quebec. The fall of Natasha Richardson from a slope without a helmet provoked internal bleeding into the brain, and, despite the fact that in the first hours after the injury she felt acceptable, after half a day the actress fell into a coma. Doctors at the Sacre-Coeur hospital in Montreal worked to rescue 45-year-old Natasha, who connected her to an artificial life support apparatus. A few days later, Liam was told the terrible news: the rupture of blood vessels had an irreversible effect, so without special devices, the actress will no longer be able to breathe.

These days, Liam Neeson made the two most important decisions in his life: the actor signed an agreement on euthanasia and allowed the organs of his beloved wife to be transplanted to people in need. Liam Neeson returned from a family trip as a single father.

The editors of Zoomboola remind that more than 10 years have passed since the death of Natasha Richardson, but the actor could not cope with the loss. Despite the fact that Neeson continued his acting career at the usual pace, he decided to give up his personal life forever, devoting himself to raising children.

Life loves to give gifts and take them back. The marriage to Natasha Richardson became for Liam Neeson not only happiness but also the reason why one of the most charismatic actors in Hollywood remains alone to this day.