The actress
Jennifer Lawrence
, whose latest film «mother!» gained the diametrically opposite reviews, missed the party after the Golden Globe Awards ceremony on Sunday evening. This act put many people at a standstill. Now we know the reasons.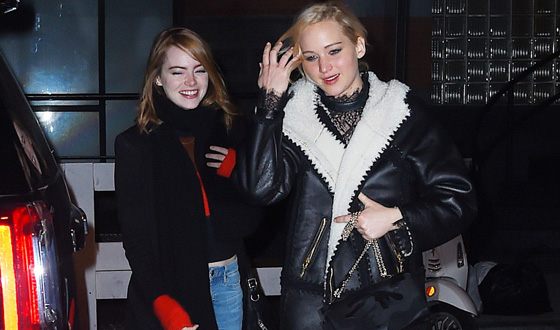 The star of «The Hunger Games» has published a video shot with her friend

Emma Stone

on the page in the social network. When a friend filming Jennifer asked what happened, she answers that she took tickets to the parties for them both, but Stone said he wants to just stay at home together. Lawrence summed up: «So, I let my make-up people go and this is my look now». After that, the actress turns to the camera to show that she has got make-up to one eye only.

The young actress has been friends for a long time, and their friendship began with a rather frightening episode. As it turned out, both actresses were sending messages to the same obsessive fan named «John from the Orchestra». Meanwhile, Emma and Jennifer communicated through SMS only at that time. When the girls decided to meet in person, Stone told the penfriend her address. But both of them didn't exclude the possibility that «John» could be the actual correspondent. In the end, when Lawrence went to Stone, she called her to make sure that this is she and not an unknown maniac.

Jennifer Lawrence has abandoned the party after the ceremony of Golden Globe Award to stay with her friend, Emma Stone.