She did not disclose her beauty secrets very willingly, mentioning only genetics and proper nutrition in an interview, but in 2013
Cameron
released a Book about the Body, in which she honestly talked about her skin problems, her many years of struggle with acne, and unsuccessful beauty experiments.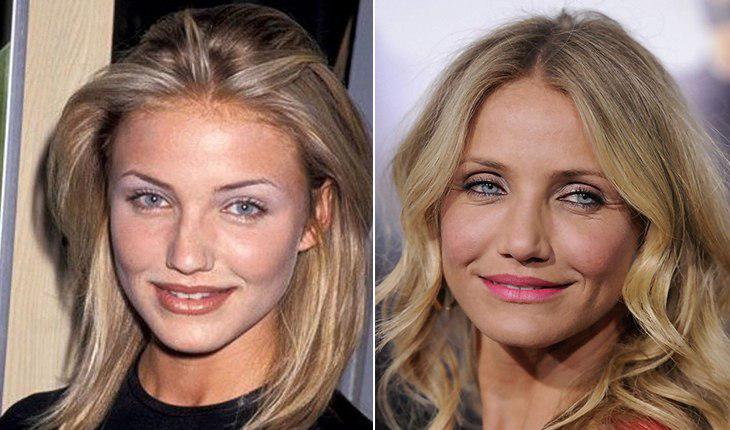 So fans found out that in 2006, Diaz resorted to rhinoplasty. Performing a stunt on the set without a stuntman, Cameron broke her nose. Unsuccessful surfing made the situation worse: Diaz hit her face hard on the board, after which it became difficult for her to breathe. Despite the fact that the actress went under the surgeon's knife due to serious problems, after the operation, her nose bridge began to look much more graceful.

Cameron Diaz regrets her passion for Botox injections. According to the actress, after one of the courses, her face changed so much that the actress decided to age "naturally". You can check out other Hollywood actresses who look great in their 50s in a selection from the editorial staff of Zoomboola.com. What other procedures Cameron does to maintain beauty is difficult to say. Judging by the pictures on the network, the actress clearly resorted to the correction of the nasolabial folds and the zygomatic zone. Chin enlargement is not excluded. Perhaps Diaz really does manage with "little blood" in the struggle for youth and attractiveness.

Coming to the age of 50, Cameron Diaz is still considered one of the most desirable women in the world. Still: the actress looks much younger than her age.