The 27-year-old actor, who became famous thanks to the recent horror film «It», got the prize at the Sundance Film Festival. As noted by the organizers, it was his success as a creepy clown Pennywise largely contributed to the success of the whole film based on the famous novel by Stephen King.
Bill Skarsgard
will have to play a creepy clown once again. In 2019, the sequel «It» will be released.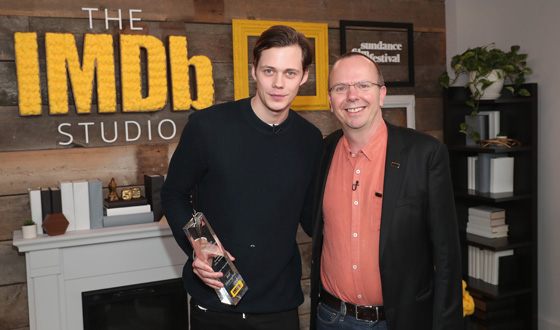 It should be noted that Bill Skarsgard's performance startled not only the audience but his young colleagues who starred in the role of students that came to grips with Pennywise. So, 15-year-old Jaden Leberer said: «When you see him without make-up, after filming, nothing much changes».

The horror picture «It» was released in September 2017. With a budget of $35 million, the movie grossed $700 million, so that the fate of the sequel was immediately solved. We will note that no matter how good Bill Skarsgard played the role of the clown killer, he still is in the shadow of Tim Curry, who played this character in the first film adaptation of the novel. Mini-series «It» was released in the 1990 year. Although he has gathered mixed reviews, the performance of Tim Curry is considered to be the best thing in the film.

The young Swedish actor Bill Skarsgård was awarded the prestigious STARmeter Award from the IMDb website.